News | Galleries
Samuelle Green Will Create a Chair-choking Installation for Art on Paper

Art on Paper New York | Sponsored Content
The art fair devoted to works on paper returns to downtown Manhattan from 9 September.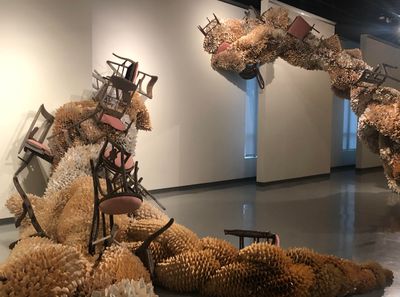 Samuelle Green, Permutation 3 (2021) by Samuelle Green for Art on Paper. Courtesy the artist.
Samuelle Green isn't sure exactly what her finished installation Permutation 3 will look like when it's revealed at Art on Paper next week.
'Despite numerous sketches of the piece it tends to take on its own life when installing and gives me a sense of where it wants to go within the space,' she said.
We do know that the work will be large, with a footprint of 12 feet by 30 feet (3.7 x 9.1m). And that chairs found at the Pier 36 venue will be swept up in its spiralling tendrils.
Art on Paper. Courtesy Art on Paper.
In her installations, the Pennsylvania-based artist uses an organic material, paper, to create what look like organic forms—sculptures reminiscent of creeping plants and wasps' nests.
Green said she also takes inspiration from 'the intricate structures of beehives, barnacle formations, cellular structures, fungus and algae blooms, and the rhythmic gradations found anywhere from the ocean floor to the forest.'
Permutation 3 will be part of a much bigger ecosystem of paper works at Art on Paper.
Rebecca Hutchinson used recycled clothes and table linens to create paper for her installation, Double Bloom, which will show at Art on Paper's Central Lounge.
Rebecca Hutchinson, Double Bloom (2016). Fired and unfired porcelain paperclip, handmade paper from upcycled flannel shirts, table linens, blue jeans, organic material 304.8 × 61 × 61 cm. Courtesy the artist and Duane Reed Gallery.
Storefront gallery ESPO's ART WORLD, which takes its name from Stephen Powers' artist name Exterior Surface Painting Outreach, will establish a print-making studio on the main floor of the fair. In addition to offering their own limited edition prints, ESPO's ART WORLD will print on anything flat that visitors bring them free of charge.
Seventy-five galleries will present works at this year's fair, including: Benrimon Editions, Spanierman Modern, Nancy Hoffman Gallery, Beatriz Esguerra Art, Daniel Cooney Fine Art, Jean Albano Gallery, SEIZAN, Tuleste Factory, and a joint booth by Ellen Miller Gallery and Tamarind Institute.
Michael Velliquette will show his paper sculptures, reminiscent of Baroque architecture or complex machinery, at Duane Reed Gallery, while Drew Leshko will show miniature building signs at Paradigm Gallery + Studio.
Daniel Featherstone, Untitled 47 (2018). Archival pigment print. Courtesy Garvey|Simon.
The fair will also feature 2D works such as photographs, prints, and collages by artists including Manjari Sharma at Richard Levy Gallery and Daniel Featherstone at Garvey|Simon.
Art on Paper is ordinarily in March, but this year takes place from 9 to 12 September, alongside the rescheduled Armory Show.
Its focus on a single material differentiates it from other New York art fairs.
'I love paper's inherent flexibility,' said Kelly Freeman, Director of AMP Events, which organises the fair. 'I like that it can be looked to as both part of an artist's development process, but also as a finely wrought, very purposeful product of years of dedicated work.'
'Art on Paper is an opportunity for galleries to highlight work that they may not otherwise always look to for art fair presentations, making the fair a really unique collecting opportunity,' she said. —[O]