News | Latest News
The Latest: Snapchat Spin Paintings, Gonzalez-Torres Fortune Cookies, and More
This week's need-to-know art news, including the collapse of Sydney's Carriageworks, the winner of the Pulitzer-prize for criticism, and relaxed Kickstarter rules for institutions.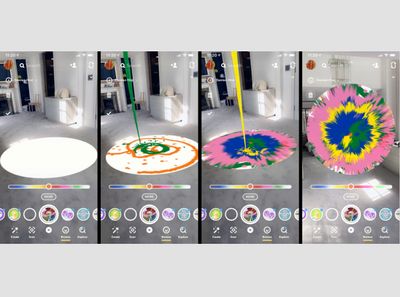 Courtesy Damien Hirst and Snapchat.
Damien Hirst and Snapchat Collaborate on Augmented Reality Paintings
Damien Hirst began his Spin Painting series in 1994 while living in Berlin. Yesterday, Snapchat launched an augmented reality (AR) lens based on the works, allowing users to choose colours of virtual paint and pour them onto a spinning virtual canvas. 'I'm so happy that this partnership also supports Partners in Health, a brilliant and forward-thinking organisation that helps communities in developing countries around the world cope with the devastating impact of COVID-19,' Hirst said.
Felix Gonzalez-Torres Fortune Cookies Installation Adapted for Quarantine
Andrea Rosen Gallery and David Zwirner will present Felix Gonzalez-Torres's Untitled (Fortune Cookie Corner) (1990), an endless pile of fortune cookies that can be taken away and eaten by audiences, from May 25 to July 5. Adapting to the rules of social distancing, the exhibition will not take place in a gallery. It will instead be distributed, with 1,000 people around the world each installing between 240 and 1,000 fortune cookies where they choose. González-Torres' died of AIDS-related illness in 1996, and much of his work alludes to illness and infection.
Carriageworks Enters Voluntary Administration
One of the largest arts centres in Australia has gone into voluntary administration, placing the decision of whether to liquidate the company or return it to its directors in the hands of KPMG. In a statement released Tuesday, Sydney's Carriageworks said nearly 75% of its revenue came from events and programs that have been cancelled due to COVID-19, resulting in 'an irreparable loss of income.' Artists including Tony Albert and Wrong Solo have studios at Carriageworks, and a commission by Reko Rennie opened there just last week. 'The Board remain hopeful that the Carriageworks facility will be able re-open to artists and community alike once NSW emerges from the effects of the current pandemic,' said Carriageworks CEO Blair French.
Kickstarter Allows Crowdfunding for Arts Institutions
To help businesses stay alive during the response to COVID-19, Kickstarter has revised rules that said fundraising projects on the site could not be used to cover business costs such as rent or utilities. 'The recent Americans for the Arts and Artist Relief survey showed us the bleak statistic that 62 percent of artists in America are now unemployed,' Patton Hindle, head of arts at Kickstarter, told Artforum. 'We knew we had to bend our rules to help pay bills across creative industries, he said. Projects by museums and institutions currently on the site include the Jewish Museum's Take Me (I'm Yours), which seeks to give away over 400,000 works by 40 artists, and an attempt to bring Ai Weiwei's tree sculptures to the Royal Academy, London.
Los Angeles Times Art Critic Christopher Knight Wins Pulitzer Prize
Nominated in 1991, 2001, and 2007, Los Angeles Times art critic Christopher Knight has finally won the Pulitzer Prize for criticism. The jury said he demonstrated 'extraordinary community service' in his coverage of the proposed overhaul of the Los Angeles County Museum of Art (LACMA) in articles including 'Dear LA County: Reject the LACMA Redesign Plan and Go Back to the Drawing Board' and 'LACMA's Concrete Wall Problem: Why a Chic Design Comes with Consequences'. —[O]
Send art news, announcements, and tips to [email protected]