News | Galleries
Toronto Joins Swelling Ranks of Cities With Gallery Weekends
Similar events are taking place from Warsaw to Santiago this month in a global effort to reactivate the art world.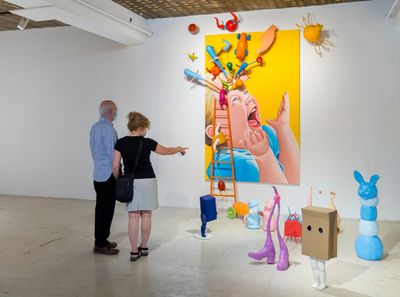 Art Mûr's exhibition during Montreal Gallery Weekend. Photo: Jean-Michael Seminaro.
Twenty-two galleries will take part in the inaugural Gallery Weekend Toronto from 23 to 26 September.
The event consists of three routes—Junction Triangle, Wallace Emerson and Lower Toronto—along which the galleries are strewn.
Highlights include a performance by Maria Hupfield at Patel Brown Gallery, a group show featuring Nadia Belerique at Daniel Faria Gallery, and prints by Amanda Boulos at Birch Contemporary.
Gallery Weekend Toronto was organised by Canada's Contemporary Art Galleries Association (AGAC), which also launched Gallery Weekend Montreal in June.
Both AGAC events are affiliated with Gallery Weekend, an organisation formed in 2018 to promote similar events around the world. In the next two weeks alone they're also promoting Barcelona Gallery Weekend (15 to 19 September), Zurich Art Weekend (17 to 19 September), Gallery Weekend Santiago (29 September to 3 October), and Warsaw Gallery Weekend (30 September to 3 October).
'Gallery Weekends are popular events in all major cultural capitals and AGAC has chosen to bring this great collaborative initiative to Toronto to develop new audiences and bring life back to the streets,' said Julie Lacroix, the director of AGAC.
Toronto Gallery Weekend exhibitions will be complemented by programming including discussions and visits. More information can be found on the Gallery Weekend Canada Instagram.
The event runs from noon till 7pm on Thursday 23 and Friday 24 and noon till 5pm on Saturday 25 and 26. —[O]
Galleries Participating in Gallery Weekend Toronto
Birch Contemporary | A Room With a View Gallery
Blouin Division
Cassandra Cassandra
Christie Contemporary
Clint Roenisch
Corkin Gallery
Daniel Faria Gallery
ESP | Erin Stump Projects
Franz Kaka
Galerie Nicolas Robert Toronto
General Hardware Contemporary
Mayten's Projects
MKG127
Nicholas Metivier Gallery
Patel Brown
Paul Petro Contemporary Art
Susan Hobbs Gallery
TAP Art Space
the plumb
Towards
United Contemporary
Zalucky Contemporary