News | Artists
Who Are the 2022 Turner Prize Nominees?
Four artists will prepare works for an exhibition opening at Tate Liverpool on 20 October, the first time the prize has been held in Liverpool for 15 years.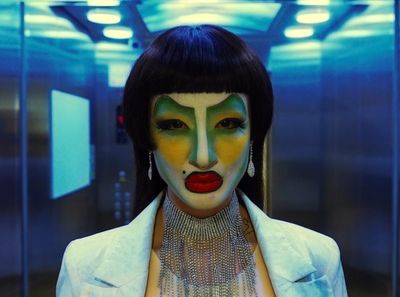 Sin Wai Kin, A Dream of Wholeness in Parts (2021). Single-channel video, 4K, colour, sound, 23 minutes 3 seconds. Produced by Chi-Wen Productions, Taipei. Courtesy the artist, Chi-Wen Gallery, Taipei and Soft Opening, London. Supported by Hayward Gallery Touring for British Art Show 9.
Tate Liverpool has announced the four artists nominated for this year's Turner Prize, Britain's most prestigious contemporary art award. They are Heather Phillipson, Ingrid Pollard, Veronica Ryan, and Sin Wai Kin.
Each artist was nominated on the strength of exhibitions held the previous year.
Sin Wai Kin's nomination came from their involvement in the touring exhibition British Art Show 9 and their solo presentation at Blindspot Gallery during Frieze London. The Toronto-born, London-based artist formerly known as Victoria Sin interrogates the formation of fantasy through performance. The jury were 'impressed by the boundary-pushing nature of Sin's work, and how they deftly translated the visceral quality of their live performances into film.'
Heather Phillipson, THE END (2021). © David Parry PA Wire.
Heather Phillipson was nominated for her exhibition RUPTURE NO 1: blowtorching the bitten peach at Tate Britain and her Fourth Plinth commission, THE END, which showed a drone pulling at a cherry atop a swirl of whipped cream, which she described as, 'a monument to hubris and impending collapse'. The jury applauded 'the audacious and sophisticated way Phillipson splices absurdity, tragedy, and imagination to probe urgent and complex ideas.'
Ingrid Pollard's nomination was attributed to her show Carbon Slowly Turning at MK Gallery in Milton Keynes. Pollard's practice integrates photography, sculpture, film, and sound. The jury said they were 'struck by the bold new developments in Pollard's recent work, especially a new series of kinetic, anthropomorphic sculptures, which build on Pollard's career-long enquiry into the figure moving through space.'
Veronica Ryan was nominated for her exhibition Along a Spectrum at Spike Island in Bristol and her oversized but otherwise hyper-realistic sculptures of a soursop, breadfruit, and custard apple for the Hackney Windrush Art Commission in London. The jury praised, 'the exquisite sensuality and tactility of her sculptures'.
The four nominees will present exhibitions of their work in an exhibition at Tate Liverpool from 20 October 2022 to 19 March 2023. The winner of the £25,000 first prize will be named at a ceremony in December.
'The jury has travelled the length and breadth of the country, taking advantage of the easing of lockdown to enjoy the explosion of creativity that has emerged from the pandemic,' said Helen Legg, Director of Tate Liverpool and co-chair of the Turner Prize jury.
Veronica Ryan OBE, Custard Apple (Annonaceae), Breadfruit (Moraceae), and Soursop (Annonaceae) (2021). Commissioned by Hackney Council; curated and produced by Create London. Photo: Andy Keate. Courtesy the artist, Paula Cooper Gallery, New York, and Alison Jacques, London.
'The result is a diverse group of artists, each with a singular vision, who impressed the judges with the intensity of their presentations, while also dealing with important issues facing our society today,' she said.
The other members of the Turner Prize 2022 jury are: Irene Aristizábal, Head of Curatorial and Public Practice, BALTIC; Christine Eyene, Research Fellow, School of Arts and Media, UCLan; Robert Leckie, Director, Spike Island; and Anthony Spira, Director, MK Gallery.
Recent winners of the Turner Prize include Belfast's Array Collective in 2021 and Lawrence Abu Hamdan, Helen Cammock, Tai Shani, and Oscar Murillo, who shared the prize in 2019. The prize was cancelled in 2020, with £10,000 going to ten artists. —[O]