News | Market
Why Does Christie's Want $200m for Warhol's 'Shot Sage Blue Marilyn'?
The work will become the most expensive 20th century artwork ever sold at auction if it reaches its estimate.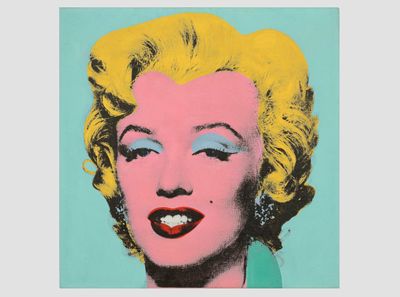 Andy Warhol, Shot Sage Blue Marilyn (1964). Acrylic and silkscreen ink on linen. 101.6 x 101.6 cm. Courtesy Christie's Images Ltd, 2022.
Andy Warhol's Shot Sage Blue Marilyn (1964) will lead Christie's New York's marquee sales week in May. The work, which was consigned by the Thomas and Doris Ammann Foundation Zurich, carries an estimate of US $200 million.
If the Marilyn Monroe screen print reaches Christie's estimate, it will nearly double Warhol's current auction record of $105.4 million, which was set when the much larger work Silver Car Crash (Double Disaster) (1963) sold at Sotheby's in 2013.
It would also set a new record for the most expensive 20th century artwork ever sold at auction, eclipsing Pablo Picasso's Women of Algiers (1955), which was purchased for $179.4 million in 2015.
Why does Christie's expect Shot Sage Blue Marilyn—one of five works in the series—to fetch such an eye-watering sum?
Alex Rotter, Christie's Chairman, 20th and 21st Century Art, made a strong sales pitch in the statement announcing the sale. He said the work was, 'the absolute pinnacle of American Pop and the promise of the American Dream encapsulating optimism, fragility, celebrity and iconography all at once. The painting transcends the genre of portraiture in America, superseding 20th century art and culture.'
'Standing alongside Botticelli's Birth of Venus, Da Vinci's Mona Lisa and Picasso's Les Demoiselles d'Avignon,' he continued, 'Warhol's Marilyn is categorically one of the greatest paintings of all time and it's a once in a generation opportunity to present this masterpiece publicly at auction.'
Christie's also noted that the work was created using 'a more refined and time-intensive screen printing technique' so difficult that 'he never returned to it again'.
Shot Sage Blue Marilyn also has a great back story. Performance artist Dorothy Podber saw four of the five Marilyns in a stack when she visited Warhol's studio, The Factory. She asked if she could shoot them and, assuming she intended to photograph the portraits, Warhol assented. Podber then pulled a small German pistol from her purse and shot the screen prints through the forehead. (Warhol later patched over the bullet holes with paint.)
More important than the backstory, the technique, and claims of transcending portraiture itself, there's a precedent for the $200 million price tag. That's the price hedge fund manager Ken Griffin reportedly paid for Shot Orange Marilyn (1964) in a private sale.
Even if Sage Blue Marilyn sells for double Christie's estimate, it would still fall short of the highest price ever paid for an artwork at auction.
That record belongs to Leonardo da Vinci's painting Salvator Mundi (c. 1499–1510), which was bought at Christie's by Saudi Arabian prince Badr bin Abdullah for US $450.3 million in 2017. —[O]