News | Exhibitions
Why Was Singapore Biennale 2022 Named Natasha?
Organisers say it has less to do with the name's specificities than the ways we respond to given names in general. (Also, Tolstoy.)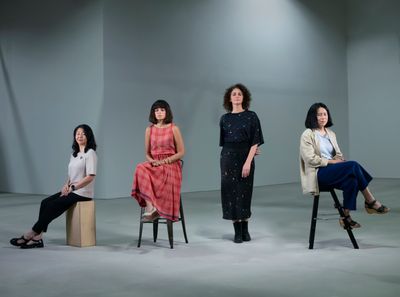 Singapore Biennale 2022 Co-Artistic Directors from left: June Yap, Nida Ghouse, Ala Younis, and Binna Choi. Courtesy Singapore Art Museum.
Singapore Art Museum (SAM) recently announced that the seventh Singapore Biennale would have a name instead of a title. She's been christened Natasha.
Press announcements about the upcoming event, from 16 October 2022 to 19 March 2023, are signed off 'sincerely, Natasha'.
It's an unusual strategy, reminiscent of the names we give to Hurricanes (e.g. Katrina) to make them more memorable, and to voice assistants (e.g. Siri) to make them seem less suspicious.
'The act of naming is interesting in how it can transform our relationship to the named,' June Yap, Co-Artistic Director of Singapore Biennale 2022, told Ocula Magazine. 'Naming can produce a sense of familiarity or intimacy, and this is perhaps important for a large-scale event such as the Biennale, in suggesting a connection at a personal level.'
Shrinking the event down to a more human scale helps foreground the contributions of individual artists and the personal experience of individual visitors, but Yap said it also allows the event to be complex, contradictory, and malleable.
'A person is a multi-faceted and changing entity, and thus naming a Biennale opens up possibilities: the named can take multiple forms and interpretations, even simultaneously,' she said.
Yap said 'defining or finding the "person" of Natasha in the Biennale might then be seen as a collective event, where artists and audiences, colleagues and strangers, shape the Biennale through their creations, encounters, and interactions.'
Natasha is handwritten in Hangul on paper held in the air against the crater Lēʻahi on O'ahu island on 21 February 2022. Courtesy Singapore Biennale 2022.
That explains the decision to give the Biennale a name, but why Natasha?
'The name of Natasha was specific but not particular for us,' Yap said. 'It could have been another name, but we decided on Natasha.'
Yet given names carry connotations. Natasha is, for instance, female.
Yap said that while she and co-artistic directors Binna Choi, Nida Ghouse, and Ala Younis are women, 'gender is not a subject or theme of the Biennale, even as gender certainly shapes our lives and experiences, and also that of our artists and audiences.'
Natasha is also a Slavic name, but Yap said it was chosen before Russia invaded Ukraine.
'As the Biennale wasn't named for Natasha's Slavic origins, we did not feel we should change it,' she said. 'That this should become a consideration in the present speaks to the unique qualities of naming as well as to the lives of names—that names accumulate meanings in their time and in contexts.'
Yap did acknowledge one association the artistic directors have embraced—Countess Natalya 'Natasha' Rostova from the novel War and Peace.
'The name Natasha was made popular in part by Leo Tolstoy, whose fictional character is seen as spontaneous and lively; this aspect lends itself well to the Biennale we hope to create,' she said. —[O]