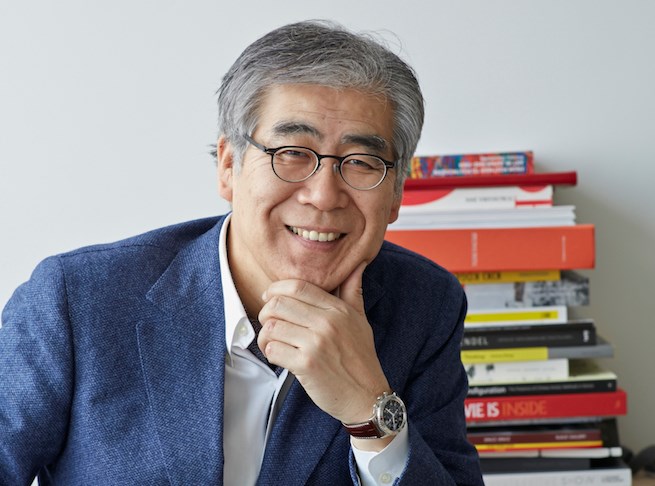 Fumio Nanjo, curatorial director, Honolulu Biennial 2017. Courtesy Honolulu Biennial Foundation.
The Honolulu Biennial Foundation was formed in 2014 by Dr Kóan Jeff Baysa, Katherine Anne Leilani Tuider and Isabella Ellaheh Hughes. It was founded on the ambition to place Hawai'i and the Pacific on the international art circuit's radar and to highlight some of the rich practices that have been emerging from the Asia-Pacific region. Fumio Nanjo is the curatorial director of the Honolulu Biennial's first iteration, titled Middle of Now | Here, for which Nanjo is working with curator Ngahiraka Mason. Middle of Now | Here will run from 8 March to 8 May 2017, and will reflect on the position of Honolulu as a new centre for contemporary art in the Pacific. The exhibition includes 33 artists and artist groups from 16 different countries who are considered to have some relationship or connection to the Pacific Rim region. Some of these artists include Vernon Ah Kee, Alfredo and Isabel Aquilizan, Mohammad Kazem, Yayoi Kusama, Lisa Reihana and Yuki Kihara, among others.
Nanjo is also the director of Mori Art Museum in Tokyo, a position that he has held since 2006. He has served as commissioner of the Japan Pavilion at the Venice Biennale (1997), commissioner at the Taipei Biennale (1998), member of the jury committee of the Turner Prize (1998), co-curator of the 3rd Asia-Pacific Triennial of Contemporary Art (1999), artistic director of the Yokohama Triennale (2001), jury member of the Golden Lion Prize at the 51st Venice Biennale (2005) and artistic director of the Singapore Biennale (2006, 2008). Supporting Nanjo and Mason is a team of curatorial advisors who make up the curatorial advisory board of Honolulu Biennial 2017: Dr Kóan Jeff Baysa, Dr Greg Dvorak, Dr Katherine Higgins and Dr Margo Machida.
You have been involved in biennales and triennials in the Asia-Pacific region over the last 20 years. How did this begin for you? Was it when you were invited to be a co-curator of the 3rd Asia-Pacific Triennial of Contemporary Art at Queensland Art Gallery, Brisbane, in 1999? Could you tell us more about these initial stages of your career?
FNAt the Asia-Pacific Triennial in 1999, I was responsible only for Japanese artists. However, the first biennial I was involved in was really the Taipei Biennial 1998, which focused on artists from Korea, China, Japan and Taiwan. It was, in a sense, a regional focus. And it was one of the hottest areas of the time, since East Asia was emerging in many ways into the international art circuit. Then I was on the selection panel for the 2000 Biennale of Sydney, followed by acting as artistic director for the Yokohama Triennale in 2001. Yokohama was more international but fellow curator Mr Akira Tatehata and I were trying to include Asian artists as much as possible, since this was one of the ways to make the event more unique compared to the other biennials or triennials at the time.
teamLab, Graffiti Nature (2016—ongoing). Interactive digital installation. Courtesy team
Why is it important to have a biennial staged in Hawai'i now?
FNHawai'i is in between North America and Asia, and its location in the vast Pacific Ocean is significant. America is important and already a highly modernised area in terms of art. Asia has been emerging in the art world also in the last 10 to 15 years. Hawai'i can serve as a hub that links these two regions, which emphasises its centrality of being in the middle. It can achieve this by showing artists from America, Asia and the Pacific. In other words, in order to re-map the whole Pacific area as another centre of culture, you have to locate a major cultural event like this in Hawai'i.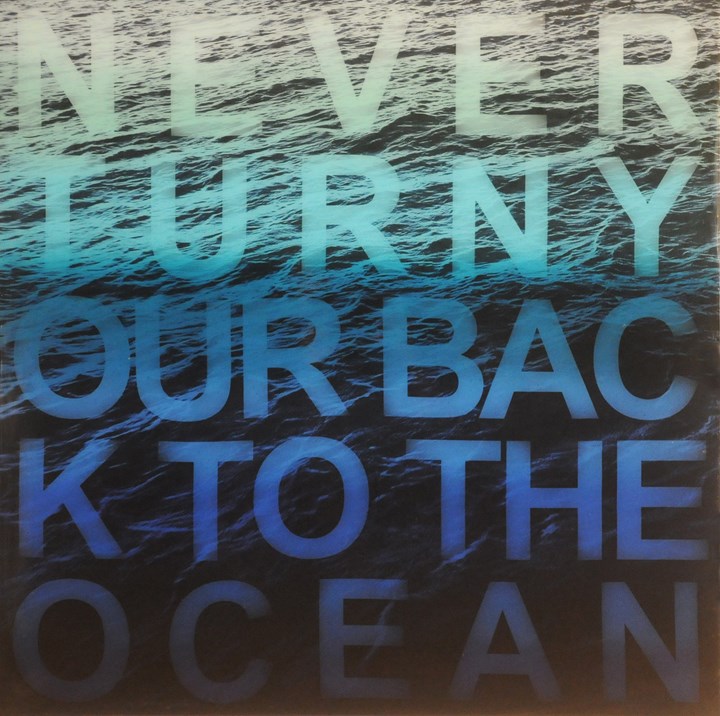 Les Filter Feeders, Never Turn Your Back On the Ocean (Local Knowledge series) (2014). Archival inkjet print on habotai silk, enamel paint, powdered pigment on wood panel. 24 x 24 in. Courtesy the artists.
The inaugural Honolulu Biennial is called Middle of Now | Here. Can you tell us more about this thematic, and how you have worked with curator Ngahiraka Mason to realise this?
FNActually, the first concept I had was about 'Islands in the Stream'. Then I had a discussion with the advisors and core members of the Honolulu Biennial, many of whom have deep ties to the Pacific Islands region, and we ended up with the title we have now. The origin of this title is the idea that Hawai'i is too often considered to be just an isolated chain of islands in the middle of the ocean. People often think that it is in 'the middle of nowhere'—a nothing place with no significance other than tourism and militarism, surrounded by empty sea. We want to emphasise that this is a place that matters, now and here—not only Hawai'i but all of the islands that fill the Pacific Ocean. It is a deeply charged place and a centre for discourse about identity, migration, trade, streams of culture, climate, environment, and so on.
Hawai'i is not just a group of happy paradise islands. So, I think this title refers to the many layers of issues that affect this region; it tells people that this is no 'middle of nowhere' but an important place in the present day where we can stand, think and speak from. After not having an onsite curator for a long time, Ngahiraka happened to move to Hawai'i in 2015, so we invited her to join the team in 2016. Most of the correspondence with the Pacific artists is carried out by her while I take care of the Japanese artists and some from Asia with Mami Hirose, our Japanese project manager.
Andrew Binkley, Stone Cloud (2017). Site-specific installation made of polyvinyl chloride and air. 490 x 370 x 210 cm. © Andrew Binkley.
Can you tell us about how you have engaged with artists connected to the Pacific Ocean? What are some of the artist projects that you are excited about for Middle of Now | Here?
FNFirst, I was very attracted by an immersive projection piece created by New Zealand-based Māori artist Lisa Reihana, and this is what first caught my attention in terms of Pacific artists. Unfortunately, that particular work was on hold by the New Zealand government for exhibition in the upcoming Venice Biennale, but we will include another of her powerful works in the Honolulu Biennial. I love and admire most of the art I've been encountering from the Pacific Islands, so it is difficult for me to tell you which artist or project I am most excited about. I think they are all impressive, and there are so many other Pacific artists that also deserve to be shown in the future.
Lisa Reihana, Tai Whetuki—House of Death, Redux (2016). Courtesy Auckland Art Gallery Toi o Tāmaki. Photo: Jennifer French.
Can you tell us about the Biennial sites, and their histories and connection to the Biennial more widely?
FNThe main Honolulu Biennial site is a hub: a massive venue which was formerly an athletic supply retail space. It has a huge area inside, and we built walls to create different zones within that space. Another location of the exhibition is Foster Botanical Garden, which is a nice outdoor green space, where we will highlight certain pieces that suit that atmosphere. I also put works in the IBM Building at Ward Village, which is an office building used every day. We have numerous other sites, including an area closer to the ocean and galleries in the historic Chinatown district. The Biennial will give viewers a chance to see how each site can be developed and transformed by art.
Yayoi Kusama, Footprints of Life (2016). Exhibition view: IBM Building at Ward Village, Honolulu. Courtesy Honolulu Biennial Foundation. Photo: AJ Feducia.
How are ideas surrounding indigeneity being represented and voiced in the Biennial?
FNOf course, we want to provide a platform for the hearts of people and places to be represented through art. Our choices were made first by selecting artists, and then their work. It was important to us to ensure that we had strong representation from native Hawai'ian artists, as well as artists from different indigenous Pacific communities, even if we couldn't manage to have representation from all parts of the region this time. But we tried to show artworks that use contemporary expression, with content that deals with local issues. And thematically, we wanted artists from countries that surround the Pacific to engage with the locality of Hawai'i and the Pacific as well. We are not necessarily trying to focus on indigeneity particularly, but we do want to share the particular issues that matter to artists in each locality. I think the theme of indigeneity itself comes through in many of the works we have chosen, as part of the local issues that matter to those artists.
What is next for you following the opening of the Biennial? What is coming up at Mori Art Museum?
FNThe next big show I am involved in is about contemporary art from Southeast Asia, a commemoration of the 50th anniversary of the formation of the Association of Southeast Asian Nations. So Mori Art Museum and the National Art Center, both in Roppongi, Tokyo, will collaborate and show this one exhibition together. It is quite a large-scale exhibition, with 90 artists. I will also be consulting for a few new museums inside and outside of Japan. —[O]