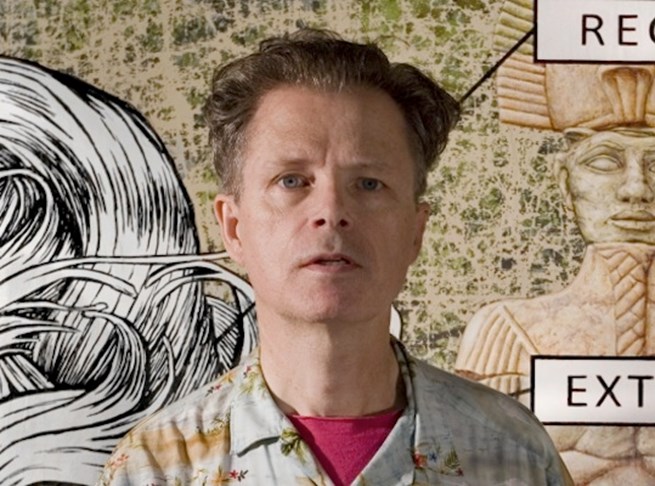 The practice of American artist Jim Shaw spans a wide range of both artistic media and visual imagery. Part of a ground-breaking group that graduated from CalArts in the late 1970's including Mike Kelley and Tony Oursler, Shaw has mined art history, cinema, religion, history, current affairs and the detritus of American culture to find inspiration for his artworks. At the same time, Shaw has also consistently turned to his own life and, in particular, his unconscious, as a source of artistic creativity. In this interrogation of the personal, the commonplace and the uncanny, Shaw's images frequently present an unconsciously considered documentation of the complexity of personal imagery.

Jim Shaw has had major solo exhibitions at the ICA in London, P.S. 1 Contemporary Art Centre in Long Island, CAPC - Musée d'Art Contemporain in Bordeaux, The Kunstverein Frankfurt and most recently, a major retrospective at the BALTIC Centre for Contemporary Arts in Gateshead and a site-specific exhibition of new and existing works at the Submarine Wharf in association with the Museum Boijmans van Beuningen in Rotterdam. His work features in prominent public and private collections around the world, such as the MoMA and Solomon R. Guggenheim Museum in New York, the Mamco in Geneva, the Los Angeles County Museum of Art and the Walker Art Center in Minneapolis.

On the occasion of his first Hong Kong solo exhibition at Simon Lee Gallery
, Ocula took the opportunity to present some questions to the artist.
You have said that as a young man you wanted to be one of four things – a scientist, artist, comic artist or special effects artist; and, in a sense you are. How did it all begin?
Actually, I was 13 at the time I said that, a very young man, but I had already given up the scientist idea, as science as a subject had graduated from reading cool facts to doing actual experiments that were both boring and involved a lot of math, my worst subject. Later, as a young man, I guess I realized there was no place for me in the art world as it stood in the mid-late 70s, but then, no one was making a living from it at the time anyway, so I could keep on doing the work I wanted to without worrying too much about where it would end up.
Before you began working as a full time artist, you worked in special effects and animation in the film industry. How important was this experience to the development of your practice?
First, it was my day job, so I figured that there was little chance I'd be earning a living from my art. I could go on working half the year in effects and half making art. It also gave me an appreciation of pre-planning things as well as film language, though I had to get used to not having access to the high-end technology in my own videos.
You are extremely prolific and work in a range of different mediums and approaches; indeed, you have no consistent style. Is this a deliberate attempt to avoid a singular practice or rather that you are restless and endlessly curious?
It is both, since I knew I never wanted to be a signature artist, and couldn't contain my interest in the varieties of aesthetics in this world.
You are a self-confessed all-American suburban weirdo – what drew you to the weird or curious in the first place?
When you are weird, you eventually understand that you are an outsider, and experience tells you that you will remain on the outskirts of society for the rest of your life. Now, in hindsight, I would say I am schizoid, leaning to manic depressive (though I have no real independent data to back up this notion). I think a lot of the artists and composers I admire also fit into this category.
Dreams and dreamtime are fundamental to your work. How did this interest develop and what significance does it hold for you?
I was having a lot of interesting dreams about other people's art back in the late 80s, and thought it would make for an interesting show to create them. As my own career began to envelop my life, the artworks in the dreams began to be my own quite often. I started to draw the dreams, since I felt the story in which the objects occurred was very important to the understanding of them. I also wanted to demystify the dream, from its surrealist influenced representation, based as it was in their childhoods in turn of the century Europe. Mine often took place in boring offices, and featured all sorts of popular cultural references. Eventually, after three years of making the drawings only, I began making the objects as well, but by the end of the millennium, I knew I'd run out of time for the drawings, as there was no time left in the day for so many art activities.
You have even created your own personal religion, Oism? What is Oism all about?
Originally it was meant to be a simple exploration of what might be the aesthetics of a different religion, how that would impact the kinds of art and propaganda they would produce. As I began to dig deeper, I realized that the historical era I was placing it's birth into (the 1840s, upstate New York, in the wake of the creation of Mormonism) would have affected the religion in basic ways, such as exposure to other ideas that were in the air then and there. Spiritualism, feminism, abolitionism, and various utopian communities were all happening there, but I also figured that the Bible would still loom large over any religion that came into being then, much as I would like it to be an alien theology. As it evolves, it becomes more influenced by eastern ideas, through the popularization of theosophy, and it also becomes entangled with the material world, as the founder invests church funds into a quack inventor's machines, which promise to tap into the power of the aether, and perhaps bridge the gap between this world and the spirit world. The investment fails along with the inventions, but while the feminist founder loses control of her own creation, Oism, a male corporate group takes over and exploits workable aspects of the machines to create a still functioning line of appliances, designed to help lighten the housewife's workload, mainly vacuum cleaners and vibrators.
Tell us about your influencers and inspirations.
My influencers would be many, starting with William Burroughs, Captain Beefhart, Sun Ra, the surrealists and the pop artists, many comic artists and illustrators, Scott Walker, the bible, mythology, lots of nut cases, David Lynch….. Also my friends and teachers, Mike Kelley, Tony Oursler, John Miller, Pat O'Neil, Jonathan Borofsky, John Baldessari, Doug Heubler, Jerome Kamrowski, Cameron Jamie, Ed Ruscha, and my wife, Marnie Weber.
Your forthcoming exhibition at Simon Lee Gallery will be your first exhibition in Hong Kong. Tell us about what you are showing?
Most of the pieces are held together by their aesthetics as they are mostly black and white drawings, and at some level, they are about mark making and the nature of representation. There are several large drawings that combine pencil or hard line ink rendering with soft fields of airbrushing. Another group is of William Blake images rendered in the style of Wayne Boring, the pre-eminent Superman artist of my youth, exploring the relationship between the private fantastic world that Blake inhabited and the corporate fantasy world DC comics maintained in the Superman Mythos, as well as their differing representation of forces both natural and supernatural.
Your work is layered with references to American culture, both the popular and obscure. Do these references translate, and does it matter?
I think of America as a fading empire that was/is dependent on both the projection of military power, and the projection of images, i.e. Hollywood and TV. Originally based on the "fight" against communism these "powers" are both in decline, but the images still maintain a great deal of power, and leave behind a stain. I work with that stain. I'd leave it up to you to decide if they translate or matter.
What are you currently working on?
I am gearing up for another show in May that will be thematically about one of my afflictions, workaholism, and the ways in which economic necessity reinforces it, but the artwork itself forces it on the artist as well. The works will range from large paintings on sections of weathered old theatrical backdrops, to smaller drawings and paintings, a sculpture made of hair, and if I'm really crazy, a new video.
Image courtesy the artist and Simon Lee Gallery