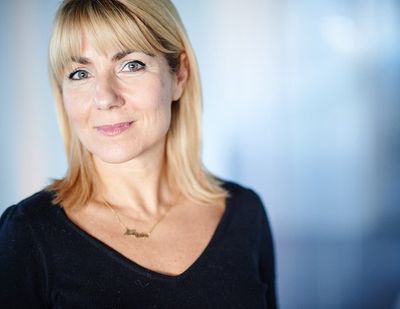 Image: Katerina Gregos. Photo: David Plas.
For the past four years, Katerina Gregos, art historian, curator and writer, has been artistic director of Art Brussels (founded in 1968 as Art Actuel), one of Europe's oldest art fairs.
Aside from her work at Art Brussels, Gregos curated the Belgian Pavilion for the 56th Venice Biennale, and prior to that she curated the Danish Pavilion at the 54th Venice Biennale. In 2015, she was the curator of the main exhibition for the 5th Thessaloniki Biennale of Contemporary Art, Between the Pessimism of the Intellect and the Optimism of the Will.
In 2014, her exhibition at BOZAR in Brussels, No Country for Young Men: Contemporary Greek Art in Times of Crisis, was selected by Monopol magazine as one of the best exhibitions of the year.
Gregos is known for producing rigorous shows that speak to questions surrounding political agency and civil rights, and the ability of art to deconstruct such notions within our contemporary times.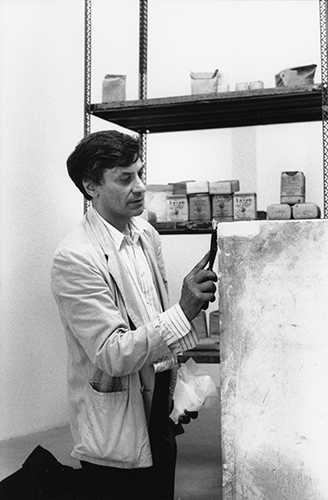 Jan Hoet. Photo: Dirk Pauwels. Courtesy S.M.A.K., Ghent.
Other exhibitions she has curated include The Politics of Play for the Göteborg International Biennial for Contemporary Art in Sweden, and Liquid Assets: In the Aftermath of the Transformation of Capital for the Steirischer Herbst, Graz, Austria (as co-curator), both staged in 2013, and Manifesta 9: In the Deep of the Modern (as co-curator), staged in Genk, Belgium, in 2012.
In this conversation, Gregos discusses the last edition of Art Brussels that she is directing, also touching on how she positions herself as a curator within an art fair context.
Marlene Dumas, Jan Hoet (1992). Photo: Dirk Pauwels. Courtesy S.M.A.K., Ghent.
SB

Could you give us a rundown of what to expect from this year's artistic programme at Art Brussels? I understand that it has been led by the exhibition Cabinet d'Amis: The Accidental Collection of Jan Hoet, which pays tribute to the late Belgian curator.

KGThe flagship artistic project of the fair this year is indeed Cabinet d'Amis: The Accidental Collection of Jan Hoet. It is an exhibition showcasing selected works from the collection of Jan Hoet, who curated Documenta IX in Kassel among other important exhibitions. Hoet amassed a collection of over 500 artworks during his life, which was the result of relationships forged with artists throughout his career, not a strategically assembled accumulation of works of art.

Many works were gifts from artists, resulting in a collection joined not by design or intent, but almost by accident. Indeed, one might use the word 'collection' with some hesitation. The word itself implies something with a certain structure, whereas these works came together in an incidental way, with no deliberate intent to form 'a collection'.

The exhibition that I am curating includes almost 200 works, providing insight into Hoet's artistic vision and his relationships with artists. In addition, it includes documentation, photographs, letters, correspondence with artists, notes, postcards, artists' sketches and drawings, collages, objects, faxes, and texts from his personal archives, which in turn give unique insight into his curatorial trajectory, and which have never before been accessible to the public.

The exhibition will feature works by several established, internationally-acclaimed artists from Belgium and further afield, many of whom Hoet worked closely with such as: Joseph Beuys, Cai Guo-Qiang, Thierry De Cordier, Marlene Dumas, Jimmie Durham, David Hammons, Mario and Marisa Merz, Cady Noland, and Luc Tuymans, among others. The exhibition scenography has been especially created by the Brussels-based architect Richard Venlet. What the viewer will encounter is a museum-quality show, on view exclusively for the four days of the fair.

In addition, the architecture of the new space has allowed for the implementation of a number of artistic projects and new commissions inside the fair that were not there before. These include Complex Computational Compositions by Rafaël Rozendaal, a 15 metre long site-specific video installation that will greet visitors at the fair, and 'Out of the Booth' a sculpture route inside the fair with work by 12 leading international artists working in the medium of sculpture.

Finally, we have always prided ourselves on a very strong non-profit section which this year brings together spaces from Athens, Tallinn, Paris, the Hague, among other cities.
Candida Höfer, Hermitage St. Petersburg XIV (2014). C-print, edition of 6. 180 x 201 cm. Courtesy of Ben Brown Fine Arts.
SB

This will be your final year as artistic director of Art Brussels. How does it feel to be leaving after four years in the role, and after having been credited for putting Art Brussels on the international map?

KGI think that four years is ample time to build up a distinctive profile and programme in an institution like an art fair. I do not come from the commercial art world and I knew from the beginning that this was not a long-term career choice for me. It's been a challenging and I've learnt a lot but there is also a limit to what a curator can do at an art fair. I am leaving because I want to go back to doing what I love most full-time: working with artists, making exhibitions, researching and writing about art.

I am very happy that our work over the last four years has been recognised and that our distinctive profile is appreciated. But as the Benelux's leading contemporary art fair, Art Brussels will continue to build on its profile and track record as one of 'Europe's foremost discovery fairs', as stated recently in the New York Times.
The re-design of the fair by a new architectural firm each year, was also something I instigated. This is an important component to better experience the fair and what is on view. I am really pleased I got the opportunity to instigate the non-profit section—where we invite a number of spaces each year and give them a carte blanche to develop an experimental project for the fair.
SB

Within this time, how has Art Brussels evolved, and what do you feel have been your greatest achievements in the role?

KGThose who know Art Brussels know that it has built up its own niche of difference in the admittedly pretty homogeneous landscape of art fairs. When I started in 2012, I instigated several changes. To start with, I asked for a vote on the gallery selection committee because galleries selecting galleries can engender conflicts of interest but also favouritism. I aim to ensure that we remain objective throughout the selection process. An enormous amount of preparation goes into reviewing the more than 400 proposals we receive each year.

One of my concerns was that Art Brussels does not only present 'art fair art', at the expense of other practices, without of course forgetting that we are part of the art market. The latter fact aside, the galleries that we select and the projects they present aim to go beyond that which is trendy and 'hot' on the art market at this given moment and to give a more broad idea of what is currently relevant in the international art world, beyond commercial considerations.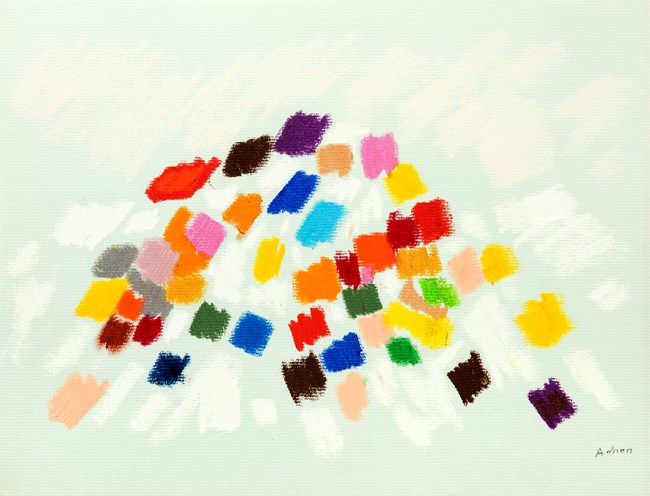 Etel Adnan, Sans titre (1970). Pastel on paper . 24 x 30 cm. Image courtesy of Galerie Lelong.
For example, the SOLO section, which I select, includes projects by artists from 18 countries (within Europe, the Middle East, the Americas and Asia) and brings together a diverse variety of practices by emerging and historical artists of different generations featuring positions that range from the conceptual, formal and minimal, to the political and the post-colonial. The latter are often missing from art fairs.
The re-design of the fair by a new architectural firm each year, was also something I instigated. This is an important component to better experience the fair and what is on view. I am really pleased I got the opportunity to instigate the non-profit section—where we invite a number of spaces each year and give them a carte blanche to develop an experimental project for the fair.
We were one of the first fairs—if not the first—to do this. Finally, over the last few years Art Brussels has built up an extremely high level of discursive and performative activities. From the talks series, to the Readings and Conversations this year, the performances on THE STAGE in our old space, the ARTISTS' MUSIC series of concerts by artists' bands last year, it has always been my aim to also addresses our diverse public of 30,000 visitors, by offering an exciting and content-rich programme for those who are unable to buy art but are art enthusiasts nevertheless.
Eduardo Terrazas, Possibilities of a Structure: Diagonals 1.3.10 (1975–2015). Wool yarn on wooden board covered with Campeche wax. 90 x 90 cm. Courtesy of the Timothy Taylor Gallery.
SB

In turn, how has working with an art fair changed or informed your work as a curator?

KGI see what I do at Art Brussels as a continuation of my curatorial practice and interests, in a different context. I have stuck to my curatorial guns, so to speak, in defending the same kind of artistic practices in the artistic programme that I curate for Art Brussels, as I would for an exhibition elsewhere.

I have tried to introduce a more critical dimension to the fair, and of course, a more curatorial approach overall—this means for me, more inclusion of thought-provoking content and more respectful conditions for art and artists.
Marco Tirelli, Untitled (2014). Tempera and brass on wooden panel. 163.5 x 143.5 x 18 cm. Courtesy of Axel Vervoordt Gallery.
SB

You are leaving your role at Art Brussels to pursue your curatorial activities full time, which makes sense, given the exhibitions you have staged in recent years—in 2015 alone, you curated the excellent Belgian Pavilion at the Venice Biennale, as well as the 5th Thessaloniki Biennale. In a recent statement, you noted: 'I come from the world of public institutions, large-scale exhibitions and biennials, and this is the world I feel most comfortable in, though as an independent curator one should always be open'.
I wonder; how did you balance your role as an artistic director of a fair, and the curator of large-scale exhibitions within the biennial framework? In other words, what are the differences you have perceived in working on either side of the fence, so to speak: the art fair and the biennial? Of course, these two platforms speak to somewhat of a false binary: public and private.
KGMaybe the commercial and non-commercial sector overlap at times, but in a sense, they are also worlds apart. I balanced both roles without doing something at the art fair that I wouldn't have done or be able to defend elsewhere.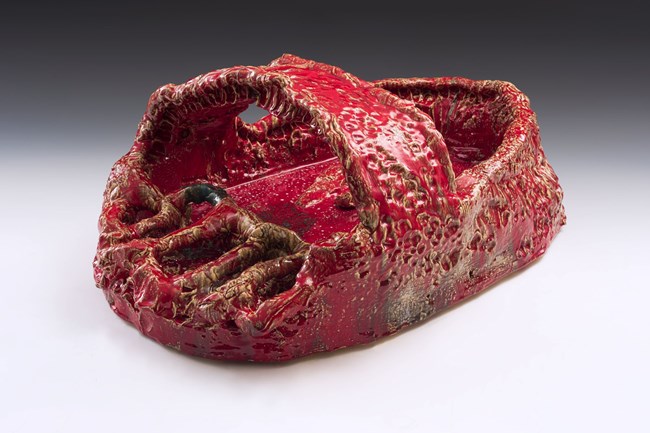 Sterling Ruby, Sandal (5125) (2014). Ceramic. 36.8 x 58.4 x 86.4 cm. Image courtesy of Xavier Hufkens.
SB

To this end, having worked with one of Europe's oldest art fairs, what are your observations on the art fair as platform? In your opinion, what does—and can—an art fair do? In other words, is it more than just a selling platform, and if so, what is it? Here, I'm thinking of Ben Davis describing the art fair in 2012 as the new event-based way to experience art, in which the objects become secondary to the social nature of the event.

KGArt fairs aren't the ideal platform to view or experience art but they are a reality, and their success is probably attributable to the fact that many people seem to like them. Though they play an important role in the economy of art, for popularising contemporary art, and for providing selective overviews of contemporary art today, they are no substitute for the visit to the gallery, museum or artist's studio. I guess their rise has to do with the general acceleration with which we tend to experience everything today.

The rise of the art fair reflects the limited attention span of today. One can see a lot under one roof in a concentrated period of time and space. I am not sure this is the best thing, but that is the way it is. For me, the future of the art fair should be: smaller, more specialised, less generic. This will probably never happen, but many people, including collectors who are suffering art fair fatigue, would probably be happy.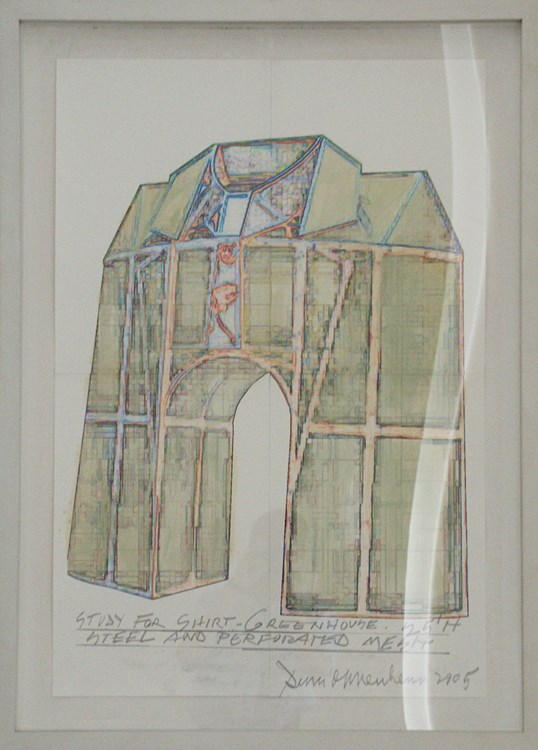 Dennis Oppenheim, Study for Shirt Greenhouse (2005). Mixed media. 91 x 62 cm. Courtesy Mario Mauroner Contemporary Art Salzburg-Vienna, Austria.
SB

On that note, I wonder if you could comment on how recent political events in Europe have impacted on the fair, recent terrorist attacks in Brussels included; how does art respond to such events, in your opinion?

KGOf course Brussels was affected by the recent attacks, in the sense that it was a very traumatic event for the city. But things are getting back to normal. We did not get any cancellations from galleries, and we've had very few cancellations from collectors, so we are proceeding as planned.

Let's not forget that art is one of the best ways to bring people of different backgrounds, nationalities, ideas and religions together, and is an important tool in fostering cross-cultural tolerance and understanding. As tragic as the events were, particularly for those who lost loved ones, there has also been considerable media sensationalism that contributes to an atmosphere of fear, which is often overstated.

We need to put such events in a wider perspective. Since March 22nd I keep getting the question, 'Is Brussels safe?' My answer is: Brussels is as safe as London, Paris, Vienna, Berlin, Amsterdam or any other multicultural cosmopolitan European city.
SB

As a curator, what advice would you give to curators working today, or those of the future? In turn, what responsibilities do you think a curator has today?

KGRemember that the artist always comes first. First hand contact with the artists—and a responsibility toward them and their work is where all curating starts. After that, don't forget that you are addressing a public and not only your peers. —[O]
---
Art Brussels runs from Friday 22 April–Sunday 24 April 2016 at its new location of Tour and Taxis: www.artbrussels.com