Organised in conjunction with the Taipei Biennial 2016, Gestures and Archives of the Present, Genealogies of the Future: A New Lexicon for the Biennial, curated by Corinne Diserens, The Editorial was a series of events, exhibitions, and discussions focused on independent arts publishing in Asia. Held over two days (10 to 11 December, 2016) at the Taipei Fine Arts Museum, the programme included public lectures by practitioners, publishers, artists, and curators including David Senior, Kao Jun-Honn, Jun Yang, Frances Horn and others, as well as performance events, a writing workshop and publication launches. Many of these happenings were staged within an Asian street market-inspired installation, a nod to the social and heterogeneous nature of independent publishing.
The Editorial was initiated by Kit Hammonds (Founder, Vernacular Institute) and Ingrid Chu (Public Programmes Curator, Asia Art Archive). Prior to the launch of the programme, Ocula spoke with Hammonds and Chu about their goals for creating a network of independent arts publishers across Asia.
'The Editorial Aesthetic' panel, The Editorial at the Taipei Biennial 2016, 10-11 December, 2016. Courtesy of Taipei Fine Arts Museum.
Could you talk about the process behind developing The Editorial's programme together?
Ingrid Chu: It started through a joint interest in artist publications, and our looking at the recent focus on working with publishing formats among artists and other practitioners in Asia. The Editorial also follows a series of programmes at Asia Art Archive (AAA) around the idea of books in their alternative form, namely artist books like Free Parking, a series that brings 'art libraries from elsewhere' together with the AAA library collection in Hong Kong. For this, we've shown books and ephemera from other AAA programmes, like Mobile Library, as well as those from residents for whom books serve as an important vehicle for disseminating their artwork, like Slavs and Tatars. Materials from The Editorial will find their way back from Taipei and be presented at the AAA this January, too. Besides this, we've organised exhibitions, lecture performances, and other programmes that have featured artists, editors, publishers, bibliographers, and curators in conversation.
The Editorial is, in some ways, a culmination of these programmes, and an opportunity to link some of the same people and thinkers that were part of those earlier projects, as well as to reveal their thought processes and ideally provide further platforms for them to talk about their work, and to each other.
Kit Hammonds: From my side, this was a coming together of some of Ingrid's interests, her programmes at AAA, and my work. In Taipei, I've been running a series of small bookshops at the Taipei Contemporary Art Center, and have also started to do some self-publishing and inviting artists to self-publish here. I was beginning to have conversations in Taipei around the idea of an art book fair, connecting that to the other art book fair that I run in Mexico called Index, and building on the community around Publish And Be Damned, a publishing/artist book project that I ran from London between 2004 and 2014. It seemed like there was an interest in Taipei particularly, but also this region of Asia, for some kind of discussion, and also the circulation of artist books. Taipei has quite a strong seam of publishing, although it has a limited exchange with things taking place in Europe and elsewhere.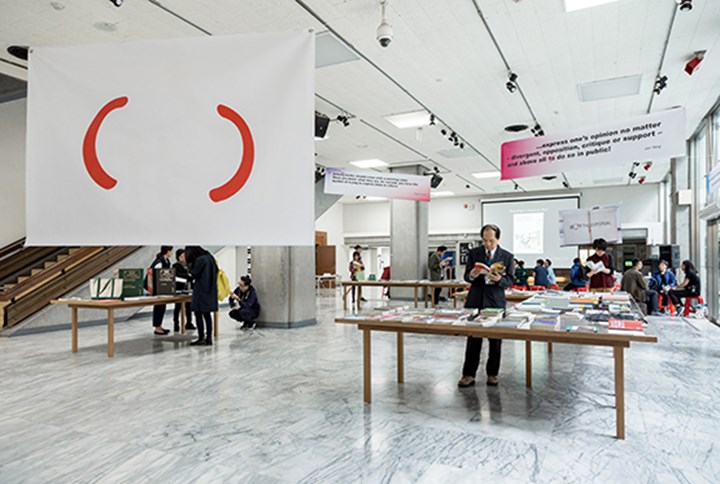 The Editorial Marketplace at the Taipei Biennial 2016, 10-11 December, 2016. Courtesy of Taipei Fine Arts Museum.
The art book fair format has become a kind of globally successful event in contemporary art. Ingrid and I were talking about how we could make an event to think about the conventions of the artist book and the way it's circulated, distributed, and presented in these book fairs. By reflecting on these conditions we hoped to consider a new type of fair; so The Editorial was seen as a project that could foster something not necessarily led by us. Also, by bringing together people we might expand our focus beyond the regional and connect the practices here with those that we know from our other 'lives'.
Is it largely a linguistic barrier behind the lack of exchange of artist books between Taipei and the rest of the world, or is there another reason materials aren't being circulated?
Kit Hammonds: From my perspective, there is a language barrier; art writing is difficult to transfer from one culture to another. But it's not just the language—it's actually the structure of criticism that is almost untranslatable because it has a very different attitude. This is very interesting. How do you pass between them? And how do you create some kind of exchange between the very different mentalities of language and image?
Another issue is, of course, economic. It's very difficult to ship books around the world, and artist books are always produced on minimal budgets anyway. The kind of publishing we are looking at is the kind where no one's ever going to make any money. They might make some of their money back, but they are passion-driven projects and a means of social exchange. Of course, there is transfer between this part of the world and other parts of the world, but it tends to be one-to-one connections, or through the New York Art Book Fair—many people travel to that because it's become the central event in this art publishing scene. But we thought we might be able to contribute a bit more.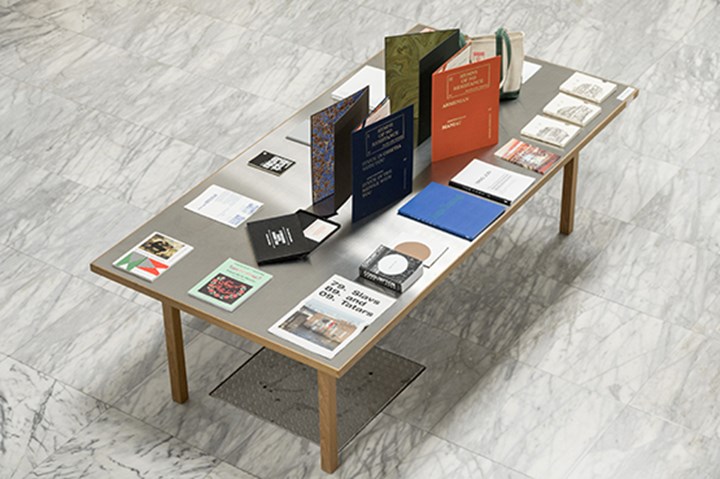 The Editorial Marketplace at the Taipei Biennial 2016, 10-11 December, 2016. Courtesy of Taipei Fine Arts Museum.
The project proposes what you call 'editorial aesthetics'. Can you elaborate on the term?
Ingrid Chu: It touches on several things. But first I wanted to add a little bit to what Kit was saying: one impetus in coming up with this programme was the idea of the book fair. That was something that we thought about initially: pre-existing formats that are prevalent in the international publishing world, and how they might fit in or function in Asia. They're already popping up in Shanghai, and they've been in Japan for a while, with events like the Tokyo Art Book Fair. There is an interest in having a fair happen in Taiwan and Hong Kong too, but through our discussions regarding some of the AAA programmes, I realised the process had to happen in reverse—that is not top down but bottom up. What this became was a series of programme platforms to allow for the sort of practitioners—in the spirit of this idea of creating an independent publishing network as Kit mentioned—who could figure it out for themselves. In essence, to think how any related difficulties could be quite liberating when it's about coming up with a system that's really your own, or in the case of the people we're talking about: their own. That was key.
I mention this as a preface to your question about 'editorial aesthetics'. It's obviously a little bit of a joke on Bourriaud's idea of relational aesthetics, in terms of defining what he was seeing as a way of practice. In some ways, it's to do with what we're seeing as a real and continuing interest in publishing. For all the talk about the digital sphere usurping the print publication, this is not going away. So we're taking a look at the situation of the 'art book' from multiple perspectives and asking, is it a genre? What are the parameters in which artists are working with books and printed matter? What are the challenges that they face, particularly within their regions? But it's also about taking publishing for what it is, beyond the words that are used to define the industry that, frankly, aren't entirely true.
Kit Hammonds: I agree. But to expand on what this kind of aesthetics might be, one of the things that interested us was how publishing has become a part of people's practices alongside other media. Publishing is not about becoming a book artist, but is another way to articulate the complexity of artists' work today. Often a lot of research feeds into a work. The images are not necessarily produced but borrowed. Text is borrowed and brought together with criticism, image production, and graphic design. There's a blending of these different ways of producing. A single artist or group may operate within all of that activity at one time, while publishing other people's work is also seen as part of an artistic practice.
So part of what we are asking is how that manifests itself in the book, and where it sits in relationship to a practice as a whole. Take Kao Jun-Honn. He has produced books such as Novel: In the Name of Chang Cheng-kung (2015) that sit in relation to previous installations made in abandoned warehouses, such as the Ruin Image Crystal Project (2013). These often-remote installations are documented in photography, and then reproduced again in another publication, so it becomes part of a cycle through which image and text moves both critically and creatively.
Within a publishing fair or event, which The Editorial is a kind of alternative example, there's also discussion about how ideas and images circulate. So the more serious enquiry around what 'editorial aesthetics' might be is this: how does the book play a role in artist production today—both as source material and as end product—and as part of this circulation of images and ideas?
White Fungus Wang Fujui Marketplace performance, The Editorial at the Taipei Biennial 2016, 10-11 December, 2016. Courtesy of Taipei Fine Arts Museum.
How is AAA adapting to the changing landscape of arts publishing?
Ingrid Chu: I would say that our programmes try to introduce the idea of the archive as a place of changing knowledge and the importance of archiving as a 'live act', as Asia is being constantly redefined. So it is through programmes like The Editorial, or others like Free Parking: Art Libraries from Elsewhere, or 15 Invitations, which is a durational programme celebrating the fifteenth anniversary of AAA as it continues to change, and with its growing online focus. They all give voice to the archive and sometimes the types of publications and histories that, through programming, can be re-framed. That was how I responded to the collection, making sure that these voices were heard. That's why there are exhibitions, and that's why we're doing The Editorial programme: to go a little bit further and dig a little deeper in trying to create an appropriate framework around the content. You can't look at artist materials and what artists are trying to do with publications and treat it the same way you would talks or residencies, or things like that. It was a way to, even for a moment, create a different kind of platform and give credence to the way artists are practicing and what they're actually trying to do.
What is the significance of discussing independent publishing during a biennial exhibition?
Kit Hammonds: The Editorial partly came out of a discussion with [Taipei Biennial curator] Corinne [Diserens] quite early on. She arrived in Taipei and we had a conversation about how publishing had become a particular focus of artistic practice. There were artists that she already had in mind for the biennial that kind of chimed with this, such as Saâdane Afif, who use the publication as either a form of dissemination from one culture to another or as source material. Saâdane's work in the biennial, The Fountain Archive, is part of a larger project; he's collecting representations of Duchamp's fountain from magazines over the past 100 years. So our project was already partly linked with a particular approach that Corinne was going to take in looking at the archive differently. I think that the role of independent publishing or contemporary practice around publishing is partly in tune with that, and partly a disruption to it—a disruption to the writing of histories as top-down, and the consideration of how things might work the other way around—from grassroots upwards.
Corinne's attitude towards a biennial, and I speak from my own observation really, is that it is a space for discussion and creating ideas as much as it is for presentation. She was very interested in the way that we were thinking of this event as a place to create knowledge, and as an event that can produce research rather than be a presentation of research. That has happened many times throughout the biennial, which is much more than just the exhibition—it's had an event every weekend, and numerous conferences with international and local voices. It's also hosted a number of projects, like our own, as a way to open up and move away from the authority of the single product. So I think that The Editorial sits very comfortably within the concept of the biennial.
ruangrupa + Friends Marketplace discussion, at the Taipei Biennial 2016, 10-11 December, 2016. Courtesy of Taipei Fine Arts Museum.
The Taipei Biennial's theme is deeply rooted in genealogy and historical lineage. Does The Editorial programme draw parallels with this?
Ingrid Chu: The idea of drawing parallels is in line. This goes back to what we were talking about before with top-down approaches, because the street market installation is literally in the basement of the museum. It exists in parallel to the museum. But that is very much in line with what we consider Corinne to be doing: activating the structure—whether or not it's literally the museum, the biennial, the shape of discourse, or the shape of history and what operates around it. Other forms are still there, but maybe flow in and out, or need a spotlight from time to time.
Kit Hammonds: I understand Genealogies of the Future to be looking at how things are being formed in the present for tomorrow, rather than looking backwards. It's about asking what role an independent person, publication, or organisation has in forging history and the future, rather than what role they had in the past.
What are some of the workshops that will take place during the programme?
Kit Hammonds: There are a number of different events. There's a programme of conversations that take place which are in the market installation itself, including different practitioners, publishers, artists, curators, and more often than not people who occupy all of those roles. They're very much active, audience-engaged conversations. Then there's the more formal setting of the lecture theatre for our panel discussion, which is where Kao Jun-Honn will be talking with Brian Kuan Wood and Sharmini Pereira. There is also a performance event programmed with White Fungus who will bring two Taiwanese sound artists to the event [Wang Fujui and Betty Apple]. There are also some closed sessions for our invited guests, where we want to talk about what the future can be, rather than the past. I personally also want to enquire into what is being published or is planned to be published, and more importantly, what should be published here.
One of the questions we had early on was about which art histories—whether they're about art publishing, curating, or otherwise—are being written here through translation. Why are certain texts becoming so prevalent and widely understood here and other histories not being picked up? Are there cultural conditions that make one kind of aesthetics, usually from the West, more pertinent to the conditions of producing and showing art here? I think that publishing offers a very obvious way in which various histories migrate because to many, the book is still the official history. The website might give access to many different ideas, the Internet might distribute everything, but what gets into print is still authoritative.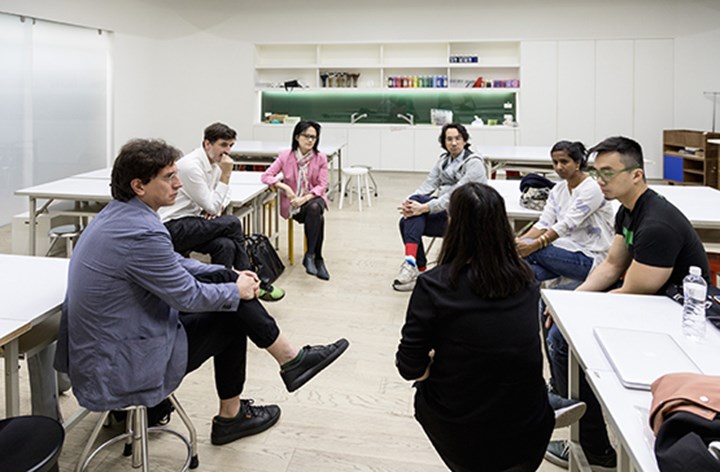 The Editorial discussion forum at the Taipei Biennial 2016, 10-11 December, 2016. Courtesy of Taipei Fine Arts Museum.
And there's also your writing workshop.
Kit Hammonds: Yes, there are a couple of other events outside of the museum. I'll be leading a workshop on critical writing in English, which Brian Kuan Wood will be taking part in. This one will look more specifically at the artist as a critic, so again where the boundaries blur. After all, much of art writing is artist-authored rather than by art historians, or critics.
Ingrid Chu: In some ways, the whole project is a bit of a workshop, but there are specific sessions where we're working out some ideas, both in setting up the programme, whether or not we officially call it a talk, workshop, or performance, and playing with these categories, but also some larger concepts like looking at platforms for art publishing. At AAA, we have a stated objective of examining exhibition histories, so in some ways this is also quite literally looking at, to use Kit's term, the 'vernacular' around publishing platforms and how they may or may not relate to the museum in which the marketplace is housed. It is both within the programme itself, and in the way that we structured other parts of it, like the installation, that we're trying to 'workshop' a few ideas already being discussed by the people we've invited.
Can you describe the Asian street market-inspired installation and talk about its relation to independent publishing?
Ingrid Chu: The relationship exists on multiple levels. One, as I said, is about tracking exhibition histories. Part of the aesthetic that we're seeing is around the structures of how these materials are being bought, sold, shown, and circulated. They're quite different from historical museological presentations around ephemera. So as part of looking at artist publications for what they are, we're activating some of these codes within the marketplace structure.
The programme is also tapping into what we're seeing at fairs as well as other sites and 'scenes' for books—like the social aspect that is very much in line with the dialogue that's happening around this material—and talking about it from multiple perspectives. David Senior, who is the senior bibliographer at the library of the Museum of Modern Art in New York, is going to come and talk about his experience presenting artist books at MoMA, which is quite different from other types of shows you see within the museum itself—they're much more open. Also, as the long-term programmer of the New York Art Book Fair, he will share more about that experience. We're also speaking with Jun Yang, who's from Taiwan and also based in Vienna and Japan, about him as an artist and how he thinks structurally about the way art and art thought processes and dialogues can take place in generating new knowledge.
The talks will mostly be in the marketplace installation, so there are all of these layers. The marketplace becomes a way to illustrate some of the concepts we're talking about and showcase and visualise what's out there. It also hints at how things are made here, because in Hong Kong and also in Taiwan, scale is so important. Sometimes artists make books because there's no studio space to make larger projects. There's an inherent relationship to place that's as much physical as it is psychological, political, economical, or theoretical.
Kit Hammonds: We thought it would be interesting to draw from the cultures in this part of the world to underline the difference of approach one might necessarily take when working in one cultural setting or another. By referencing the region that we're focusing on, the vernacular architectures, the settings and the marketplaces, we want to draw a visual distinction between this region's activities and the way things are circulated, distributed, and produced, with the conventions that Ingrid mentioned—the artist book markets or book fairs in Europe and North and South America. These have become a sort of convention in one respect, and we want to ask that question: how might it be different and not just in the way it is presented, but in the kind of sociality it builds?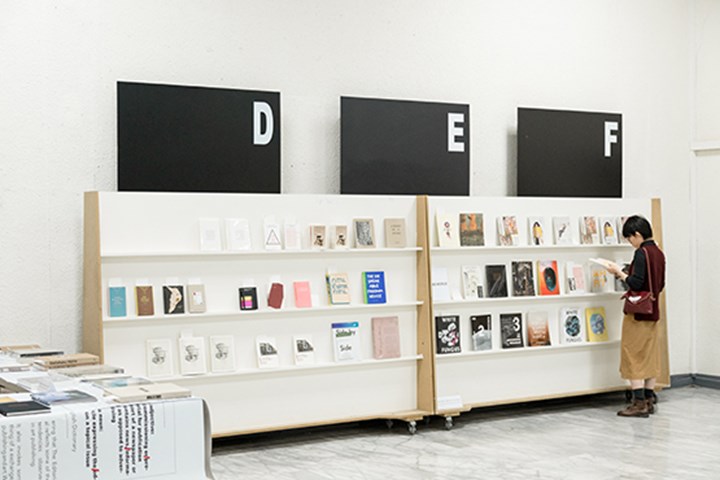 The Editorial Bookshop at the Taipei Biennial 2016, 10-11 December, 2016. Courtesy of Taipei Fine Arts Museum.
Kit, could you provide some insight into Taipei's independent arts organisations and publications?
Kit Hammonds: There are many different layers to the Taipei art scene. It isn't huge, but it's quite active for the size. There are some longstanding independent organisations: Taipei Contemporary Art Center, with whom I've worked a lot, and an artist-run project called Open-Contemporary Art Center, which is an artist studio group that sometimes work collaboratively. They've both been doing a series of exchanges with Thailand and other areas of Southeast Asia. That's very much a homegrown way of maintaining a cultural connection beyond the island of Taiwan. There is quite a focus on the island and all of the connotations that come with it. Many of the artists are trying to find other ways to link outside of its constraints, and I think many of the artist-run and independent organisations are trying to rethink the political and cultural history of Taiwan in terms of art.
Each of the different cities in Taiwan has quite a different way of operating. I think that the Taipei spaces tend to have more of an international connection because it's a major city with more people coming through. Tainan, another city with a well-established art college, has got a very vibrant independent art scene and little in the way of commercial galleries. It has four or five spaces such as Howl Space that are very integrated with the art college, and researchers and curators like J-j Gong.
As for the publishing scene, there's myriad independent art and other bookshops in Taipei, many of which are also social spaces. There's a space called Brilliant Time, which is a library for Southeast Asian books, and which hosts many events by artists and curators looking at Southeast Asia and migration. There's an art bookshop called Pon Ding, which also has a gallery and a café, and brings in a lot of publications from elsewhere. There was recently an independent art book fair at a space called Polymer; Printed Matter had a booth there, alongside Bananafish from China, and a few other publishers, but the majority were homegrown publications like White Fungus, which is an internationally distributed magazine from Taichung focused on the underground scene, which we are working with. There's a lot going on, I just think there's still a need for it to cohere with relationships to the outside world, and for that voice to be heard.—[O]