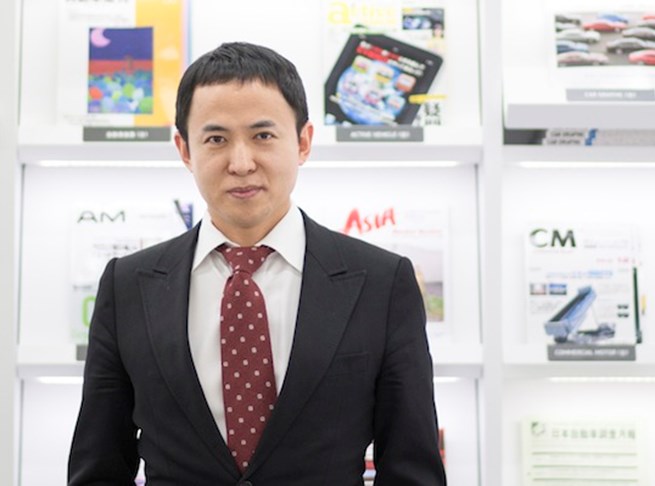 Lee Daehyung's name is difficult to escape within the Korean art world. From self-made independent curator to art director for major South Korean conglomerate Hyundai Motor Company, Lee has been the driving force behind some of the country's most innovative shows and collaborations over the past decade. While his work can dive into the existential, it's an ability to combine the philosophical with the harsh realities of both patriarchal societies and the hyper-narratives of today's technological world that keeps Lee's approach fresh.
Lee founded the regarded Hzone curatorial company in 2008 while juggling graduate classes at Columbia's Curatorial Studies program and working part-time as a building security guard. Best known for organizing the three-year Korean Eye series at Saatchi Gallery—which introduced the best of contemporary Korean art to U.K. audiences—Lee consulted on a deal with the Zaha Hadid-designed Dongdaemun Design Plaza last year to hold shows in collaboration with the historic Kansong Art Museum. The first of the series will display a portion of the museum's priceless collection of ancient art; the first time it has ever done so outside its worn walls.
But before he even reached New York, Lee cut his teeth curating shows at Artside in Seoul, overseeing a 2001 group exhibition that included works by major Chinese artists Yue Minjun, Zeng Fanzhi and others. He then curated Do Ho Suh's Speculation Project exhibition at Sun Contemporary Gallery in 2006. He continued working with some of the country's most celebrated artists: Lee Yongbaek, Yeondoo Jung, Kira Kim, among others. The same year, he launched a multidisciplinary annual series, Korea Tomorrow, in which he brings together specialists from the art, design and architecture fields for local audiences. In 2012 he curated the innovative, female artist-focused WOMAD CODE at Louis Vuitton Espace in Hong Kong, and has organized other shows at OSAGE Gallery, Soka Art Center, Space Leum, Seoul Art Center, and Absinthe.
One of his first major projects with the Hyundai Motor Company in 2013 was to oversee a major partnership with the National Museum of Modern and Contemporary Art Korea through 2023, echoing the unprecedented 11-year sponsorship with the Tate Modern announced earlier this year in January that includes the acquisition of nine major Nam June Paik works.
IM

What first brought your attention to the art of curating?

LDWhen I was young I lived with my grandfather, who took me out rabbit hunting. He made me practice with a bow and arrow, made out of bamboo, string, and a sharp nail. After all that practice, winter came, and we set out.
IM

How old were you then?

LDMaybe about 11 or 12. My father, grandfather and I went out, the three of us. My father and grandfather came back, holding a rabbit or two each in their hands. I had nothing, not even one to show. I'd spent half the day just running around after them, but my grandfather was very philosophical, he asked me, "Why didn't you catch any?" I said I didn't know. He told me to follow him, then said, "What do you see when you look at these rabbit footprints?" When I said I wasn't sure, he said, "Does it seem like a trace of the past to you, or a symbol of the future?" I told him it was a trace of the past, since the rabbit had already run by. "Well, that's why you can't catch them. You have to be someone who can look at these prints and see it as a sign of the future, a way to predict the rabbit's movements. That's context. From now on, try to be someone who creates context." In art, an artist is someone who has to catch the rabbit, and in truth the rabbit as an object is important. But a curator is someone who predicts the path and creates the context. I'd already had an interest in art, but it's because of that episode that I became a curator instead of an artist, because a curator is a person who gathers context. My grandfather told me that that one who pursues context is one who pursues the world.
IM

You earned your master's from Columbia's curatorial studies program. How did your time in New York affect your approach?

LDI was an Asian contemporary art specialist. I worked with a lot of Japanese and Chinese artists, particularly well-known Chinese names like Zhang Xiaogang, Zheng Fanzhi, Yue Minjun, Feng Lijun, Zhou Chunya. Honestly, I went to Columbia because I wanted to help export Asian art. During that time, Christopher Philips of ICP was a lecturer, and professor John Rajchman directed a curatorial seminar. In one class he asked how many people were interested in Asian contemporary art, and nobody raised their hand except for me. Out of 13 classmates. So after about two weeks of intensive Asian studies he asked the same question, and this time eight people raised their hands. They came to me later and asked me about Japan and China, but nobody asked about Korea. I got a bit angry. So I said, "Really? I'm not doing Asian art anymore. I'm only doing Korean." Although I'd focused on Asian art to also do Korean, from that Korean Eye and the Tomorrow Series was born, and it was while attending grad school that I founded Hzone. I started a company because I knew I needed a team to work with.
IM

You've been behind some of the most interesting and visible projects out of Korea over the last several years. One of the latest is a collaboration between Kansong Art Museum and Dongdaemun Design Plaza. I understand it's in the hands of Hzone, which is now headed by Kiehm Young June, but could you tell me a bit more about how that started?

LDIt was actually while I was working on that project that I was scouted by Hyundai Motor...what they're preparing now is the Kansong collection, which embodies quintessential ancient Korean art history. I'd started a project to publish a text and hold seminars researching the Kansong collection, and exchanges about Korean art with curators from such institutions like the Metropolitan, the British Museum, France's Guimet Museum, the Smithsonian, and Christie's.

Now, why me? The collection is comprised of antiquities, but the mode of promoting it should be contemporary. And a marketing direction for a contemporary strategy was needed. From my perspective, it was a role I could fill. If you look at the marketing side, I could give direction in the beginning, make a platform for a pipeline of contemporary marketing strategy. Make it so the antiquities researchers can do the rest, since I'm not an expert in that. I'm not an expert in antiquities, but I am in overseas marketing and platform strategies. It's the same as Kansong having a vision for what they do. Look at Shin Yun-bok's "A Portrait of a Beauty" and Da Vinci's "Mona Lisa." You can't say which one is superior without deconstructing the politics. We're holding the power of marketing, the power of institution. We're actually holding cultural assets. It is important to protect those assets and make them a brand. That's why it's important to work from an active viewpoint and continue conserve those artworks within a place with funds.
IM

You were appointed art director at Hyundai Motor Company in fall 2013. Could you tell me what your responsibilities entail?

LDWhen you talk about cultural marketing, there are companies for whom it's important to have a collection and companies for whom it's important to create an art institution itself. For a corporation like Hyundai Motor Company, partnership is very important. In a way, it's mutual growth. When you ask if the target of art and culture is to possess or to share, Hyundai Motor is a company that says the latter. The value of sharing something is more important than owning something, and our method is to make better, stronger programs with what we judge to be the world's best players, the world's most respected and admired institutions that do what they do best, rather than create something by ourselves...It's no longer that age of the single author, but the age of the Internet user, the era of two-way communication. Because of that, we're not simply receiving something because we gave money as a sponsor or just as a partner; we're gathering our capabilities in order to make art, cultural assets that are needed. On that note, because Hyundai Motor is a corporation, one of our capabilities is capitalism. Even so, it's important that we communicate, share concerns and develop together ... It's not about giving, it's about each party placing on an open platform their own assets, and then brainstorming about what we can do with that. The key to that is supporting respected art institutions so that they can do that.
IM

The Hyundai Commission with the Tate Modern was announced just a few months ago. What was the process like in selecting that particular institution and the space of the Turbine Hall?

LDThis is just what I think as a curator, not from a corporate point of view. Well first, the Tate Modern's Turbine Hall is a 150m by 34m unfinished space, right? I think it's really important that it's unfinished, because people try to complete the image in their mind. There's been a lot of art that demonstrates process until now, which has been advantageous, process-oriented art. Second, Turbine Hall has no stairs. There's just slides, like from a playground. Staircases are a type of, shall we say, altarpiece? It symbolizes a holy altar, one that a minister might walk up to and preach from—-that type of authority. I think that stairs are a symbol of hierarchy, but the hall forgoes that and was finished with this slope surface, which set the bar high for symbolism. And previously, Doris Salcedo had carved a crack into the floor for an artwork, which was later smoothed over, but what I found interesting is that there are still traces of it. If you really think about it, it's treasuring that memory, treasuring that legacy and past. Sure it would've looked nicer if they could have filled it in entirely, but I think that, both as an independent curator and as Hyundai Motor's art director, leaving that trace is Tate's power. And there's another side to it, that distinguishes the Tate Modern from other exhibition spaces, from the Guggenheim or the MoMA, which is that at most museums, when you go to an exhibition it's closer to an individual experience. What is like for me, as I look at that artwork? But at Turbine Hall you don't know where to place your eyes, and as that directional prejudice disappears you move into a stage of collective experience. There's a big difference between an individual experience and a collective one in my analysis. The collective experience is when you can look at something standing, sitting or even lying down, in a number of ways. As a group. It's not easy to experience something like that. I think that's Turbine Hall's strength and, like I mentioned before about Hyundai Motor, it's about sharing something, not owning something. And as a partnership institution, the result isn't sharing an object, but sharing an experience. It might seem a bit poetic, a bit abstract, but that's what I think the meaning behind Turbine Hall is.
IM

The Korean art market has been stagnant the last few years, even given the economic recession. You've said before the collapse of the art market here is the result of an internal, local system. Could you talk a bit about what you feel the Korean art market is struggling with?

LDA jungle is beautiful because diverse species can coexist; that's what gives it value. When you look at art as a jungle, in Korea the starting point is the museum, which is created by a system of government. There are museums, but if they do business with a company it's taboo, business is taboo, so these walls are built and it's immoral to even talk about it. Curators, too. They think, "I'm a curator, why are you telling me this?" But MoMA's Glenn Lowry, Thomas Krens of Gugghenheim and probably even Nicolas Serota would say the same as me. Which is that, honestly, we're not talking about being parasites of capitalism, but about a service that should be designed when a collaborative relationship, partnership or sponsorship comes to your doors. Because what's made in the middle of all that controversy about capitalism is, actually, a collection. But in Korea, we're so used to using national funds that even the system has become accustomed to it. It's become so that if you ask for anything on a business level, you'll be ignored, called taboo. Capitalism and the art market, moreover institutions and academies, should coexist and have a mutual respect for one another, but the gap between the opposing sides is still too big. — [O]