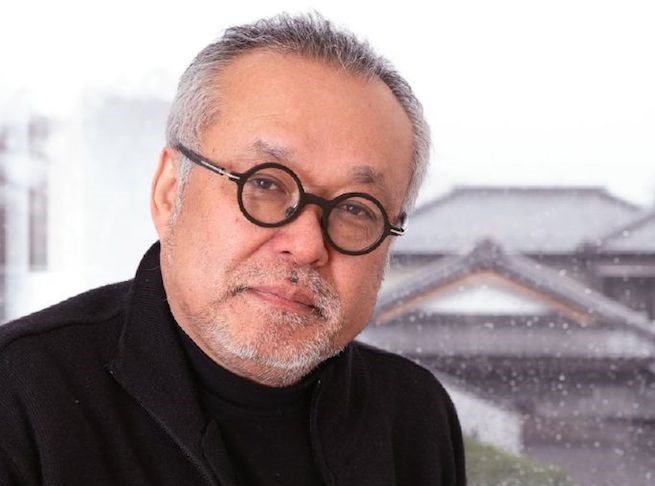 Photo: Makiko Nawa
Art Fair Tokyo, which starts this year on 20th March, is in its 10th iteration. Japan's leading art fair, Art Fair Tokyo uniquely combines contemporary art with antiques, and aims to provide an overview of Tokyo's creative culture in one space. Ocula took the opportunity to speak with Mr. Shiraishi, Chairman of the fair.

Shiraishi has been involved in art fairs in Japan for the last 25 years, and in 1993, he opened his own contemporary art gallery, now known as SCAI THE BATHHOUSE, which continues to be one of the country's leading art spaces. Beside the fair and his gallery, Shiraishi has led the Japanese art scene by fostering talented gallerists such as Tomio Koyama (Tomio Koyama Gallery), Yuko Yamamoto (Yamamoto Gendai) and Mutsumi Urano (ARATANIURANO). In this interview, Shiraishi discusses changes in the Japanese art market and the aspirations of Art Fair Tokyo.
Ten years have passed since the first Art Fair Tokyo. Comparing the first iteration and the most recent, what is the biggest difference?
Art Fair Tokyo was born to show not only contemporary art, but also to put it in context with other genres. This was important because Japanese contemporary art has a relatively long history compared to those of other Asian countries, but its market has been separate from other genres such as antiques and traditional paintings, namely Nihonga and Yōga (painting since the Meiji modernization, circa. 1900). Generally speaking, these types of art forms have been supported by the domestic market; whereas contemporary art is supported and driven by the international market. We launched Art Fair Tokyo 10 years ago in the hope to overcome the market dichotomy and segmentation, and to create a common platform in which people from different art genres could mix and interact. Because of this hybrid nature, Art Fair Tokyo is very uniquely positioned amongst other international art fairs.
I can say that the fair's core concept has not changed over the past ten years, but our circumstances have, particularly with the wave of economic growth in Asia. The biggest change domestically in the last 4-5 years really relates to the rise in the number of young galleries and collectors in Japan, and their participation in Art Fair Tokyo. So the fair covers a broader range of galleries and visualises the city's market activities in one view.
Is the Japanese contemporary art scene continuing to grow?
Yes, I feel so. Japanese collectors aren't like the mega collectors in the West but the number is increasing gradually. Collecting art has been recognised as a way to understand our own culture and to support the value of culture as an important element of civic life. And especially the younger generations are keen to learn more about art.
There are around ten foreign galleries coming from Asia to the fair. What do you think attracts them to the fair?
I think there are two factors. From the gallerist side, of course, they are looking for new collectors. On the other hand, artists want to show their works in Japan to see how they'll be regarded among the Japanese art scene. Tokyo can be a touchstone of how their artworks could be valued in other Asian contexts.
View of Art Fair Tokyo 2014 / Photo : Munetoshi IWASHITA
This year the "Artistic Practices" section of the fair will look back over Japan's involvement in the Venice Biennale. (Contemporary Diversity, 1988-2015 / Viewing Twentieth-Century Japanese Art through Mono-ha, 1970-2000). Why was this particular focus chosen?
Japanese artists have been highly acclaimed in international art festivals and biennales. In this curated section, we exhibit Japanese artists who have participated in the Venice Biennale, often said to be the world's most influential art event. I hope this program serves as an invitation for many audiences to trace the development of Japanese contemporary art by reaffirming the achievement of these artists who have been recognized within a global context.
One of the reasons why I want to do this at an art fair is to point to the fact that these artists have always been supported by their galleries. The galleries were often recognised from the financial perspective. I want to stress the importance of the galleries and the collectors and how their activities contribute to the overall cultural evaluation.
The Japanese Agency for Cultural Affairs had directly supported artists in the past, but since last year, they started to support galleries as well. We've convinced the government to regard a gallery as a long time producer. The government supports the artists to go abroad and they become successful, but then they can't come back if there is no strong market here. There were many artists like that in the past. We need to change this.
From your point of view, how has the market changed since you founded Nippon International Art Festival (NICAF) in 1992?
When I launched NICAF 23 years ago, many great international galleries came over to join this fair, such as Bruno Bischofberger that supported Basquiat and Warhol, Paul Cooper, Jay Jopling—which is now White Cube, and Luhring Augustine. The works of Jeff Wall, Maurizio Cattelan, Damien Hirst, Anish Kapoor, who were in their early careers, were exhibited at the fair. Japan was seen as a rich potential market but the result was the opposite. At that time, the Japanese economic bubble had burst and in terms of the sales, frankly speaking, it didn't sell well. Therefore, foreign galleries wouldn't join after two or three times. For the fair to solely focus on contemporary art became unsustainable.
And then, Art Fair Tokyo was born. How did this happen?
As an extension of my efforts to build an art infrastructure in Tokyo, I thought it important to have a fair here that visualised the total art activities including a diverse range of media and genres. Contemporary art could be put in context with other genres, and I wanted to show the complex web of the entire art market in one glance. This way the fair becomes a reflection of the reality around Tokyo's art world today.
Some criticise the fair for mixing 'the wheat and the chaff'. But who knows, there could be something interesting in the chaff. That's the exciting part of art. In a sense, it is the visitor's eye that judges what is good or not. Just come and see what you like and ignore the rest.
In the beginning, there were some conflicts between different genres. But, for me the most important thing is to continue the art fair, and to make the fair sustainable. Things may change in the future. Economies, artists and collectors may change. We need to continue the fair, otherwise nothing will happen.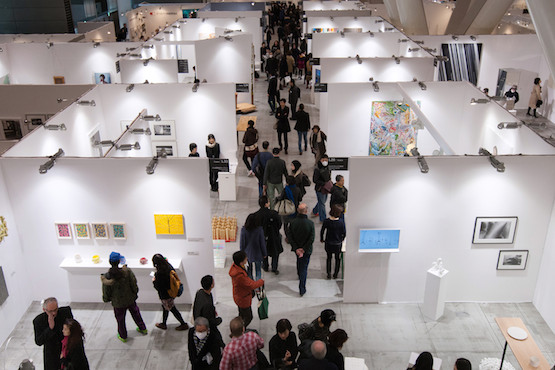 View of Art Fair Tokyo 2014 / Photo : Munetoshi IWASHITA
What are your ultimate aspirations for the fair?
Well, there's a certain quality level in each work and we need to raise the bar. The fair should be competitive in that sense. The market and the art scene will judge the quality and the fair provides a place for that.
Ultimately, I want more Japanese collectors to support our own art. I am not saying this as a nationalist statement. There have been many talented artists who couldn't come back to Japan after achieving success abroad because at the time the market wasn't strong here. For example, Gutai was regarded within the Japanese art scene when it was active but the market didn't recognise it for many decades until it was reintroduced by the Western art scene. This is a shame point for Japan.
There are great Japanese collectors, but not enough. I want this fair to work in that way. The number is increasing but it might take another 10 or 20 years depending not only on art itself, but on economic situations too.
Artists should show and be successful anywhere on the earth and I'm sure there are great Japanese artists who deserve it. We need more good galleries and also good curators to show them in the right context. There should be more challenging galleries, such as MUJIN-TO Production which supports Chim↑Pom, Aoyama Meguro with Koki Tanaka, and many others that haven't yet been introduced overseas.
What will you be showing in your booth at Art Fair Tokyo?
We will show Nobuko Tsuchiya's large installation. She is an artist who participated in the Venice Biennale. Lee Ufan was also shown at the 2007 Biennale. At the fair this year, we are showing Tatsuo Miyajima, Toshikatsu Endo and Mariko Mori from our gallery.
While several Japanese galleries have branches overseas, why did you decide not to open one and focus on Tokyo?
One reason is our artists don't tend to create large numbers of works, and what they do make tends to be large-scale, which can be difficult to move overseas. But moreover, since we've been in the same venue for over two decades, people visit our galleries from all over the world. When some galleries spread their branches, we don't have to. I don't feel the necessity. Instead, we seek to extend our reach through art fairs mainly Art Basel in all three locations, and we work closely with galleries overseas.
You have an impressive roster of international artists. Some of them have integrated Japanese cultural elements into their art, for example: Urushi (Japanese lacquer) in Anish Kapoor's work, and Julian Opie uses Ukiyoe format. How did this happen?
They simply love Japanese culture and are eager to understand it. For example, Anish Kapoor was impressed by the Urushi technique (Japanese lacquer) and worked with the artisans and the local art students to create his work. It is a quite popular work. He also did a large commission work in Kanazawa (The Origin of the World, 2014, at the 21st Century Museum of Modern Art, Kanazawa, Japan). Many of these traditional techniques still survive in Japan and are treasured in the everyday life. I see many international artists who have been fascinated by this element of Japanese culture and have taken an influence into their work: Julian Opie and Jeff Wall, for example.
How do you choose the artists you represent?
I studied art history in my university days, so in the back of my mind I have always thought about how I could support the historical development of art from the past to the future. My gallery represents artists from a wide range of generations, and artworks we show relate to a variety media for this reason. Of course, I can't cover everyone, but I would like to give long support to artists whom I think are the key to the contextual development of Japanese art.
Daisuke Ohba is still in his 30s but we started to work together when he was 25 or 26. I see the uniqueness of each generation and how different it is from the former one. It takes time, 10 or 20 years, for an artist to be accepted in the world. We cannot succeed in a short term.
You have been successfully brought young Japanese art to an international audience. Kohei Nawa for example, is very successful both domestically and internationally. You will be showing a solo exhibition of his work at your gallery during the fair. What is it about his particular practice that has attracted so much attention?
I consider him a new type of artist. The way he creates and applies materials and his conceptual thoughts behind such use are refreshingly new. Moreover, his work makes a strong aesthetic statement: it matches with the impression as being clear and sophisticated while reflecting a contemporary point of view on the digitalsed world. I think his art has the power to speak beyond boundaries to global audiences.
Nawa will show a new series of work at our solo exhibition. And the biggest feature will be a large-scale installation in which streams of black silicone oil fall like rain. We get many inquiries for his bead-works, but artists want to move on to pursue their own expression, and this exhibition will be a good chance to show it. It's going to be a challenging and very exciting show.
What do you feel are the best shows to see in Tokyo in March (outside of your gallery exhibition and the Tokyo Art Fair)?
Exhibitions at MOT (Museum of Contemporary Art Tokyo) are good! They are showing Kishio Suga, Gabriel Orozco and their public collection.
In the end, I strongly want to recommend this area, Yanaka. This area keeps many traditional houses from the Taisho and the early Showa era (1910-30s). I'm preserving the houses in this town. As my gallery was created by renovating an old bathhouse that was about to be abandoned, I have a strong desire to preserve the old architecture. I'll open a new space named "Sakuragi-Atari" meaning "Around Sakuragi" on March 7th along with the opening of Kohei Nawa's solo exhibition. Three traditional houses will be renovated into a beer garden, bakery and an alternative space. "Preserving the good", that's what I do throughout all of my work.—[O]