Feature
A Stitch in Time: Hand-Made, Textile, Contemplation, Imperfection, and Chance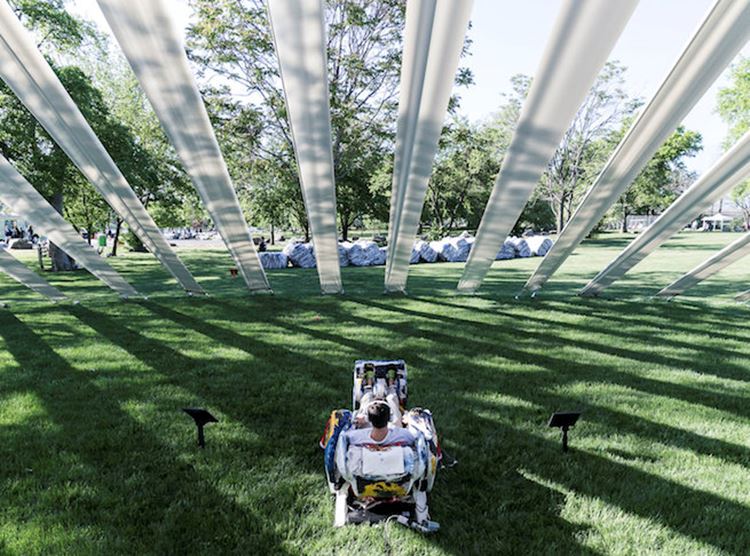 Frieze New York 2015 Photo: © Charles Roussel & Ocula
To spot a trend at an art fair, or attempt a summation of what was on show there, is an impossible task asked of those who are doomed to fail.
To spot a trend at an art fair, or attempt a summation of what was on show there, is an impossible task asked of those who are doomed to fail. A writer who advances with confidence to opine on the prevalence of a particular new movement, or confidently announces the domination of so-and-so medium must caveat such statements by their subjective experience.
Each person views the fair through his or her own prism of experience: the last thing read still reverberating, and the most recent exhibition still lingering. Prejudices, insecurities, unrecognised conflicts and, dare I say it, taste, can all impact what rises above the rippling surface of such mass exhibitions, just as they influence what recedes below.
So it is with an acceptance of the impossibility of the task at hand and caveated by subjectivity, that this report attempts to sum up some of the trends on show at this year's Frieze New York, the fair that saw over 190 of the world's leading contemporary art galleries gathered in a specially designed tent on Randall's Island from 14 to 17 May, 2015.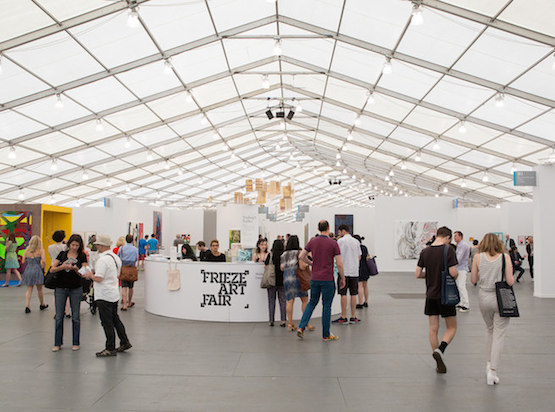 Frieze New York 2015. Photo: © Charles Roussel & OculaMaybe it was because the fair week had started for this writer at The Metropolitan Museum of Art, with a talk by Turner Prize winner, Grayson Perry, who is known best for his ceramic works, but has more recently been creating monumental tapestries. Possibly it was because of the proliferation on social media of Chiharu Shiota's blood red entanglement of thread at the Venice Biennale? Maybe it was simply the yin necessary to the yang of all the hard edged abstraction, refined minimalism, and monumental sculpture showing in the galleries in Chelsea (Ellsworth Kelly at Matthew Marks Gallery, Mary Corse at Lehmann Maupin, Lee Ufan at Pace, Michael Heizer at Gagosian, Richard Serra at David Zwirner). Whatever the reason, following an initial frantic circuit of the fair, and once the dust had settled on a second round, it was the works at Frieze that used embroidery, or otherwise incorporated textile, that stood out from the usual dominance of abstract painting.
Josh Blackwell, Neveruses (Misused), 2014. Plastic bag, wool, silk, acrylic yarn, 62 x 48 cm. Courtesy Kate MacGarryKate MacGarry was showing a wall punctuated by Josh Blackwell works, which comprise highly detailed, elegant, jewel like forms created by embroidering discarded bags with wool, silk and paper. The bags are suggestive of tribal masks, aerial maps and circuit boards. A relatively emerging artist in the context of an art fair like Frieze, the works were priced exceptionally reasonably at USD4,500 to USD6,500, and all but one sold within a few hours of the fair opening. Buyers were perhaps buoyed by Christie's record-breaking sales (with Pablo Picasso's The Women of Algiers (Version 'O') selling for just over $179 million).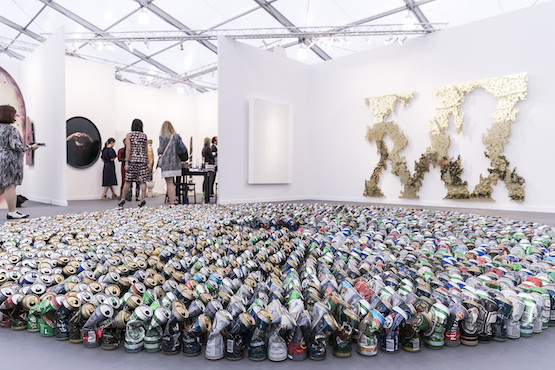 Lehmann Maupin at Frieze New York 2015. Photo: © Charles Roussel & OculaLehmann Maupin was showing a work by a new artist to their gallery, Nicholas Hlobo, alongside the gallery's more established fair stalwarts, like Tony Oursler (who concurrently had a haunting show at their Chrystie Street space). A South African artist, Hlobo used ribbon to stitch a floating jellyfish form with bulbous head and colourful tendrils. Jellyfish are genderless creatures, and the work can be linked to a recent and rich art historical trajectory of artists who have used processes more readily associated with traditional feminine craft to address gender divisions and the hierarchy of political, social and aesthetic systems: from Judy Chicago, Louise Bourgeois, Rosemarie Trockel to Ghada Amer and Tracey Emin. Emin had an embroidered artwork at White Cube's booth, and while I didn't spot a work by Trockel at the fair, her more recent knitted works resonate with those of Canadian artist, Brent Wadden, who did have work both in Frieze, with Peres Projects, and also outside of Frieze with a major show at Mitchell Innes & Nash in Chelsea.
Brent Wadden, 7 Coloured Bars Stacked, 2015. Painting - Hand woven fibers, wool, cotton and acrylic on canvas. 197 x 263 cm. Courtesy Peres Projects, BerlinWadden, like Trockel, references the formal compositions of twentieth century abstract paintings using textiles. However, unlike Trockel, who since the 1980s has used manufactured wool knit to create many of her works, Wadden uses a self-taught and laborious weaving technique whereby he weaves wool, cotton, and acrylic into geometric designs, which he then stitches together in panels and mounts onto raw canvas. The artist's technique can also be linked to a tradition of female pioneers of the Bauhaus movement: Anni Albers and her tutor, Gunta Stölzl, whose weaving workshop produced some of the most acclaimed textiles of the 20th century. Wadden's use of textile disrupts modernist notions regarding the division of disciplines, but equally it celebrates the notion of the hand-made as explored and refined by Albers and Stölzl. Wadden's work is also subtly subversive in his refusal to succumb to contemporary society's obsession with manufactured perfection and immediacy. It was no surprise to hear the series from which the work at Frieze originates is called, About Time, and that the waiting lists for his work are long.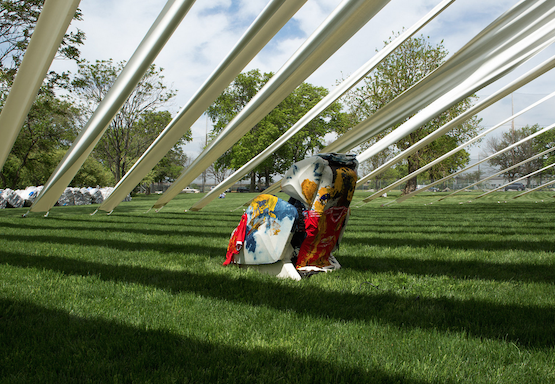 Korakrit Arunanondchai, Frieze Projects, Frieze New York 2015. Photograph by Marco Scozzaro. Courtesy of Marco Scozzaro/Frieze.A number of contributions to the fair were focused on this idea of 'taking time', and specifically on the idea of returning art viewing to an activity of contemplation. Korakrit Arunanondchai presented a series of high tech massage chairs positioned throughout the fair for Frieze Projects 2015. The chairs were intended to function as places of rest and contemplation. Upholstered in the artist's signature material—bleached and painted denim—the chairs were also accompanied by a hypnotic sound track, based upon a conversation he and his brother had at Frieze in London.
Richard Tuttle at Pace Gallery, Frieze New York 2015. Photo: © Charles Roussel & OculaRichard Tuttle's series of new drawings, entitled Aspects, were shown by Pace Gallery in a booth conceived by the artist as a type of immersive environment intended to enhance the audience's visual experience of the work. Each work in the booth comprised a cut sheet from an artist's drawing pad with painted, drawn and cut gestures, mounted on cardboard backing, and then framed in red. Each work was further framed by a white painted line applied directly to the booth's black walls. The floor was covered in hardboard and on it was painted a pattern of dots that followed the edge of the booth; the effect was to create an intimate space for each viewer to appraise the work from the perfect distance. A similar attempt to create a space of contemplation was made at Galerie Gisela Capitain's booth, where one had to pass through a curtain of black plastic strips—a work by Monika Sosnowska—to view three paintings, including a striking black and white painting by Tobias Pils.
Monika Sosnowska at Galerie Gisela Capitain. Courtesy Galerie Gisela CapitainDirectly opposite Galerie Gisela Capitain, requiring active visitor participation, and also employing dots, was the Gavin Brown's Enterprise contribution to Frieze, which involved Jonathan Horowitz presenting 700 Dots, a piece that recruited fairgoers to paint a "perfect" solid black dot for a fee (paid by the artist) of USD20 per dot. As each dot was completed, it was adhered to the booth walls, until very soon all 700 dots covered the entire three walls in a monochromatic grid like formation. It was an alternative 'sticking on of dots' to that taking place outside the fair at one of David Zwirner's two spaces, 519 and 525 West 19th Street, where Yayoi Kusama's exhibition, Give me Love, saw visitors adhering brightly coloured dot stickers to her seminal installation, The Obliteration Room.
Exhibition view, Yayoi Kusama Give me Love, at David Zwirner. Courtesy David Zwirner In comparison to Kusama's dots, Horowitz's dots were larger and the effect was monochromatic, and although the size of each dot was similar, because each dot was individually drawn, it was individually unique. Just as Picasso had, according to myth, instructed young artists to draw a perfect circle as a means to discover their shortcomings and thereby their own uniqueness, Horowitz similarly explores the manner in which the collective can amplify such uniqueness. The artist said of his work, "A perfectly painted dot would render the hand invisible. And there's a further amplification of the hand through the multiplicity of hands involved. Every dot is different." Like Brent Wadden, who views the mistakes made during the weaving of his work as essential to his work, Horowitz' work appears to accept and celebrate the accidental imperfections of each dot, because, and to quote Picasso again, "The accidental reveals man."
Gavin Brown's Enterprise, Frieze New York 2015. Photo: © Charles Roussel & Ocula

Sarah Sze

View Bio, Artworks
Exhibitions & News Closely related to the idea of accident, is the idea of chance, another theme that was noted at the fair in various states. Sarah Sze, who had two beautifully composed, intricate and model-like sculptures showing at Victoria Miro Gallery (forming part of her first body of work since she represented the United States at the 55th Venice Biennale in 2013), has described her work as representing experiments that explore time, space, mass and volume, but equally she has also acknowledged that the final composition is very much the result of chance.
Sarah Sze at Victoria Miro, Frieze New York 2015. Photo: © Charles Roussel & OculaLooking at Sze's work, and thinking about her more well-known and larger site-specific sculptures that sometimes appear suspended, I was reminded of an untitled work by Eva Hesse, in the exhibition America is Hard to See at the new Whitney Museum which had just opened prior to Frieze week.
To create her own suspended work, Hesse knotted ropes dipped into buckets of latex. When these were hung up to dry, the glutinous liquid either adhered to the twisted ropes surface or dripped off, resulting in either scrambled gnarls or sweeping loops forming, each retaining the incongruities of their making.
Hesse signaled her interest in such unpredictability in her notes for a preparatory drawing for the work, describing her will to allow the work "to determine more of the way it completes itself." Consequently, this sculpture is configured somewhat differently every time it is put on display.
Eva Hesse at the new Whitney MuseumThe use of mutability and chance as artistic process was also reflected in a very different work at Frieze: a work by the artist Ian Cheng which comprised a gigantic cinema sized LED screen showing an animation installed by Standard (Oslo) gallery at the entrance to the fair.
A young artist, Cheng's animation Emissary in the Squat of Gods (2015) is based on a 1976 book by the psychologist Julian Jaynes that argues prehistoric humans possessed a different type of consciousness from our own. The work is a computer program that provides for a continual and mutating telling of the narrative. This continual churning of random possibilities for the work is apparently one of the reasons why a number of institutions had indicated interest in the work, attracted by the numerous experiences it offered an audience.
Another artist abdicating authorship to chance was the Brazilian artist, Rivane Neuenschwander, who had work showing at Stephen Friedman Gallery. Recognised for her contribution to Brazilian conceptualism, the artist last year had a major museum survey at the São Paulo Museum of Modern Art, and the work in Stephen Friedman's booth forms part of a series she created for that exhibition.
Drawing connections also with the aforementioned Eva Hesse work, the series is inspired by John Cage's body of work in which he dipped string into paint, dropped it onto paper and then removed it to leave an arbitrarily formed painted outline. Neuenschwander mirrored this action by dropping string onto fabric napkins and then embroidering the outline of the shapes created by the fallen string. This process also recalls Marcel Duchamp's 3 Standard Stoppages (1913), where the artist dropped three one-metre pieces of string on to the canvas before gluing the resulting forms.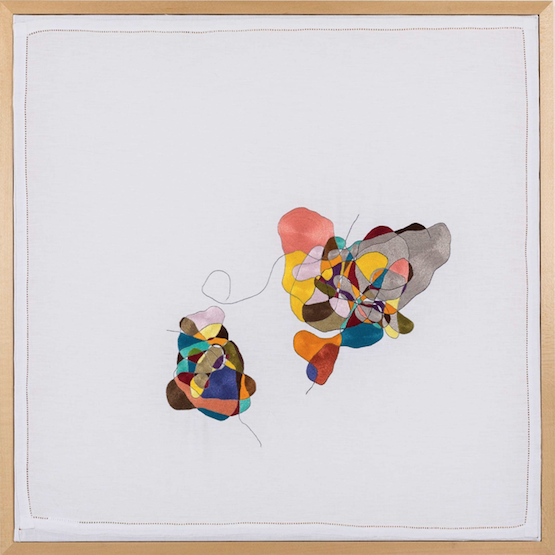 Rivane Neuenschwander, (a)casos eroticos [Erotic Cases] 2, 2014. Silk thread on fabric, NEUEN 345. 62.5 x 62.5cm (24 5/8 x 24 5/8in). Courtesy Stephen Friedman GalleryJohn Cage and Duchamp are very much relevant to any discussion of Fluxus, a movement that was referenced throughout the fair. With her exhibition, Yoko Ono: A One Woman Show, 1960-1971 at the Museum of Modern Art, it was not surprising that Cage influenced and occasional Fluxus collaborator, Yoko Ono had two works showing at Galerie Lelong. In addition to this Cecilia Alemani, curator of Frieze Projects this year, had commissioned a special tribute to the Flux-Labyrinth, the installation first created in Berlin in the 1970s by George Maciunas and his Fluxus peers.
Another work commissioned by Alemani for Frieze Projects 2015, and also influenced by Fluxus, was an installation by Aki Sasamoto. A New York based, Japanese artist, Sasamota's installation at Frieze involved the creation of a personality test accessed and determined via a three-dimensional multiple answer questionnaire. Comprised of a maze-like structure built within the grid of the gallery booths, a visitor could enter the work and make his or her way through its rooms via a selection of doors. The selection of door was driven by the answer to a question posed in each room, with the ultimate exit point determining the visitor's personality.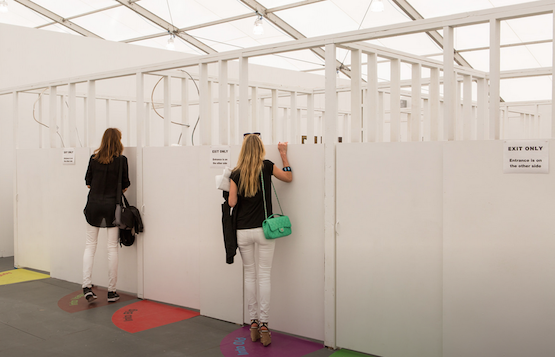 Aki Sasamoto, Frieze Projects, Frieze New York 2015. Photograph by Marco Scozzaro. Courtesy of Marco Scozzaro/FriezeSasamoto's work reflects perfectly the environment of an art fair, where a myriad of experiences are possible. A momentary shift of focus, a distracting conversation, a decision to turn one way as opposed to another, can all impact one's final experience of the fair. Like Ian Cheng's computer programme, the fair environment offers a myriad of outcomes; it is ultimately a game of chance. For this writer, the outcome at Frieze was to notice an emphasis on the hand-made and on textile, a focus on taking things a little more slowly, and a continuing interest in chance as a means of process and even medium. —[O]