Feature
São Paulo gallery spaces working to make art more accessible
Image: Casa Triângulo. Photo: © Leonardo Finotti.
Titled Incerteza viva (Live Uncertainty), the 32nd Bienal de São Paulo opened to the public on 7 September and runs until 11 December 2016. Since 1957 the Bienal de São Paulo—one of the oldest and most important contemporary art biennials—has showcased the avant-garde and since 1962 has been housed in the Ciccillo Matarazzo Pavilion in Parque do Ibirapuera. The Pavilion is a heritage listed building designed by a team led by architect Oscar Niemeyer and it is considered emblematic of Brazilian Modern architecture.
The connection between the space that hosts the Bienal and its role showcasing contemporary art is an apt one for a country where modernist architecture has deep roots and great relevance in shaping local culture—albeit underappreciated locally for a long time. The 2013 protests were fundamental in raising awareness to that; in essence they were about access to public domains. This year the relationship between contemporary art, architecture and urban spaces that reflects the current zeitgeist in São Paulo—which in part is represented by a focus on the issue of access to public domains—, increasingly reasserts its relevance in the art circuit. The architectural project of the 32nd iteration of the Bienal designed by Alvaro Razuk Arquitetura proposes more integration between the artworks and the park, reflecting a stated desire by the curatorial team for a 'more permeable and accessible bienal', and this trend is noticeable also in the city's commercial galleries' spaces and programmes.
In anticipation of the Bienal, Camila Belchior explored commercial galleries in São Paulo, identifying some with unique or new exhibition spaces that are side-stepping the sealed 'white cube' model for one which sparks integration with their surroundings and dialogues between art, architecture and the city.
Luciana Brito Galeria
Fifteen years after inaugurating the first purpose-built 'white cube' gallery in São Paulo, Luciana Brito realised it was time for a change. Aside from being Marina Abramović's local dealer, Brito represents Brazilian artists that are important art historical figures, like Waldemar Cordeiro, Thomaz Farkas and Geraldo de Barros, as well as a mid-career team that includes Caio Reisewitz, Héctor Zamora and Rochelle Costi. Taking part in almost ten international art fairs a year and running an intense programme of exhibitions in the large space she had designed to house several parallel shows at once, was no longer manageable or reflected her ambitions. 'Showing art in spaces that are not purpose-built is becoming a trend everywhere now and in São Paulo the galleries are not all together in the same neighbourhood like in some cities. Building 'white cubes' in São Paulo a decade ago was inspired by looking to a Chelsea-model, but now we've understood that our scene will never be like that and we are proudly embracing our local context and identity', says Brito. She was fortunate to come across a house designed by Rino Levi, one of Brazil's most notable modernist architects. It took a year to restore the residential building with architects Piratininga Arquitetos Associados in order to house the gallery and although Brito was sure she wanted to move out of the 'white cube' and into a residential building, keeping the original design—which includes a unique fireplace as a centre piece and gardens designed by Brazil's foremost landscape artist Burle Marx—she could not foresee how the art community would take it. It's been very well received and all her artists have been on board from the outset, excited by the idea of working on shows for this singular site. 'A space like this fits in well with the work of the artists I represent. It also brings the artwork closer to the audience and has opened up new possibilities for our programme, which can now seamlessly include exhibitions on architecture, design and other things alongside art'.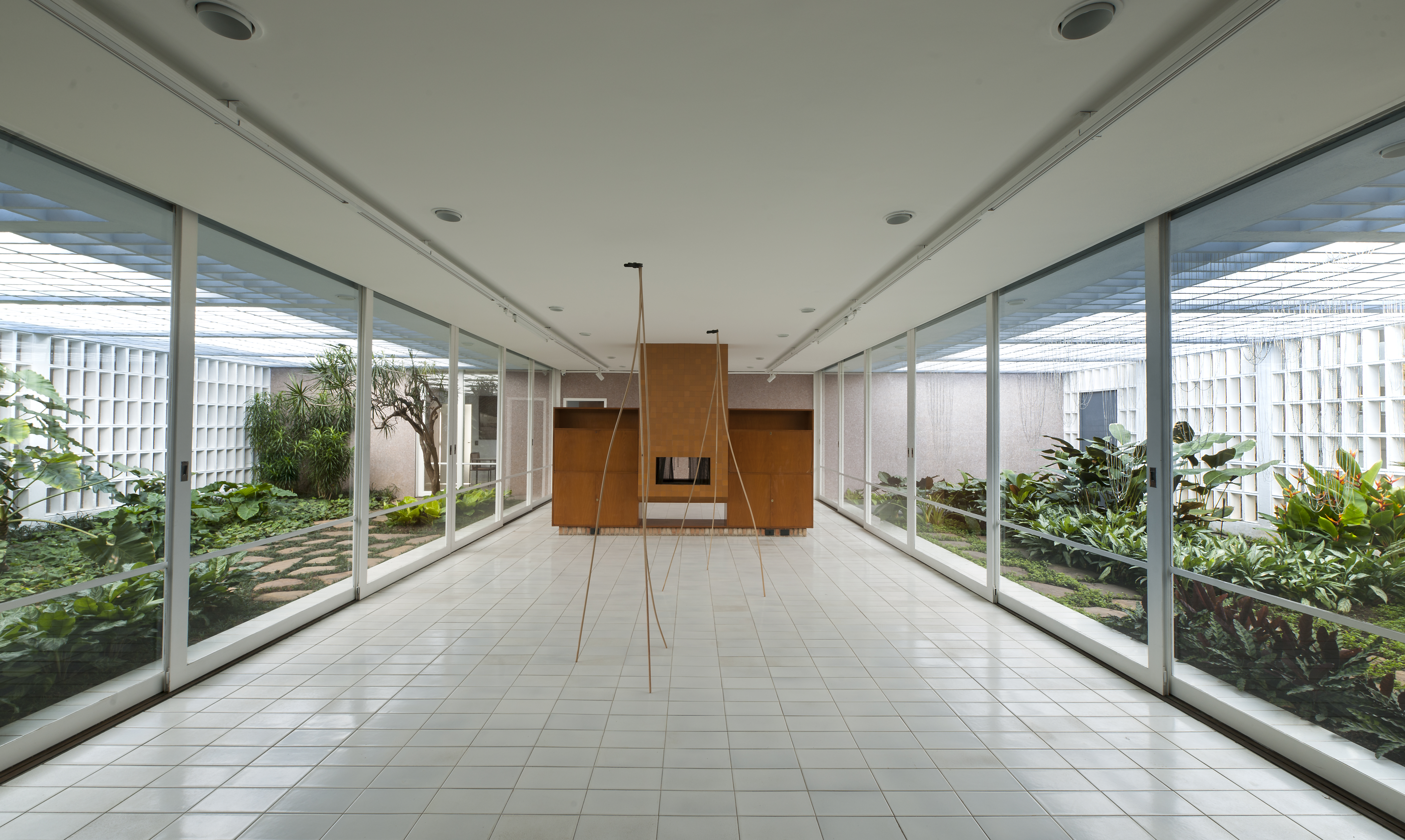 Image: Luciana Brito Galeria. © Romulo Fialdini.
Galeria Jaqueline Martins
Jaqueline Martins opened her gallery in 2011 with the intention of raising awareness of Brazilian contemporary art that dialogues with conceptualism. Apart from representing young mid-career artists such as Ana Mazzei and Lais Myrrah (who are both taking part in this year's Bienal), Martins also has a large archive and collection of conceptual art from the 1970s and 1980s created during the dictatorship in Brazil. Much of the work by the artists she represents is site-specific, therefore made in close dialogue with the architecture that receives it. In five years Jaqueline Martins has carved a significant space for her artists in the market, especially abroad and is now moving into a 600m2 restored (by Tacoa Arquitetos) warehouse where there will be ample space to always have parts of the collection on display, as well as regular temporary shows. 'I wanted to move away from a 'white cube' type of space because it's boring! In Brazil we don't have a tradition of maintaining historic buildings and I wanted to keep the history of this space alive and build dialogues with it. We've been living very sterile times and it's been normal for spaces to have no character. I wanted to move away from that. It's already so difficult to make art accessible to people that there is no point doing it in a space where they don't feel a connection to or welcome in. There aren't many galleries that could be in a space like this one, but the work I show works well in it; I don't sell paintings by the metre, I sell ideas'.


Image: Galeria Jaqueline Martins. Photo courtesy Galeria Jaqueline Martins.
Casa Triângulo
Founded in 1988, Casa Triângulo is one of Brazil's most established contemporary art galleries. Earlier this year, Metro Arquitetos Associados, pupils of Pritzker Prize winner Paulo Mendes da Rocha who have worked extensively on art-related projects, designed a new building to house its headquarters. 'As an architect, I don't have any major criticisms of the 'white cube' model. It was born out of characteristics specific to minimalism in America, at a unique point in time. Minimalism created tensions with the art space, while contemporary art has a relationship with it. The 'white cube' was important and marks an era, but art and architecture are permanently in dialogue', says Martin Corullon, founding partner at Metro Arquitetos.
An abandoned Blockbuster video shop on a prime plot of real estate revealed itself as the perfect spot for Triângulo's new space. 'When we found it, we realised that the building was ideal for an art gallery: it was simple and regular in its form and open at ground level; it was already a transparent and permeable space—this is what gives the building its strong character. Light seeps through the polycarbonate skin on the ground level, breaking with the idea of a [sealed] white chamber. The changes in natural and artificial light can be felt and seen from inside and outside the building', says Corullon. The seamlessly interconnected rooms spill out through doorways onto outdoor social areas at ground level, designed to encourage exchange with the surroundings. 'The lack of public spaces in São Paulo has always been an issue. The 2013 protests were fundamental in raising awareness to that; in essence they were about access to public domains. There's no coming back from that in São Paulo and in a way this gallery talks to this reality by allowing and stimulating the appropriation of public urban areas. People leave the club across the way and pop into the gallery or sit on the big bench outside it—it's inviting and inclusive, not exclusive. This is about breaking physical as well as cultural barriers—a space with a small door that you have to ring a doorbell to enter is not welcoming. This permeable space allows for a new relationship with art and art galleries to emerge' explained the architect.

The gallery opened with Sandra Cinto's solo show and has since shown sculptures (indoors and outdoors) by Flávio Cerqueira and during the opening of the recent group show O que vem com Aurora, collective Opavivará's performance Remotupy saw people pile into a canoe powered by electric wheels and 'drive' down the adjacent streets, while visitors enjoyed the indoor and outdoor areas all afternoon.


Image: Sandra Cinto at Casa Triângulo. Photo: © Leonardo Finotti.
Galeria Millan
As one of São Paulo's veteran contemporary art galleries, Galeria Millan represents an array of artists ranging from well-established Brazilian icons like recently deceased Tunga and younger artists such as Ana Prata and Rodrigo Bivar. Earlier this year, Millan inaugurated an annexe (Anexo Millan) a few houses along from where the main gallery stands in the district of Vila Madalena. 'I don't think we've built a traditional 'white cube' or just a 'white cube'. It's a 'white cube' with a spacious horizontal area', says Socorro de Andrade Lima, a partner in the gallery. Although it doesn't break with the concept of a 'white cube', which Millan's main gallery upholds well, this sizeable new venue has interspersed courtyards and large front doors that open out to a main outdoor patio at the front of the plot that becomes a focal point during openings and attracts those passing by. Recent work by Henrique Oliveira, known for his alluring anamorphic installations and immersive sculptures made out of plywood (as seen in 2013 at the Palais de Tokyo) inaugurated Anexo Millan in April.


Image: Galeria Millan.
Photo courtesy
Galeria Millan.
Galeria Leme
Housed in an iconic concrete building designed by Paulo Mendes da Rocha and Metro Arquitetos Associados, Galeria Leme fosters a unique programme since last year that houses temporary installations by South American artists curated by Bruno de Almeida. Artists such as Ricardo Alcaide, Beto Shwafaty and Daniel de Paula have made site-specific artworks for the patio between the gallery's two buildings—a space that is visible to people passing by—as a way of engaging a wider audience in artworks that promote dialogues between art, architecture and the city. For its fifth edition (on show through December), Peruvian artist Sandra Gamarra has designed an installation anchored on 'the grid' that permeates the Leme building, which is created by the visible modular concrete units that were used to build it. In Cielo Raso, an apparent building site, the notion of 'the grid' speaks directly to the geometric modular order of Brazil's modernist heritage as well as to cosmic and mystical implications as it was understood by Pre-Columbian civilizations. —[O]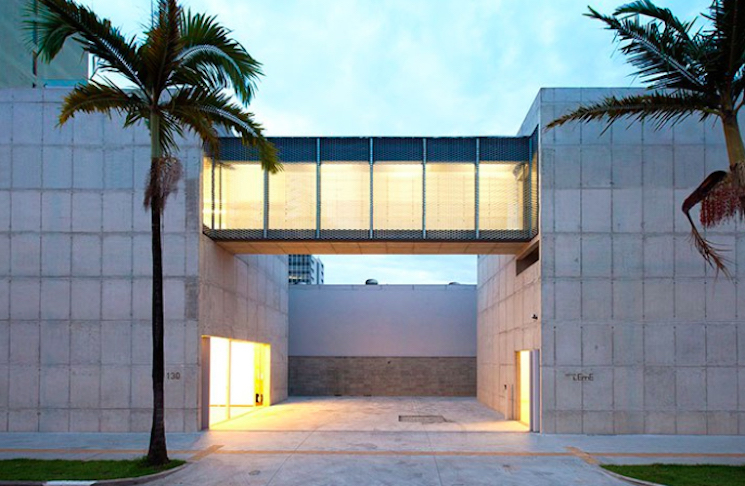 Image: Galeria Leme Photo: Eduardo Ortega.