Feature | Exhibitions
Los Angeles Lowdown: Must-See Exhibitions in 2023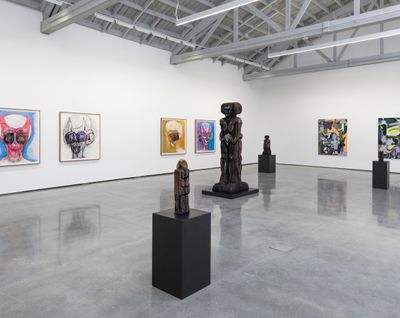 Exhibition view: Huma Bhabha and Michael Williams, Bhabha Williams, David Kordansky Gallery, Los Angeles (21 January–25 February 2023). Courtesy David Kordansky Gallery. Photo: Jeff McLane.
Anticipating Frieze Los Angeles (16–19 February 2023) and its 120 exhibiting galleries at Santa Monica Airport, Ocula Magazine shares the must-see exhibitions around the city, which set the tone for what we would like to see more of this year.
Hans Haacke, News (1969–2008). RSS newsfeed, paper, and printer. Dimensions variable. San Francisco Museum of Modern Art, purchased through gifts of Helen Crocker Russell, the Crocker Family, and anonymous donors, by exchange, and the Accessions Committee Fund. © 2023 Hans Haacke/Artists Rights Society (ARS), New York/VG Bild-Kunst, Bonn. Courtesy the artist and Paula Cooper Gallery, New York.
Coded: Art Enters the Computer Age, 1952–1982
Los Angeles County Museum of Art, 5905 Wilshire Blvd
12 February–2 July 2023
For those who share the unease surrounding ChatGPT, a self-learning chatbot that may render many jobs obsolete, a stop by this timely exhibition at LACMA will help appease dystopian fears by recalling the generative properties of technology.
From the heyday of computer algorithms to their impact on artistic practices today, Coded explores how computers have inspired and intervened in artistic processes since the 1960s, influenced mainstream art movements, and forged a pathway toward a 'digital art'.
Finding creation within destruction, 75 artists, writers, musicians, choreographers, and filmmakers who work with computers and systems come together to consider the impact of algorithms on our collective lives, presenting over 100 objects.
Friedrich Kunath, I Don't Know The Place, But I Know How To Get There, Blum & Poe, Los Angeles (14 January–25 February 2023). © Friedrich Kunath. Courtesy the artist and Blum & Poe, Los Angeles/New York/Tokyo. Photo: Evan Walsh.
Friedrich Kunath: I Don't Know The Place, But I Know How To Get There Blum & Poe, 2727 South La Cienega Blvd
14 January–25 February 2023
Light wooden floors and beamed ceilings at Blum & Poe temporarily salvage Friedrich Kunath's playful landscapes from the sterility of gallery whites. Kunath's work conceives of places that do not exist, mirroring the empty promises of cities like Los Angeles.
Men in tailcoats confront the vastness of nature with smartphones in hand, while bright vehicles overtake sober landscapes making obvious the human intrusion. From landscapes shrouded in mist, broken with abstraction, or submerged in darkness, romantic ideals are recovered to speak to present nostalgia. We always assert life was better back then.
Best articulated in Coming Home Was As Beautiful As Going Away (2022), recollection can be a wonderful thing when it is not used to escape the present. In the oil on canvas work, letters from the title align at the top of a mountain, gradually jumping into a purple-pink sunset.
Janet Werner, Geneva (2022). Oil on canvas. 60.96 x 50.8 x 4.14 cm. Courtesy Anat Ebgi.
Janet Werner: Call Me When You Start Wearing Red
Anat Ebgi, 6150 Wilshire Blvd
21 January–25 February 2023
Janet Werner's fictional portraits of fashion models and art-historical muses mesmerise with resonance. Sombre tones and murky palettes submerge young female faces in gloom, bodies fragmented to mirror the tensions that surface from their represented selves.
Take the pale redhead woman lounging in a pastel dress in Haddon (2022), for example—likely Dorothy Vernon, from Charles Major's best-selling novel Dorothy Vernon of Haddon Hall (1902). Her bisected face is swept away, overshadowed by a longing arm reaching out.
The fragility and desire she embodies overtake her identity. Essentially, she is a vehicle for another's imagination. The royal blue couch beneath her hint at the discourses that have defined her existence—narrated and written by men.
Exhibition view: Huma Bhabha and Michael Williams, Bhabha Williams, David Kordansky Gallery, Los Angeles (21 January–25 February 2023). Courtesy David Kordansky Gallery. Photo: Jeff McLane.
Bhabha Williams
David Kordansky Gallery, 5130 W. Edgewood Pl.
21 January–25 February 2023
A charged environment unfolds at David Kordansky in this encounter between Huma Bhabha and Michael Williams' depictions of contemporaneity. Animal-skull sculptures meet vivid abstractions of psychological states. Colours and forms find emphasis from proximity.
Conceptualised in a fluid world where everything threatens to disintegrate, both Bhabha's humanoid sculptures and Williams' narrative paintings address these immaterial and atemporal realities through inciting visual languages that grip the imagination.
Bhabha's time-traveller Stalker (2022), for instance, comprises a rugged, wood-toned totem holding an emerald gem against its chest. Neither of the past nor the future, Stalker, in its formal coherence and conceptual ambiguity, elicits a kind of humble reverence from its open-ended proposition.
Helen Cammock, I Will Keep My Soul (2022) (still). © Helen Cammock 2022. Courtesy the artist.
Helen Cammock: I Will Keep My Soul
Art + Practice, 3401 W 43rd Pl
11 February–5 August 2023
The 2019 Turner Prize co-recipient Helen Cammock is known for fragmented narratives that speak to marginalised identities and conditions. As part of a residency, the artist visited New Orleans for the first time in January 2022. I Will Keep My Soul recounts her experiences and encounters in the city, which bring new perspectives to so-called Black life.
Including a new film, poetry, text, and performance, the exhibition presented by California African American Museum begins with Cammock's research into the story of American sculptor Elizabeth Catlett and the hardships she faced working toward her 1976 Louis Armstrong statue commission for Armstrong Park.
Collating voices from musicians, artists, and writers, alongside the sound of poetry and trumpet, Cammock highlights the connection between art, activism, and autonomous expression, along with the ongoing need to retain these freedoms.
George Condo, Femme Fatale (2022). Oil on linen. 215.9 x 228.6 cm. Courtesy the artist and Hauser & Wirth. Photo: Thomas Barratt.
George Condo: People Are Strange
Hauser & Wirth, 8980 Santa Monica Boulevard
15 February–22 April 2023
Deformed yet intriguing portraits by the acclaimed George Condo unveil Hauser & Wirth's new West Hollywood space on Santa Monica Boulevard, illustrating the city's preoccupations with appearance, glamour, and fame.
Condo's singular style, which merges realism with artifice, can be traced to the artist's diverse experiences—from studies of Baroque and Rococo painting, to playing bass in a punk band and working as a printer in Warhol's factory in New York.
Condo's reflections on absurdity, performance, and dissonance extends to People Are Strange, which takes its title from a 1967 single by local rock band The Doors. Among its couplets is the assertion: 'Faces look ugly/When you are alone.'
Speaking to this isolation, Condo's aggregations of anatomical features present insisting eyes, gaping mouths, and stretches of tongue like cubist portraits. In other places, splashes of yellow and clashes of bold and fading lines recall the poetry that can emerge from the same places.
Daniel Arsham, Blue Cacite Eroded Venus of Arles (2019). Blue calcite, selenite, and hydrostone. 208 x 102.1 x 74 cm. Courtesy the artist and Perrotin. Photo: Guillaume Ziccarelli.
Daniel Arsham: Wherever You Go, There You Are
Orange County Museum of Art, 3333 Avenue of the Arts
14 February–28 May 2023
After the recent Paris Fashion Week, where Daniel Arsham broke his own sculptures to extract clothing for the menswear runway, the artist's first major museum exhibition in the U.S. conceives an equally sensational project: an archaeology of the future.
Anticipating what scientists might find upon looking back to our times, Arsham's new cast of everyday objects and figures includes a camera, a telephone, and an hourglass. Made of sand, pyrite, and volcanic ash, they attest to the spirit of a moment—a shared concern for time's passage, its documentation, and measurement.
The rusted convertible Bronze Eroded Delorean 1:2 (2022), for instance, consists of a life-size vehicle ravaged by time. Its back doors point toward the sky, as if awaiting to ascend, while small bronze prisms pierce through its damaged surface. —[O]