Feature | Exhibitions
New Delhi Lowdown: Must-See Exhibitions in 2023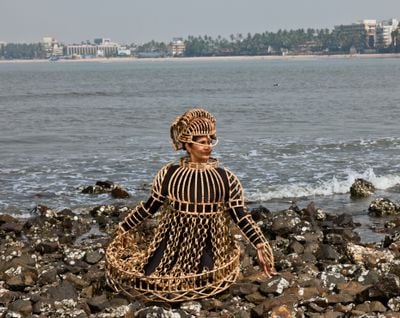 Shakuntala Kulkarni, Juhu Beach (2010–2012). Photo performance at Juhu Beach. Digital print on rag paper. 42.5 x 62.9 cm. © Shakuntala Kulkarni. Courtesy Chemould Prescott Road.
As India Art Fair (9–12 February 2023) launches its largest edition with over 85 participating galleries and an expanded site incorporating a digital art space, New Delhi's galleries are fired up. From Indigenous art forms to new concepts of pop, Ocula Magazine shares exhibition highlights across the city.
Muvindu Binoy, Moon Men (2015). Courtesy the artist and Saskia Fernando Gallery.
Pop South Asia: Artistic Explorations in the Popular
Kiran Nadar Museum of Art, 145, DLF South Court Mall, Saket
9 February–30 June 2023
This bold, bright exhibition—curated by artist and Cornell University professor Iftikhar Dadi and KNMA curator Roobina Karode—treads new ground by highlighting how artists in South Asia and its diaspora explore and assimilate the region's diverse popular culture.
Following its opening at Sharjah Art Foundation in September 2022, the exhibition continues to break the shackles of Western art history at KNMA. Taking an expanded view of pop, the show brings together over 100 works that well-represent the region's expansive geography.
From an Afghani nail salon recreated in textile by Hangama Amiri (Sahar, Nail Salon #1, 2020), disjointed Buddhist deity paintings by Tsherin Sherpa, to a collage mash-up of film posters by Muvindu Binoy, the exhibition celebrates the free flow of popular culture. And while it may, as writer Rahel Aima notes, overlook the latter as a tool for populism, Pop South Asia will be a landmark for years to come.
Sumakshi Singh, Untitled (Series 33 Link Road) (2022). Thread drawing. 243.8 x 121.9 cm. © Sumakshi Singh. Courtesy the artist, Anant Art, and Exhibit 320.
Mycelial Legacies
Anant Art, Centre for Contemporary Art, Bikaner House, Pandara Road
29 January–12 February 2023
The Faculty of Fine Arts at M.S. University of Baroda Vadodara has built a legacy as an incubator for many of India's reputable male artists—among them, figurative painter Bhupen Khakhar and painter, poet, and critic Gulammohammed Sheikh.
Curator Deeksha Nath re-spins this legacy by focusing on women whose practices developed from and contributed to the art faculty. Spanning over six decades, works by 30 artists, including Nasreen Mohamedi and Mrinalini Mukherjee, highlight mutual material experimentation and a focus on body and space.
Notable works include Sumakshi Singh's ethereal thread drawing, Untitled (Series 33 Link Road) (2022), which is based on the architecture of her grandparents' home in Delhi, built following their relocation post-Partition. A further highlight are the images from Shakuntala Kulkarni's striking performance along Mumbai's Juhu Beach.
Exhibition view: Group Exhibition, Vayan – The Art of Indian Brocades, National Crafts Museum & Hastkala Academy, New Delhi (1 February–19 March 2023). Courtesy Devi Art Foundation and National Crafts Museum & Hastkala Academy. Photo: Anuj Arora.
Vayan – Art of Indian Brocades
National Crafts Museum & Hastkala Academy, Bhairon Marg, Pragati Maidan
1 February–19 March 2023
Textile traditions have, of late, been a preoccupation for Devi Art Foundation. The second of an exhibition trilogy dedicated to Indian handloom techniques, Vayan – Art of Indian Brocades looks to silk brocades from across the country.
Selected from the Foundation and National Crafts Museum's collections, textiles on view are lavishly adorned with repetitive patterns, often floral in design, which showcase the profound aesthetic and technical excellence of the country's weaving heritage. From glistening golden weaves to borders replete with finely detailed peacocks, each piece is a treasure trove.
Arpita Singh, The Swans did not come back this year (2022). Courtesy Vadehra Art Gallery.
Arpita Singh: Meeting
Vadehra Art Gallery, D-40 Defence Colony
7 February–14 March 2023
Arpita Singh is revered for paintings that are akin to expressive cartographies; flattened and fly-away worlds are populated by stories that collapse autobiography and the imagination.
In her new series of works, Singh re-attunes her vision as figures recede to the background and fractured, abstracted environments come to the fore. The Swans did not come back this year (2022), for instance, conjures a liquid landscape flowing with snippets of text. The paint's intensity shifts, incorporating dense build-ups of pigment that loosen into a geometric border.
Across the show, short phrases punctuate individual works, evoking a kind of automatic writing. In Meeting, Singh lays bare her stream of consciousness.
Exhibition view: Princess Pea, Extra Time, Goa (January–December 2019). Courtesy Khoj International Artists Association.
Threading the Horizon: Propositions on Worldmaking through Socially Engaged Art Practice
Khoj Studios, S-17, Khirkee Extension
16 January–20 February 2023
Threading the Horizon presents 14 artists and collectives engaging with India's social injustices, specifically surrounding gender-based violence. Manifest in community projects and public artworks, the range of works imagine and enact ways of securing an equitable society.
In central India's Madhya Pradesh state, artist Shweta Bhattad created an all-women space to produce sustainable clothing, while in Goa, Princess Pea deploys football training sessions for schoolgirls as a catalyst for discussing gender-based discrimination.
Using the exhibition format and collating such initiatives, Khoj impresses the power of collective action and the possibility for change.
Santoshi Shyam, Vibrations (2021). Courtesy Craft and Community Development Foundation.
Modern Tribal
India Habitat Centre, Lodhi Road
7–9 February 2023
The Gondwana region of central India, home to the Gond people, is often associated with distinct forms of painting—often deemed as folk, tribal, or Indigenous art.
Modern Tribal explores various styles from the region—Gond, Bhil, Warli, and Sohrai—passed down through generations. Presented by the Craft & Community Development Foundation, the selection derives from the 2019 Gondwana Art Project, an initiative to support local artists and their art.
Techniques like Warli and Bhil, traditionally painted on the mud walls and ceilings of homes, are innovated to form exquisite works on paper, cloth, and canvas.
Geeta Bhairya recovers the conventional dot patterns of Bhil painting to illustrate tribal rituals and narratives. Rajesh Mor reflects on daily life using Warli, historically an art form with a defined set of geometric symbols and practiced by married women. —[O]