Feature
Nasreen Mohamedi at The Met Breuer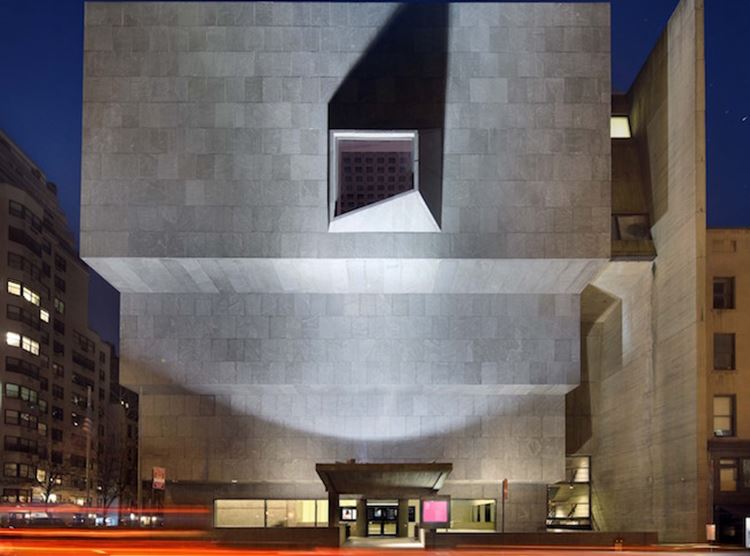 Image: The Met Breuer. Photo: Ed Lederman. Courtesy The Met Breuer
When The Metropolitan Museum of Art announced its intention to lease the Marcel Breuer building on Madison Avenue in New York from its former tenants, The Whitney Museum of American Art, one couldn't help but conjure up ideas of the type of exhibitions that would be held there. Visions of The Met's somewhat staid former modern and contemporary galleries, with their respectable but hardly revolutionary collection of works by great modern masters (think Frank Stella and Sol LeWitt), combined with the sort of 'block buster' approach that has come to be associated with other New York institutions (think auction super stars or pop culture celebrity shows) sprang to mind.
It was therefore surprising to walk into The Met Breuer and be introduced to the exhibitions the institution chose to inaugurate the space with: Relation: A Performance Residency (18 March to 31 March 2016) by Jazz composer and pianist Vijay Iyer in a small gallery on the entrance floor, which will feature collaborations with the likes of Stephen Crump, Satoshi Haga, and Jennifer Koh; Unfinished: Thoughts Left Visible (18 March to 4 September 2016), a major thematic survey of unfinished artworks that focuses not on the modern and contemporary periods, but instead on a wide array of art historical moments dating back to the Renaissance; and Nasreen Mohamedi (18 March to 5 June 2016), the first retrospective in the United states of the female Indian artist who lived from 1937 to 1990. Prior to this showing, Mohamedi has had solo exhibitions at The Drawing Center in New York in 2005, the Kiran Nadar Museum of Art in New Delhi in 2013 and the Tate Liverpool in 2014. At the Met Breuer, she is given a formidable survey of 130 paintings, drawings, photographs, and rarely seen diaries made over the course of a career.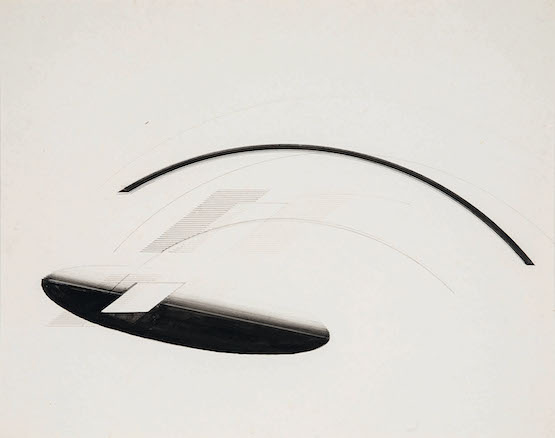 Image: Nasreen Mohamedi, Untitled, ca.1980. Ink and graphite on paper. 10 1/2 × 13 1/2 in. (26.7 × 34.3 cm). Collection of Dossal Family (Mariam Panjwani, Zeenat Sadikot, Laila Khalid).
In its quiet, understated elegance, it is the Nasreen Mohamedi exhibition that is the most surprising, and also, hopefully the most predictive of the direction The Met will take in the next eight years. The show suggests that The Met is serious about using its resources and world class curatorial staff to expand the definition and scope of modernism. In a press release accompanying the show, The Met's Sheena Wagstaff (Leonard A. Lauder Chairman of The Met's Department of Modern and Contemporary Art)—who curated the show along with Roobina Karode, director of the Kiran Nadar Museum of Art in New Delhi, and Manuel J. Borja-Villel, director of the Museo Nacional Centro de Arte Reina Sofia in Madrid—states: 'One of our goals with The Met Breuer is to present thoughtful exhibitions that posit a broader meaning of modernism across vast geographies of art'. What we have to look forward to as an audience, she suggests, is more serious exhibitions by artists who have been unfairly overlooked by the Western canon—like Nasreen Mohamedi.
Mohamedi was born in 1937 in pre-partition Pakistan to a prosperous Muslim family. She moved to Mumbai in 1944, where she spent her childhood until moving to London to study at Central Saint Martin's School of the Arts from 1954 to 57. She spent much of her adult life traveling, either to places where her father had business interests, such as Bahrain, or to countries where she was awarded grants and scholarships, such as France, Iran, and Turkey. In 1972, she became a professor of fine arts at M.S. University in Baroda. In 1990, she passed away from a neurological disease, Parkinson's, at the age of 53.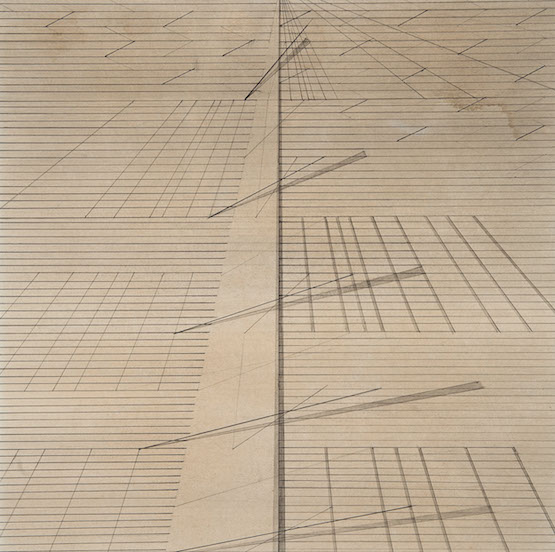 Image: Nasreen Mohamedi, Untitled, ca.1975. Ink and graphite on paper. 9 1/2 × 9 1/2 in. (24.1 × 24.1 cm). Sikander and Hydari Collection.
The exhibition at The Met Breuer showcases her peripatetic lifestyle, as well as her keen eye for light, shape, and space, which she translated into sparse but intricate abstractions drawn largely with ink and watercolor on paper. The artists Mohamedi is most frequently compared to include Agnes Martin, with whom she was paired at the 2007 documenta in Kassel, and V.S. Gaitonde, India's foremost abstract painter who served as her mentor for many years. But her ability to translate the patterns of light and space that she saw through the lens of her camera onto the canvas is truly singular, as is revealed by juxtapositions of her photographs and drawings in the exhibition.
The show opens with a survey of her first exploratory paintings and collages, which were made in the early 1960s, when Mohamedi was working at the Bhulabhai Memorial Institute for the Arts in Mumbai alongside master painters M. F. Husain and V. S. Gaitonde. Gaitonde's influence especially is apparent in those early canvasses, which experiment with layering abstract forms over monochrome backgrounds given depth by variegated densities of pigment. A breakthrough comes with a wall of gelatin silver prints that show the photographs Mohamedi took during her travels in the Gulf States, both with her father and her brothers, who ran a business in electronics and photographic equipment, and the artist M. F. Husain, who created the award-winning film Through the Eyes of a Painter (1967), which consists of long shots of landscapes in Rajasthan that Husain had formerly painted.
Image: Nasreen Mohamedi, Untitled, ca.1975. Ink and graphite on paper. 20 × 28 in. (50.8 × 71.1 cm). Sikander and Hydari Collection.
Mohamedi clearly was intrigued by capturing with light what she drew on the paper. The untitled photographs, wrought in sepia tones and black and white, show geometric shadows on cracked walls, wavering lines made by water and land, and the juxtaposition of angles in adjacent buildings. These forms are mirrored in the next wall of drawings, also untitled, which at times are almost indistinguishable from the photographs, blurring what is real and concrete with what is abstract on the paper. In ink and graphite works from 1970, Mohamedi seems to mirror the repetition of lines in a plowed field she photographed to create entirely new dimensions of space on flat paper, the simplicity and sparseness of the lines belying an innate sense for spatial complexity; arguably, in photographing the fields, she was also capturing the visions she had already translated on the page, or intended to capture on the page. The exhibition leaves this open-ended.
As the years progress, so does the sophistication of Mohamedi's compositions. Untitled works from 1975, which are only 20 1/2 × 19 15/16 inches in size, but translate vast planes of space, show her ability to break one dimension with another, almost as if waves of lines are crashing into each other. Photographs from 1967 and 1972, interspersed throughout, continue to show how much real space influences her abstractions. The telephone poles disappearing into the horizon of a photograph from 1967 are repeated in untitled drawings from 1967 and 1975. In turn, the drawings influence the photographs. A drawing of mirrored planes of tiles from 1970 show up in photographs of the lines in pavement at Fatehpur Sikri captured in 1972. Mohamedi's eyes see the same patterns in her practice, and when she's merely observing the world around her. Such forms are also found in the pages of her diaries, which are interspersed in glass cases throughout the exhibition. More intriguing than the notes she writes to herself, which include 'steady the EYE' and 'the full moon__a perfect circle___COMPLETE SERENITY', are the ways in which her internal world of planes seem to erupt even on calendar pages, covering her notes and appointments, blotting out language with shapes.
Image: Nasreen Mohamedi, Untitled, ca. 1970. Gelatin silver print. 9 × 13 7/16 in. (22.8 × 34.2 cm). Courtesy Chatterjee & Lal.
The exhibition moves roughly chronologically, ending with a series of works made on graph paper from 1980, and a series of works made in 1985, when Mohamedi's disease had no doubt progressed to the point where it was difficult for her to hold her hand steady. Mere tears in space, the compositions, which are ink and graphite drawings, show an incredible effort, but also an interest in moving taking a step back from space. The drawings are not universes in themselves, but instead, views of the universes seen from space, as if viewed through a telescope from Earth, or through the eyes of an all-seeing deity. To move from such works, which experiment with blank space and circular forms, to the reading room at the end of the exhibition, which is swathed in gray tones, and lit by a single window cut into the wall of the Brutalist structure, is to recover from the intensity of being immersed in Mohamedi's expansive visions.
In retrospect, it is clear how perfectly Mohamedi's work fits into the Breuer building, with its textured lines of rough concrete juxtaposed with circular light fixtures, and blank spaces. Mohamedi, no doubt, would have found much inspiration both in photographing the building, and in recreating it on the page. In choosing Mohamedi as the debut artist, the institution does justice not only to its program, but also to the building itself. It's exciting to consider what will come in the space, and how the galleries, both so familiar, and so malleable, will be transformed in the next eight years. —[O]