Feature | Exhibitions
New York Lowdown 2023: 9 Must-See Autumn Exhibitions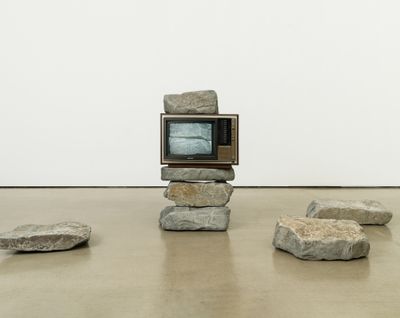 Park Hyunki, Untitled (TV Stone Tower) (1982). Colour video (silent), CRT monitor, and stones. Dimensions variable. Guggenheim Abu Dhabi GAD.2021.00043. © Park Sungwoo. Courtesy Guggenheim Abu Dhabi.
As autumn winds usher in legacy art fairs The Armory Show, PHOTOFAIRS (both 8–10 September 2023), and Independent (7–10 September 2023), Ocula Magazine shares nine must-see exhibitions across the city's galleries and institutions.
Laurence Cuneo, Ruth Asawa holding a paperfold (c. 1970s). Gelatin silver print. 24.9 × 18.6 cm. Department of Special Collections, Stanford University Libraries. Photo © Laurence Cuneo. Artwork © 2023 Ruth Asawa Lanier, Inc. / Artist Rights Society, New York. Courtesy David Zwirner.
Ruth Asawa: Through Line
Whitney Museum of American Art, 99 Gansevoort Street
16 September 2023–15 January 2024
Expect: insight into the life and work of a formidable sculptor and educator across more than 100 drawings, watercolours, and collages, among other media.
Ruth Asawa did not have an easy life. Born into a Japanese immigrant family in Norwalk, Southern California, she worked on farmland during her early education before being deported to a detention camp in Arcadia, California in 1942, where she learned to draw from Disney animators who were also interned there.
After being refused her teaching licence due to anti-Japanese sentiment, she eventually learned of the experimental Black Mountain College through friends Elaine Schmidt and Ray Johnson. There, she studied under important figures including dancer Merce Cunningham, architect Buckminster Fuller, and painter Josef Albers, pushing her to experiment with different media.
Critical to the development of Asawa's delicate wire sculptures was her drawing practice. This is the focus of her exhibition at the Whitney Museum, which departs from her experimentation at Black Mountain College, with drawing becoming integral to her later role as an educator and artist in San Francisco.
Jung Kangja, Kiss Me (1967/2001). Mixed media. 120 x 200 x 50 cm. © Jung Kangja. Courtesy Jung Kangja Estate and ARARIO Gallery. Photo: Jang Junho.
Only the Young: Experimental Art in Korea, 1960s–1970s
Solomon R. Guggenheim Museum, 1071 Fifth Avenue
1 September 2023–7 January 2024
Expect: a thematic presentation of artistic developments in the decades following the end of the Korean War in 1953, focusing on the genesis of the Korean avant-garde.
Korean experimental art is given significant exposure in North America in this institutional exhibition that dives into a crucial period of artistic production in the country, with around 80 works made by artists who came of age after the Korean War.
During this period, marked by modernisation and precarious politics, artists were bound not by a singular aesthetic, but rather a 'search for the new'. They sought not only to redefine traditional mediums such as painting and sculpture, but also photography, moving image, and installation.
In the mid-1970s, exhibition platforms for experimental art emerged. Among these was the Daegu Contemporary Art Festival, initiated by artists Park Hyunki, Lee Kang-so, Kim Youngjin, and others. Their work is included in this exhibition, while the ideas underlying this important art historical transition are recorded in articles, manifestos, and other primary sources also on view.
George Segal, Blimpies (1999). Plaster, paint, wood, glass. 243.8 x 264.8 x 121.9 cm. Courtesy TEMPLON, Paris/Brussels/New York. © The George and Helen Segal Foundation/licensed by Artists Rights Society, NY, NY.
George Segal: Nocturnal Fragments
Templon, 293 10th Avenue
6 September–28 October 2023
Expect: a survey of work by a cherished American sculptor whose plaster figures staged in public settings have prompted existential questions for over two decades.
New York-born artist George Segal started as a painter, briefly ran a chicken farm, and eventually found his way to sculpture. Today, he is known for plaster-cast figures made by wrapping living subjects in soaked bandages, moulded after loved ones he wished 'to spend eternity with'.
Often accompanied by familiar objects and environments such as bicycles and chairs, or installations reminiscent of bus stops and gas stations, Segal's figures convey a distinct emotional charge. In Depression Bread Line (1991), made for the Franklin Delano Roosevelt Memorial in Washington, a line of solemn figures in overcoats and battered hats wait against a brick wall, recalling the sombre mood of the time.
Over 25 years of the artist's practice are surveyed at Templon, from Segal's realist approach to sculpture in the 1970s, to his freer use of colour in the 1980s and more expressionist style the following decade.
One notes art historical influences throughout, from the seated figure in Girl Putting on an Earring (1967) to the four bronze ballerinas in The Dancers (1982), a nod to Dégas, who created around 1,500 artworks dedicated to the subject.
Kaari Upson, Eleven (2023). Courtesy Sprüth Magers.
Kaari Upson: Body as Landscape
Sprüth Magers, 2F, 22 East 80th Street
9 September–21 October 2023
Expect: psychological landscapes that disrupt American ideals of suburbia and perfect families, where hands, feet, eyes, and limbs abound.
Flesh and earth-toned limbs hang from the ceiling in Kaari Upson's latest exhibition, Body as Landscape. Eleven (2023) precisely, forming an unsettling pathway into memory, made up of combined casts of a tree near the artist's childhood home and of her knee.
Throughout her practice, Upson has sought to disrupt the comfort of her American audiences by materialising stringent reminders of loss and instability.
In The Larry Project (2005–2012), which includes drawings, sculptures, video, and performance, the artist imagines the life of the former occupant of an abandoned house across from her parents' home in San Bernardino. Through remnants she found of a life centred around wealth and sexual fantasy, the resulting work provides a vision of hypermasculinity.
With inspiration drawn from psychological texts including Freud's writings on trauma and time, Body as Landscape includes annotated drawings by the artist contemplating ideas of desire, the uncanny, domestic space, and more.
Exhibition view: Mire Lee, Black Sun, New Museum, New York (29 June–17 September 2023). Courtesy New Museum. Photo: Dario Lasagni.
Mire Lee: Black Sun
New Museum, 4F, 235 Bowery
29 June–17 September 2023
Expect: a confrontation with mortality across visceral sculptures modelled after human entrails, an architectural environment, and porous fabric work.
For her first solo institutional exhibition in the United States, Seoul-born artist Mire Lee shares a selection of bodily sculptures inspired by architecture, horror, and pornography, which combine motors and oozing liquids.
Titled after Julia Kristeva's 1987 book touching on melancholia and depression, the exhibition reflects the ethos underlying Lee's production, which reflects on the inevitability of death as well as a fascination with the body—both recurring concerns within her work.
At the 2022 Venice Biennale, Lee's monumental Endless House: Holes and Drips (2022) suspended organ-shaped ceramics resembling punctured intestines from a tall scaffold structure over which a crimson liquid of lithium carbonate and iron oxide dripped to the floor.
'The idea of having a lot of holes in the work connects to being very open as a person, which represents vulnerability to me,' Lee tells Ocula Magazine in 2022. In materials and form, Lee's sculptures manifest the decay that befalls all bodies.
Sara Flores, Untitled (Shao Maya Punté Tañan Kené 1, 2023) (2023). Vegetal dyes on wild-cotton canvas. 139.9 x 204.8 cm. Courtesy CLEARING.
Sara Flores: Soi Biri
CLEARING, 260 Bowery
6 September–22 October 2023
Expect: hand-drawn paintings on textiles deriving from practices in Shipibo-Conibo matriarchal society, alluding to coexistence and the unity of all things.
The indigenous Shipibo-Conibo people live along the Ucayali River in the Amazon rainforest of Peru. Based in the region's Yarinacocha district is Shipibo-Conibo artist Sara Flores, who conceives symbolic paintings on textiles with kené, a design method traditional to her community, which recalls the verb kéenti (to love or care for).
Central to Shipibo-Conibo culture are nature, harmonious living, and spirituality, which find expression in the artist's new paintings at CLEARING. Inspired by shamanistic visions women experience during ayahuasca ceremonies, they present geometric networks resembling labyrinths, said to possess healing qualities and incite spiritual transformation.
Despite facing ongoing resource exploitation, conversion attempts by Christian missionaries, and deterioration of the natural environment from tourism, the Shipibo-Conibo people have preserved their cultural practices. This is reflected in the exhibition title Soi Biri, referring to Flores' given name, reminding viewers its practices will persist.
Thomas Agrinier, A Woman Under the Influence (2023). Oil on canvas. 155 x 200 cm. Courtesy Hollis Taggart.
Thomas Agrinier: The Pursuit of Happiness
Hollis Taggart, 521 West 26th Street
7 September–7 October 2023
Expect: vivid paintings that speak to the state of living in rapid motion, where time wraps, pieces go missing, and the backdrop of life becomes a flat plane.
Thomas Agrinier is a self-taught painter. In his figurative compositions inspired by jazz and hip-hop, dynamic narratives centred on childhood and familial dynamics unfold, their style recalling at once Francis Bacon's blurred portraits and an acid-kitsch accumulation of melted, rubbed-on stickers.
This attention-grabbing visual language features at Agrinier's first solo exhibition in New York City, where a cast of characters is caught in motion within semi-abstract settings characterised by garish colours across many of the 11 paintings on view.
Within the bright forest of Hum (2022), a group of youths are engaged in play along with a fluttering bird and deer, their faces and bodies covered in coloured flecks and bold patterns. Motion is depicted with trailing strokes, while the dynamism of running figures is amplified by the static storybook backdrop, made beautiful in the intentional showing of artifice.
Conversely, in A Woman Under the Influence (2023), a woman appears to have collapsed under the living room sofa, her face covered in red and blue specks. Its patterns are mirrored in the face of the man checking in on her, the only hint of motion coming from the young girl with a cartoon-like hand and boot rushing toward the pair, leaving a pink trail behind her.
Left to right: Carlos Villa; Leo Valledor with his painting Echo (for John Coltrane) (1967).
Carlos Villa and Leo Valledor: Remains of Surface
Silverlens, 505 West 24th Street
7 September–4 November 2023
Expect: a dialogue between the work of two Filipino modernists who drew from their heritage to build a foundation for subsequent generations.
Concerns with space as a place of transformation and re-iteration underlie the work of artists and friends Carlos Villa and Leo Valledor, who lived and worked in the United States in the 1960s.
San Francisco-born artist Carlos Villa started in the tradition of minimalism before shifting his practice to make sculptures and installations using materials from Indigenous cultures around the world—such as feathers, bones, and body prints—that spoke to a diasporic identity.
Villa sought to make Filipino art history more visible and positioned himself within a larger cross-cultural lineage by combining Western painting with tribal and ethnographic traditions, with photographs such as Tat2 (1971) showing the artist's face covered in Māori tattoos.
New York-born abstractionist Valledor is known for hard-edge paintings and shaped canvases containing personal and cultural references, from paper cranes to red pills and cigarettes.
Valledor is a founding member of the artist collective and exhibition venue Park Place Gallery, which pushed for experimentations in geometric abstraction and spatial understandings, notably exhibiting work by Sol LeWitt, Eva Hesse, and Donald Judd.
Jonathan Lyndon Chase, City of Beauty (2023). Courtesy the artist and Company Gallery, New York.
Jonathan Lyndon Chase: his beard is soft, my hands are empty
Artists Space, 11 Cortlandt Alley
8 September–2 December 2023
Expect: a vivid representation of Black queer life captured at the intersection of personal and collective spaces across drawing, painting, and sculpture.
Centring the daily life of Black queer bodies, Jonathan Lyndon Chase's latest exhibition presents reimagined domestic environments such as living rooms, barbershops, and spaces of Black queer interiority, community, and intimacy.
'The power of the domestic is so important because it's the foundation of so much we do in our everyday lives. It's a safe space to allow one's self to just "be" without performing or thinking of the dangers of the outside world,' the artist has said.
New commissions and existing works on view combine autobiographical aspects with elements of folklore and fantasy. Paintings capture friends and lovers in acts of pleasure, while sculptures that incorporate bed sheets and clothing reflect themes of comfort and vulnerability. —[O]