Feature
Tales of Our Time at the Guggenheim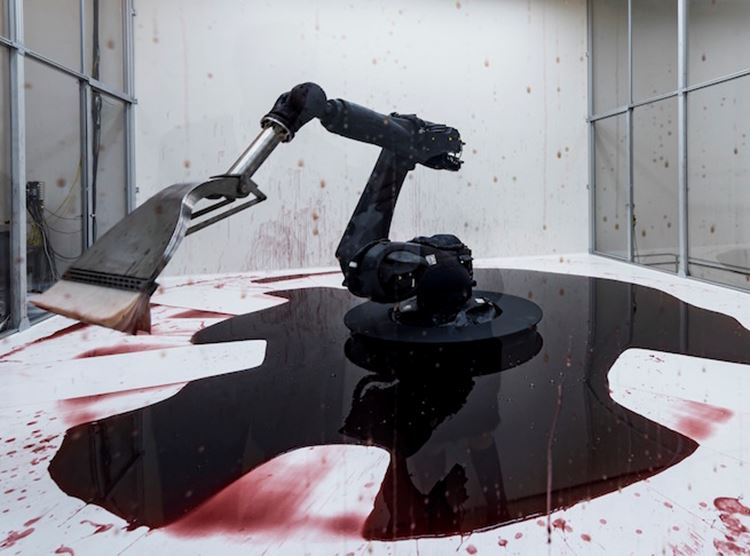 Sun Yuan & Peng Yu, Can't Help Myself, 2016. Photo: David Heald.
Anyone who doubts that one of the principal lessons we learn from looking at the best contemporary art is to expect the unexpected should make their way to the top floors of the New York Solomon R. Guggenheim Museum just now.
They will ascend the famous spiral ramp absorbing the calm sophistication of Agnes Martin's subdued minimalism and then perhaps they might queue to take their turn at Maurizio Cattelan's crowd-pleaser, the solid-gold toilet that he calls America, (2016). At this point they might imagine that they have experienced the polar opposites of what contemporary art can throw at them, and that they are ready for pretty much anything.
They would be wrong. Tales of Our Time is the excellent new exhibition that has just opened on the Guggenheim's tower levels 4 and 5 (and runs until 10 March 2017). It comprises nine large-scale works from mainland China, Hong Kong, and Taiwan that have been newly-commissioned for the Guggenheim's permanent collection. Though modest in scale, Tales of Our Time offers a dizzying range of artistic practices and, even to the experienced gallery-goer, it is as challenging as it is entertaining.
Curators Xiaoyu Weng and Hou Hanru have assembled the show around a perfectly coherent theme. At its simplest they put it like this: 'the artists in this exhibition challenge the conventional understanding of place'. But Weng and Hou were careful not to impose their preconceptions on the show: they worked with their chosen artists so open-mindedly and were so flexible in their interpretation of their subject that at first encounter it becomes obscured by the enormous technical and stylistic range that the artists have brought to their individual projects. This is a good thing.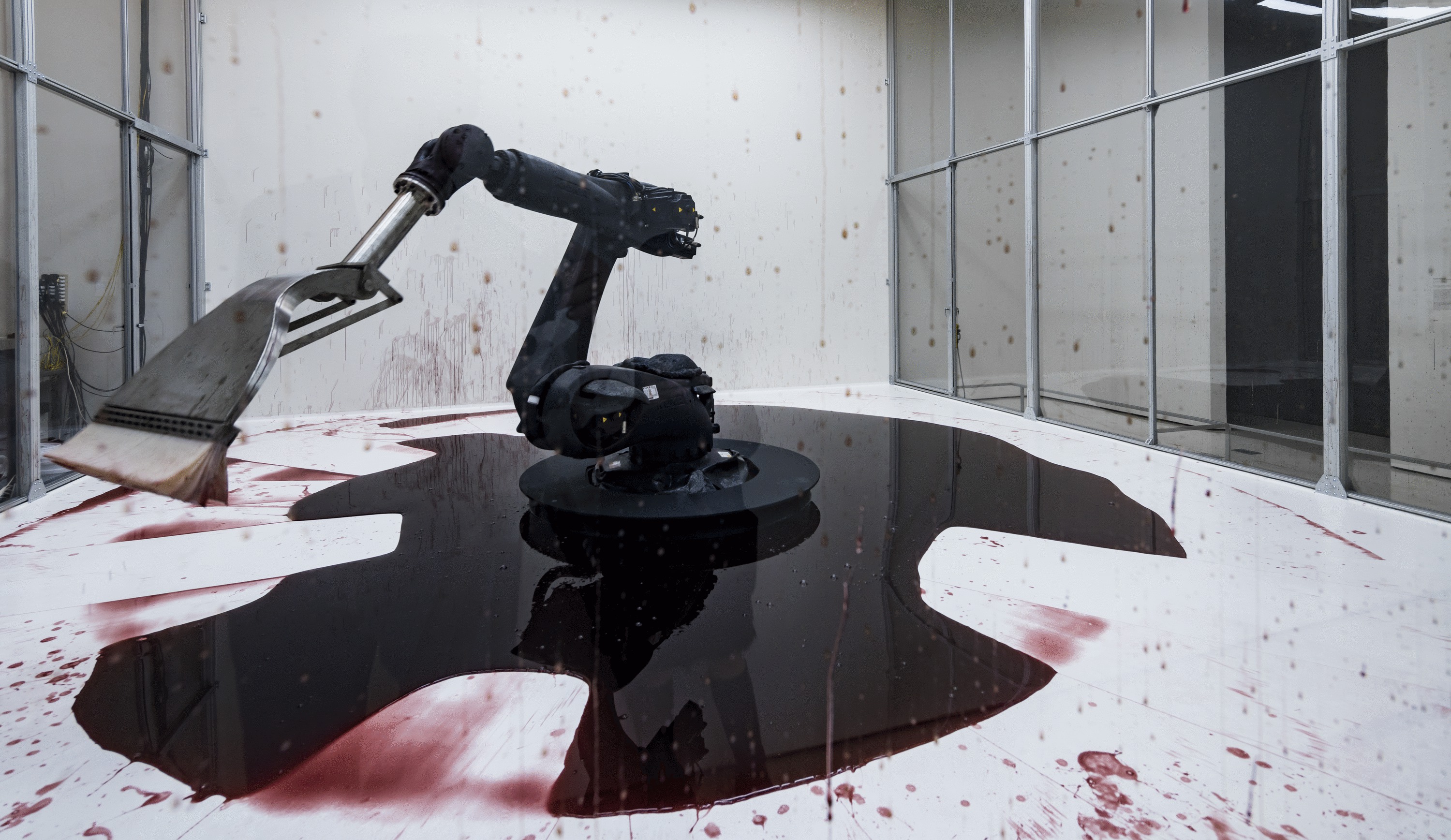 Sun Yuan & Peng Yu, Can't Help Myself (2016). Kuka industrial robot, stainless steel and rubber, cellulose ether in colored water, lighting grid with Cognex visual-recognition sensors, and polycarbonate wall with aluminum frame. Solomon R. Guggenheim Museum, New York, The Robert H. N. Ho Family Foundation Collection. © Sun Yuan & Peng Yu. Exhibition view: Tales of Our Time, Solomon R. Guggenheim Museum, New York, 4 November 2016—10 March 2017). Photo: David Heald.
The show's scene-stealer is the huge robot that dominates Can't Help Myself (2016) by Sun Yuan and Peng Yu. It occupies its own gallery and is separated from its audience in a ceiling-high acrylic enclosure. It sits in something that looks very like a pool of blood, and its sole function appears to be to prevent that pool flowing away from it. Its single limb ends in a broad brush that it repeatedly reaches out to sweep the bloody liquid back towards it. Though there is something comic about its fruitless efforts, its suggestion of territory violently subjugated renders it harrowing as well.
Kan Xuan, Kū Lüè Er (2016) (details). 13-channel color video installation, with sound, and stone and marble. Solomon R. Guggenheim Museum, New York, The Robert H. N. Ho Family Foundation Collection. © Kan Xuan.
Far more reserved in its manner, though no less engaging, is Kan Xuan's multipart installation,Kū Lüè Er (2016). Kan spent months traveling around China to seek out the sites of ruined ancient cities. She visited 110 of them, and from the thousands of photographs she took on her phone, she has produced a series of video sequences of these eerie abandoned places that play on flatscreens around the perimeter of her installation. Elsewhere there are small hand-drawn maps of the sites she visited, a video of a children's game that involves throwing balls of clay and, most telling of all, a series of exquisite sandstone sculptures representing what turn out to be the twists of sharpened wire from the rusted fences that now enclose the locations of these once successful cities.
Different again is Chia-En Jao's video installation Taxi (2016) which gives us the opportunity to travel vicariously to some of Taipei's more politically charged destinations. Riding in the back of the city's taxis, Jao engaged his drivers in conversation about the complications of Taipei's contested past. The drivers' hesitations, their uncertainty, their attempts to be evasive, and their brief moments of eloquence make for a fascinating demonstration of how histories leave their indelible marks on our present-day lives.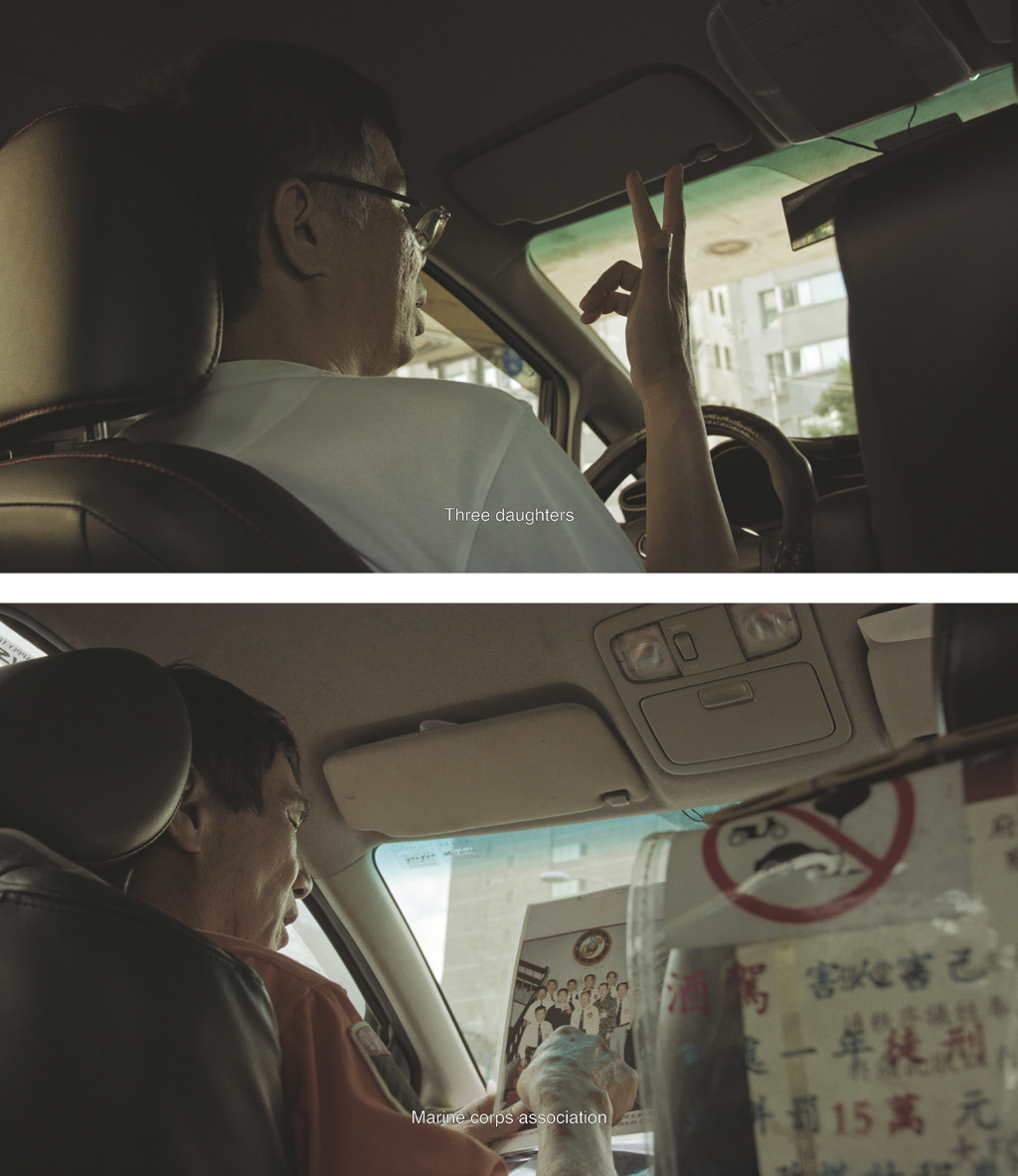 Chia-En Jao, Taxi (2016). Color UHD video, with sound. Solomon R. Guggenheim Museum, New York, The Robert H. N. Ho Family Foundation Collection. © Chia-En Jao.
As you make your way through the various installations, or let one lead you into another, the curators' success in putting this show together becomes gradually obvious. Despite the enormous formal range that the artists explore, and notwithstanding the essential individuality of their pieces, there begin to emerge a number of common assumptions. None of us is an island, the artists remind us. We each exist in taut counterpoint to larger entities, whether they be our family, the people we meet on the street, the town or city we live in, our 'culture', our history, the State, and all the other families, towns, cultures, histories, and States on the planet. Human existence is by its nature socialised and politicised. As curator Xiaoyu Weng puts it, China is 'entangled in a constant process of renegotiation of its physical territory, cultural traditions, and identity as a nation'. Though their focus is obviously China (or perhaps we should say the different Chinas) these issues are no less relevant elsewhere in the world.
Indeed no one could have anticipated how immediately topical these issues would seem to an audience in President-elect Trump's America. Four days after the show opened the election result upended the most basic assumptions about how we as individuals imagine our relationship to our country and the State, and our place within the international world. It is further evidence of the show's success that its appropriateness to a newly fractured and essentially diminished United States is palpable.
Tales of Our Time is the second project to come to fruition as part of The Robert H. N. Ho Chinese Art Initiative, the Robert H. N. Ho Family Foundation's five-year collaboration with the Guggenheim. The Foundation's focus is not only to promote an understanding of Chinese arts, but equally to encourage an understanding of Buddhist insights and their relevance to the contemporary world. The show's title is a variation on Gushi xin bian (Old Tales Retold), the 1936 book by Lu Xun, who believed that traditional tales are worth a reconsidered reading because their contemplation fosters understanding. Weng and Hou have assembled a show in which a group of very different artists have brought artistic invention to brand new work that enables us to better comprehend our lives. For that we should celebrate their efforts, and the Foundation should consider this a job well done. —[O]