Insight | Artworks
Sydney Contemporary Presents 2020: Editorial Selections
Ocula Magazine's editors introduce some of the highlights from Sydney Contemporary Presents 2020 (1–31 October 2020), a digital variation of the annual art fair with over 450 artworks created in 2020 by 380 artists, and new works added each week through October.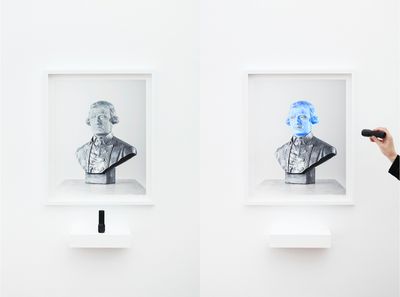 Jason Wing, Captain James Crook (black light) (2020). Hand-painted silk screen print, UV light-sensitive ink, black light bulb and torch, framed. 66.5 x 55 cm. Edition of 8 + 2 Artist Proofs. Courtesy Artereal Gallery.
Jason Wing, Captain James Crook (black light) (2020) at Artereal Gallery
Shine a black light on this hand-painted silkscreen print of a bust of Captain James Cook by Jason Wing, and UV light-sensitive ink reveals a face covering.
The work extends from Australia was Stolen by Armed Robbery (2012), for which Wing placed a black knitted balaclava over a Cook bust in response to a bronze sculpture in Sydney's Hyde Park commemorating Cook's 'discovery' of Australia on a former massacre site, winning the 2012 Parliament of NSW Aboriginal Art Prize. A bronze edition of that piece, Captain James Crook (2013), is housed in the Art Gallery of New South Wales' permanent collection; another was shown in Defying Empire, the 3rd National Indigenous Art Triennial, which commemorated the 1967 Referendum recognising Aboriginal people as Australians for the first time.
With a BA in fine arts from Sydney College of the Arts and another in graphic design from Sydney Graphics College, Wing began in street art before developing a multi-disciplinary practice focusing on Aboriginal struggles against erasure and his Chinese-Biripi heritage.
In 2014, he participated in group show Yiban Yiban at Redtory Art & Design Factory in Guangzhou, with works like The Great Wall (2012): a photographic series showing the Aboriginal flag that Wing painted on a wall of bricks he encountered on the street during a residency with Red Gate Gallery in Beijing. SB
Brook Andrew, This year, tied to history... (2020). Paint, paper, acetate, neon, timber and metal 240 x 160 x 10 cm. Courtesy Tolarno Galleries.
For over 25 years, Brook Andrew has worked across photography, video, neon, text, collage, printmaking, installation, and more to reinterpret colonial and modern histories.
Andrew frequently employs collage, bringing archival materials in contact with advertising and consumer language to contest linear time, presenting the archive as a space where different realities come in contact. In conversation with Ocula Magazine, Andrew, who was artistic director of the 22nd Biennale of Sydney, NIRIN (14 March–8 June 2020), explains that his strategy involves 'presenting alternate histories or smashing together two opposing sides to tease out possible alternative interpretations.'
This is no less true for his most recent body of work, a collection of which is now on view at Roslyn Oxley9 Gallery in Sydney for the artist's solo exhibition, This Year (25 September–24 October 2020). These works, including this collage presented by Tolarno Galleries at Sydney Contemporary Presents 2020, draw from a newspaper headline found by the artist, 'This year, be prepared', which suggests the earth-shaking changes of 2020.
Combining elements ranging from neon to archive materials, associating the popular with the academic and the historical, Andrew 'reveals the way in which the media and visual culture continue to nurture obsessions with capital, race and catastrophe'. TM
Lindy Lee, River Confetti (2020). Chinese ink, fire, rain 155 x 103 cm. Courtesy Sullivan + Strumpf.
Lindy Lee, River Confetti (2020) at Sullivan + Strumpf
Brisbane-born artist Lindy Lee's work is a mediation of cultures. Concepts of Taoism and Ch'an (Zen) Buddhism come together with ideas like Carl Jung's notion that 'everything repressed returns as fate'—a spectrum now on display in Lee's largest survey to date, Moon in a Dew Drop, showing at the Museum of Contemporary Art in Sydney through to 26 April 2021.
Lee studied at London's Chelsea School of Art in the late 1970s before attending graduate school at the Sydney College of the Arts, with early works confronting the Western art historical canon. Untitled (After Jan Van Eyck) (1988) involves thick, black lines painted over 15 black-and-white copies of Van Eyck's 15th-century portrait of Jan de Leeuw, while Philosophy of the Parvenu (1990) presents 14 copies on Prussian blue of Ingres' La Grande Odalisque (1814), articulating various states of saturation that lead to total black.
'I started my artistic career using only black', Lee has said. 'At that time, it was the colour of loss and mourning and now it is the colour of cosmos and mystery.' River Confetti is an example of this shift—part of a later body of pyrographic works that involves burning into paper and metal, and flinging molten metal onto surfaces. For Lee, her early and later works connect as 'absolute record[s] of the eternal moment.' SB
Blak Douglas, Faux – Pas De Deux (2020). Synthetic polymer paint on canvas. 100 x 150 cm. Courtesy Art Atrium.
Blak Douglas, Faux – Pas De Deux (2020) at Art Atrium
Confronting the crimes of Australia's colonial past has proven a complicated dance, but few have moved with as much confidence as Blak Douglas, the artist name adopted by Adam Douglas Hill to reflect his part-Aboriginal Australian, part-European ancestry.
In the work My Boomerang Won't Come Back (2020), Douglas used a DNA test to help define how much of a self-portrait he would render in white, representing his European side, and how much to render in ochre, red, and black, colours used to represent his Aboriginal Australian side, a middle finger to those who demanded he identify as either one ethnicity or the other.
This irony and irreverence is just as evident in Faux – Pas De Deux (2020), which depicts a British representative and an Aboriginal Australian woman dancing a balletic 'step of two' typically used to develop a love story. This is a comically fake romance, of course, playing out in bright synthetic polymer paint and cartoonish black outlines beneath flat-bottomed clouds flying in formation, and a cracked orange sun that looks like the underside of a paint can lid.
Douglas was nominated for the Archibald Prize, Australia's premiere prize for portraiture, for the fourth time this year, losing out to Vincent Namatjira, who became the first Indigenous Australian to win the prize. SG
Fiona Hall, Sticks and Stones (2016–2020) aluminium 40 x 40 x 3 cm. Courtesy Roslyn Oxley9 Gallery.
Fiona Hall refers to herself as a 'museum junkie'. An enduring curiosity for the material world sees Hall continuously reinventing everyday objects, creating works with historical and contemporary resonance that explore themes spanning colonisation, trade, and the relationship between humans and the natural environment.
Hall began her career with a focus on photography, and was just 21 when she first exhibited her works publicly in the exhibition Thoughts and Images: An Exploratory Exhibition of Australian Student Photograph at Ewing and George Paton Galleries in Melbourne in 1974. Following her inclusion in the exhibition Six Australian Women Photographers at the Australian Centre of Photography in Sydney and the National Gallery of Victoria in 1975, Hall left to the U.K. for three years, where she worked as assistant to British photographer Fay Godwin.
Playing with light and its ability to reveal what otherwise might be missed, Hall's approach to installation, painting, and sculpture contains a similar sensibility—of framing materials anew. In her early series 'Paradisus Terrestris' (1989–1990), Hall created a series of botanical sculptures from sardine cans, carving them from the roll-back lids of the tins, which were included in the artist's presentation at the 2015 Venice Biennale, where she represented Australia with over 800 objects examining the environment, finances, and global politics, presented in Wunderkammer-type fashion.
Hall returns to aluminium in this work, which sees loops of razor wire surround a small grave, alluding to the deaths that occur in prisons and detention centres. TM
Kate Ballis, Neighbourhood Fae (2020). Pigment print on cotton rag, 103 x 153 cm. Edition of 8. Courtesy Gallerysmith.
Kate Ballis, Neighbourhood Fae (2020) at Gallerysmith
Kate Ballis normally travels the world, photographing sites with an eye for the cinematic—the first series on her website, in fact, is titled 'The World', and includes portfolios for places like Cuba, Guatemala, Hong Kong, Iceland, Morocco, and Venice.
Covid-19, of course, put a stop to that. Along with other residents in Melbourne, the former media and entertainment lawyer found herself restricted to moving within five kilometres of her home. Neighbourhood Fae is a product of this confinement, for which Ballis turned the converted full-spectrum infrared-filtered lens of her full-frame Sony mirrorless camera to her immediate surroundings, creating rich, hyper-saturated shots in seductive, uncanny shades of fuchsia, violet, and teal.
These distinctive images extend from Ballis' 'Infra Realism' series, which Ballis started in 2017 with a focus on Palm Springs, a city she had captured many times before, but never like this. Since, the artist has turned her infrared lenses to places like Joshua Tree National Park, Chile's Atacama Desert, and the Isle of Skye.
What these landscapes have in common with earlier series like 'Glace Noir', which documents the Perito Moreno glacier in Argentina in frames saturated in blacks and blues using the cinematic 'day for night' technique, is an exploration of earthly other worlds. SB
Teelah George, Sky Piece (Berlin, Belfast, Paris, Perth) (2020). Thread, linen and bronze. 180 x 150 cm. Courtesy Gallery 9. Photo: Bo Wong.
Teelah George, Sky Piece (Berlin, Belfast, Paris, Perth) (2020) at Gallery 9
In 2019, after an intense period in the artist's personal life, Teelah George left her base in Perth to travel for six months. Confronting the impracticalities of making art in transit, she focused on embroidery as a portable medium.
This work is part of the artist's 'Sky Piece' series (2019–2020), in which George took on the impossible task of recording the sky as she saw it in the different locations she was in, capturing the varying shades of blue and rendering the immaterial, material.
The artist focused on textiles during her BFA at Curtin University of Technology, Bentley, from where she graduated in 2007—a period that fostered her ongoing interest in material culture. George is inspired by the 'entropic qualities' of archives and found objects, as well as their potential as vessels for storytelling, treating her works—which span embroidery, painting, drawing, printmaking, and installation—as malleable and responsive.
Her embroideries are vessels in their own right, successfully capturing the ephemeral through the labour-intensive process of stitching. This approach led the artist to win the second prize in the Fremantle Print Award of 2015 for her work Effect of Dose on Taste (New Phase) (2015). Taking a decrepit advertising banner as her source material, George re-presented the crumbling print, destroying it after the award exhibition as a commentary on the impermanence of archives. TM
Mylyn Nguyen, You can find me up on the highest tree (2020). Charcoal, ink, pastel, paper, plastic, resin, fibre, eucalyptus leaf, framed with museum glass. 24.5 x 33.5 x 8.5 cm (framed). Courtesy May Space.
Mylyn Nguyen, You can find me up on the highest tree (2020) at May Space
This tiny little model—coming in at 4.5 x 10 x 5 centimetres unframed, and 24.5 x 33.5 x 8.5 centimetres in its museum glass casing—is a work of impressive intricacy: a house hand-constructed from paper, plastic, resin, and fibre nestled in the folds of eucalyptus leaves, complete with an electricity pylon held by the crack of a leaf's edge.
The work was one leaf dwelling among many shown in Nguyen's eighth solo show with May Space, Among Leaves and Twigs (12–29 August 2020), including Egg and bacon rolls at Cedric's (2020), whose roof is created by the leaf extending over its four walls, and 60th Stop (2020), in which a bus shelter is perched amid a flourish of leaves emanating from a twig.
Nguyen's work draws on spaces where the artist found solace as a child. For Sometimes I'm too boring for my imaginary friends (8–26 May 2019), also at May Space, a series of charming drawings on paper centre on a girl and her cardboard box. In I am brave (2019), we see her in a swimsuit wearing a life ring and a box on her head, while in The comfort of packaging material (2019), a head peeks out from a box filled with foam chips. SB
Richard Lewer, Ground Parrot (2020). Acrylic on rusted steel (sealed). 22.5 x 30.5 cm. Courtesy Hugo Michell Gallery.
Richard Lewer, Ground Parrot (2020) at Hugo Michell Gallery
This parrot is a surprising candidate considering Richard Lewer's usual subject matter. The Hamilton-born, Melbourne-based painter's practice is described as 'contemporary social realist', with a lens on themes including crime, sport, and religion through animation, painting, and drawing.
Accidents and disasters and a cast of sinister characters crop up throughout Lewer's works, as in his recent sequence of paintings titled New Zealand Disasters (2020), included in the artist's solo exhibition, Richard Lewer: Collective Memory at Auckland Art Gallery Toi o Tāmaki (29 July–13 September 2020). These large-scale paintings explore specific locations that act as 'repositories or emotional signposts of shared events', to quote the exhibition press release, with the seven panels charting events from the Napier earthquake in 1931, to the Christchurch earthquake in 2019.
Of other recent works, Lewer has created a series of stunning charcoal on museum rag board drawings of the 'classic, beautiful New Zealand that you ache for', drawn during winter in Melbourne, and a collection of endangered birds endemic to Australia and New Zealand, including this ground parrot. TM
Zac Langdon Pole, Passport (Argonauta) (vii) (2020). Paper nautilus shell, Uruaçu meteorite (iron; coarse octahedrite, landsite: Goiás, Brazil). 8.5 x 2.2 x 4.9 cm. Courtesy Michael Lett.
The materials used to make an artwork carry connotations. Oil paint evokes portraits of European elites, though it goes back much further, to Buddhists living in Afghanistan during the 7th century. Auckland-born, Berlin-based artist Zac Langdon-Pole conjures up entirely different connotations with his 'Passport (Argonauta)' series (2018), made of billions-years-old iron meteorites carved to nest within the fragile shells of argonauts, a species of octopus also known as the paper nautilus.
Just centimetres long, these small sculptures are potent talismans, sending the mind simultaneously rocketing into outer space to encounter the Cthulhu of H.P. Lovecraft, and plunging 20,000 leagues under the sea in Jules Verne's fictional submarine. Their ability to teleport us is similar to the state-issued passports—the most powerful of secular talismans—that grant us access to distant lands.
Langdon-Pole's lyrical recombinations of objects often suggest pre-internet adventures in archaeology, anthropology, and natural discovery. Fittingly, he won the BMW Art Journey Prize for the 'Passport (Argonauta)' series in 2018, which he used to follow the migratory flight paths of the Arctic tern and the white stork.
Before the 19th century, it was believed these birds would simply disappear for half the year, until a German man shot one of the birds down, only to discover an arrow in its neck that had originated from Central Africa. SG—[O]