News | Events
Anne Hardy and Banksy Play Ghosts of Christmas Past, Present and Future
Two works by British artists garnered global attention in the lead up to Christmas. Neither is particularly jolly.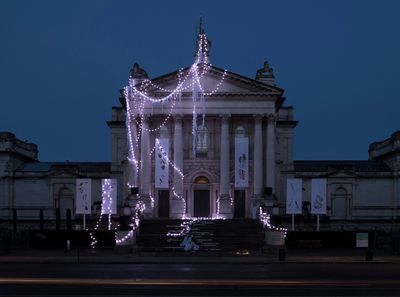 Anne Hardy, The Depth of Darkness, the Return of the Light (2019). Tate Britain Winter Commission © Anne Hardy, Courtesy Maureen Paley, London. Photo: © Tate (Oliver Cowling), 2019.
Tangled lights and tattered banners fall from the façade of London's Tate Britain, making it look abandoned or even haunted. The work was created by Anne Hardy for this year's Winter Commission, which will remain in place until 26 January 2020.
Hardy, who is represented by Maureen Paley, says her piece 'is a proposition to think about the reality now in a different way, by manifesting other potential realities of this site that might have been in the past, or might be in the future.'
It's a description that evokes Charles Dickens' A Christmas Carol, with its ghosts of Christmases past and future. But it's the fate of the planet, not Ebenezer Scrooge, that interests Hardy.
Plastic detritus, mud and ice cascade down the steps of the museum, as if the riverside site had flooded, returning it to marshland. A 21-minute soundtrack of humming mosquitos, squawking birds, thunderclaps and collapsing ice further evokes climate change and rising sea levels.
Playing the ghost of Christmas present, street artist Banksy drew attention to the current homelessness crisis with a wall in Birmingham. He spray-painted two reindeer flying upwards beside a bench where a rough sleeper named Ryan was lying, thereby casting him as Santa Claus on his sleigh. On Instagram, a video of the work is accompanied by the text 'God bless Birmingham' and the song 'I'll Be Home for Christmas'.
Bansky, God Bless Birmingham (2019). Courtesy Banksy/Instagram
At least 320,000 people are homeless in the U.K., and 726 people died homeless in England and Wales in 2018.
The reindeer painting was defaced twice in the days after it was created, first by another graffiti artist, Hers, who added red noses to the reindeer. Damage from the second attempt was prevented by a sheet of plastic mounted to protect the work.
Christmas works have become something of a tradition for Banksy. Last year, he painted Season's Greetings, which depicts a child catching snow on his tongue. Following the painting around the corner of the steelworker's garage it was painted on, the 'snow' is revealed to be ash from a dumpster fire. The work was realised in Port Talbot, Wales the most polluted part of Britain.
Purchased by art dealer John Brandler, the work has since been moved to a former police station where it was put on public display this week.
Despite drawing attention to major social crises, both Hardy and Banksy offered glimmers of hope. Hardy's installation is entitled The Depth of Darkness, The Return of the Light, a reference to the midwinter solstice that suggests brighter days ahead.
Banksy likewise chose to accentuate the positive, writing on Instagram that 'In the 20 minutes we filmed Ryan on this bench passers-by gave him a hot drink, two chocolate bars and a lighter — without him ever asking for anything.' —[O]