News | Market
Armory Selects Kienholzs' Taxidermy Supreme Court for Platform Section
Created in the 1980s, the work has been resurrected for a showcase entitled Brutal Truths.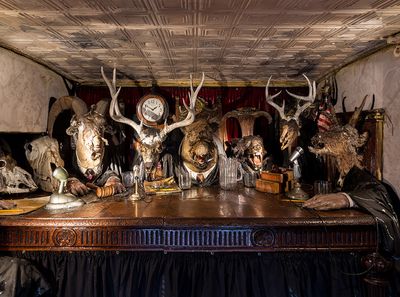 Edward & Nancy Kienholz, The Caddy Court (1986-1987)_. _Mixed media tableau. Courtesy of the estate of Nancy Reddin Kienholz and L.A Louver.
The Armory Show has announced the artists whose works will be presented in the fair's Platform section in March.
One standout, presented by L.A. Louver, is Edward and Nancy Kienholz's The Caddy Court (1986-87). The works consist of a 1978 Cadillac spliced with a 1966 Dodge van to house a travelling court chaired by taxidermy animals in various states of decay. It was inspired by the US Supreme Court, which originally rode circuit from state to state hearing cases before the practice was discontinued in 1911.
The section's curator, Anne Ellegood, says the work 'asks tough questions about the power of the Supreme Court'.
Nancy Kienholz passed away in Texas last year, 25 years after her husband and collaborator Edward, but Ellegood has found new resonance in the work. Viewed today, it suggests several potential critique of the court, including: the lifetime tenure and consequent advanced ages of the court's justices; the constitutional originalists among them who, confronted with contemporary problems, defer to the country's long dead founding fathers; and even the ailing health of the institution itself, whose ability to check and balance the executive has been hindered by increasingly political appointments.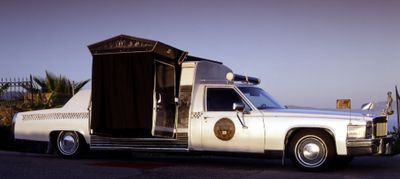 Edward & Nancy Kienholz,
The Caddy Court
(1986-1987). Mixed media tableau. Courtesy the estate of Nancy Reddin Kienholz and L.A Louver.
'For centuries, artists have acted as incisive social critics, and there seems to be no better time to call attention to contemporary artists who draw upon these traditions with fresh insight and formal ingenuity,' Ellegood says.
'Given the current, deeply partisan political climate; the gamesmanship and unpredictability of international relations; an impeachment trial of the president underway; and what will surely be the least civil presidential campaign in American history on the horizon, it seems a perfect moment to focus on this theme,' she says.
Other works in Brutal Truth similarly use exaggeration, satire, caricature and the grotesque to draw attention to enduring and pervasive problems.
Trulee Hall, Eves' Mime Ménage, (2019). Two-channel video (color, sound); oil, acrylic, and collage on board; acrylic, resin, papier-mâché, aquarium pebbles, wood, metal, carpet. Courtesy the artist and Maccarone Los Angeles.
Presented by Maccarone West gallery, Trulee Hall's Eves' Mime Ménage (2019), for example, explores the hyper-sexualization of the female body in a multimedia installation that combines claymation, CGI, live-action film, painting and sculpture.
Six of the seven galleries presenting work in the Projects section have spaces in Los Angeles, where Ellegood previously served as Senior Curator at the Hammer Museum and is the Executive Director of the Institute of Contemporary Art.
The other works included in the section are: Nathalie Djurberg and Hans Berg's video This Is Heaven (2019), presented by Tanya Bonakdar Gallery; paintings by Charlie Billingham, presented by Morán Morán; a 16-foot painting entitled Sand Castles by the artist Summer Wheat, presented by Shulamit Nazarian; Marnie Weber's absurdist sculptures Log Lady & Dirt Bunny (2009) and Pig Host Sculpture (2009), presented by Simon Lee Gallery; and meme paintings by Christine Wang, presented by Night Gallery. —[O]