News | Market
Art Basel Nudges Swiss Fair Back Just Three Months
They also announced new online fairs, helping to mitigate the risk of downsized, further postponed, and cancelled in-person events.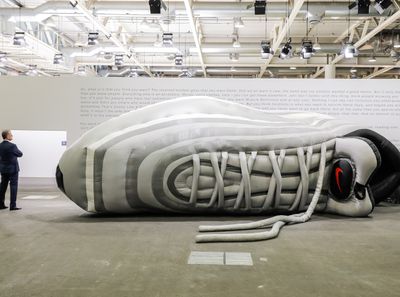 Olaf Nicolai, Unlimited, Art Basel (13–16 June 2019). Courtesy Ocula. Photo: Charles Roussel.
Art Basel's Swiss fair has been rescheduled for 21 to 26 September, just three months later than its usual June dates.
That seems optimistic given the high incidence of Covid-19 in Europe, and the emergence of more contagious variants. The European Centre for Disease Prevention and Control recommended on Thursday that non-essential travel be avoided.
The fair, however, is backing vaccination programmes to have the disease much more under control by its new dates.
'Following ten months of vaccination programs in many countries, we anticipate broad international participation in our Basel show in September, because all our conversations within the art world indicate a strong desire to see art in person and engage face-to-face with the global cultural scene,' said Art Basel's global director Marc Spiegler.
So far, vaccination rates in the EU have been sluggish, lagging behind those in the US and the UK.
Art Basel cancelled all three of its fairs—in Hong Kong, Basel, and Miami Beach—in 2020. This year, the Hong Kong fair has been postponed from March to May, while the Miami fair is slated to take place as usual in December.
Leaving nothing to chance, Art Basel also announced three Online Viewing Rooms this year. The events are open to galleries accepted in Art Basel's shows from 2016-2021.
OVR:Pioneers will be dedicated to artists who have broken new ground aesthetically, conceptually or socio-politically from 24 to 27 March.
Building on last year's OVR:2020, OVR:2021, focuses on works made in 2021 and will take place in November.
The third event, whose theme is yet to be determined, is scheduled for 16 to 19 June. —[O]