News | Crime
The Basquiat Behind Art Dealer Inigo Philbrick's Indictment
The wunderkind dealer was denied bail in a New York court this week.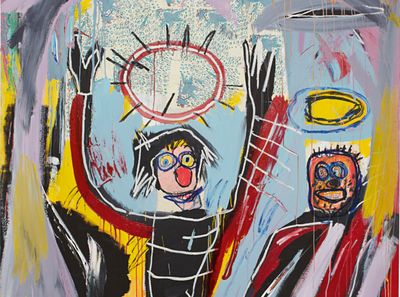 Jean-Michel Basquiat, Humidity (1982). Acrylic, oilstick, and Xerox collage on canvas. Courtesy Phillips.
Inigo Philbrick, 33, was denied bail by a judge in the Southern District Court of New York this week. Philbrick was indicted on counts of wire fraud and aggravated identity theft, crimes that carry a mandatory sentence of two years in prison and a maximum prison term of 20 years respectively.
Philbrick's mother, Jane, offered her house in Connecticut as bond for his release, while former reality TV star Victoria Baker-Harber offered family assets including real estate in the Bahamas worth an estimated $2 million, according to Artnet News. However, he was deemed a flight risk.
Philbrick, who grew up in Connecticut, USA, was arrested 14,000 kilometres away at a market in Port Vila, in the Pacific island nation of Vanuatu on 11 June. He was flown on a gulf stream jet to the Micronesian island of Guam, the United States' westernmost territory, where on 15 June a federal judge ordered US Marshals return him to America to face criminal charges.
In the complaint 'United States of America versus Inigo Philbrick', FBI Special Agent Christopher McKeogh says that Philbrick repeatedly misrepresented the ownership of artworks, sold shares of artworks amounting to over 100%, and used works he didn't own to procure financing.
One of the works at the centre of the case is Jean-Michel Basquiat's Humidity (1982), which he allegedly bought from an auction house in a private sale for US $12.5 million in 2016. He is accused of then using a fake contract to purchase it again from a Pennsylvania company 50-50 with another party for $18.4 million, selling a 12.5% stake in the work to yet another party at a value of $22 million, and using the work as collateral to procure financing without disclosing the interest of the other two parties.
Jean-Michel Basquiat, Humidity (1982). Acrylic, oilstick, and Xerox collage on canvas. Courtesy Phillips.
Back in 2012, gallerist Tony Shafrazi told Simon de Pury, then Chairman of Phillips de Pury & Company, that Humidity is a portrait of Swiss art dealer Bruno Bischofberger and Andy Warhol, who famously said that 'good business is the best art'. De Pury agreed with Shafrazi, citing the white outline of the main figure's hair, which he said was 'much like Warhol's later works with his "fright wig".' Humidity sold for $10,162,500 at Phillips' Contemporary Art Evening in New York that year.
Other works mentioned in the complaint against Philbrick are Rudolf Stingel's black and white photorealist portrait of Picasso Untitled (2012), and Christopher Wool's oil on linen abstract painting Untitled (2010).
Another high profile art fraud case is currently playing out in Europe. London's Metropolitan Police issued a European Arrest Warrant back in February when art dealer Angela Gulbenkian, 38, failed to appear at a court appointment. That warrant led to her arrest in Lisbon on June 16, less than a week after Philbrick was caught.
Gulbenkian is accused of selling an 81kg Yayoi Kusama pumpkin to Hong-Kong based art advisor Mathieu Ticolat for US $1.4 million in April 2017 but failing to deliver the work. A London dealer has also accused Gulbenkian of fraudulently selling him an Andy Warhol print of Queen Elizabeth II worth £115,000.
Christopher Marinello of Art Recovery International has been engaged by Ticolat and others to recover funds from deals with Gulbenkian. 'We are even pursuing Angela's mom who was given £221,000 by Angela from my client's proceeds,' he said.
'As for Philbrick, I know of several cases filed in the USA over artworks that he sold to more than one individual,' Marinello continued. 'Unfortunately, there are going to be winners and losers.' —[O]