News | Galleries
artmonte-carlo 2022 Draws 35 Galleries to the Côte d'Azur

Sponsored content | artgenève
The fair will also feature video works from the Julia Stoschek Collection and sculptures displayed on the Grimaldi Forum's Esplanade.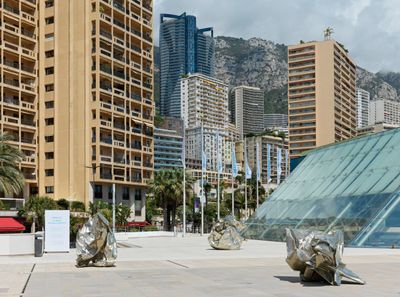 artmonte-carlo 2019. Esplanade of the Grimaldi Forum, Monaco. Works by Wang Du. Courtesy Laurent Godin. Photo: Annik Wetter.
Monaco art fair artmonte-carlo will return to seaside conference centre the Grimaldi Forum from 13 to 16 July.
The event's sixth edition is being held under the High Patronage of H.S.H. Prince Albert II and the direction of Thomas Hug, who also directed this year's artgenève. It features many of the world's top contemporary art galleries, including Air de Paris, Almine Rech, Esther Schipper, Hauser & Wirth, kamel mennour, Perrotin, and White Cube.
The fair will also present modern art and antique dealers such as Robilant + Voena, Cortesi, and Moretti Fine Art.
Thandiwe Muriu, CAMO 42 (2022). Photograph. 60 x 90 cm. Courtesy 193 Gallery.
Beyond the booths, attendees will encounter outdoor sculptures on the Esplanade of the Grimaldi Forum, and ten video works from the Julia Stoschek Collection displayed in the Forum's Indigo space.
The videos include works by artists including Hannah Black, Loretta Fahrenholz, Douglas Gordon, Klara Liden, Wang Shui, Chloe Wise, and Tobias Zielony.
During the fair, galleries will compete for the artmonte-carlo – F.P.Journe Prize. Backed by the Swiss watch company, founded in 1999 by François-Paul Journe, the prize is awarded for the best gallery presentation at the fair. One of the works from the winning presentation will be donated to an art institution in the region.
Mrzyk & Moriceau, Untitled (2022). Glazed ceramic. 27.2 x 39 x 12.5 cm. Courtesy AIR DE PARIS.
Last year's prize was won by Paris's Galerie Nathalie Obadia and sculptor Guillaume Leblon for the work Birds of Paradise, which was donated to the Nouveau Musée National de Monaco (NMNM). (The museum will present retrospectives of Helmut Newton and Christian Bérard during the fair.)
This year's artmonte-carlo – F.P.Journe Prize will be decided by curator Nicolas Bourriaud, NMNM director Björn Dahlström, and Eric Mangion, director of the Centre National d'Art Contemporain at the Villa Arson in Nice.
The full list of galleries presenting at artmonte-carlo 2022 follows below. —[O]
artmonte-carlo 2022 Galleries
Air de Paris | Almine Rech | Andrea Caratsch | ABC-Arte | By Lara Sedbon & 193 Gallery | Catherine Issert | Cortesi | Esther Schipper | Eva Meyer | Franco Noero | Maggiore g.a.m | Hauser & Wirth | HdM | Hom Le Xuan | JD Malat | kamel mennour| Laurent Godin | Moretti Fine Art | Nathalie Obadia | Nosco | Opera | Perrotin | Poggiali | Retelet | Richard Saltoun | Robilant+Voena | Sébastien Bertrand | Tang Contemporary Art | Thomas Brambilla | Tornabuoni Art | Vistamare | White Cube | Xippas art and jewels of the world Scavia | Goralska | D'Joya