News | Collector
Mega Collector Julia Stoschek and Daata Make More Digital Art Free
The Julia Stoschek Collection and the online platform Daata are collaborating to present 112 time-based works by leading contemporary artists online, open to the public and free for all.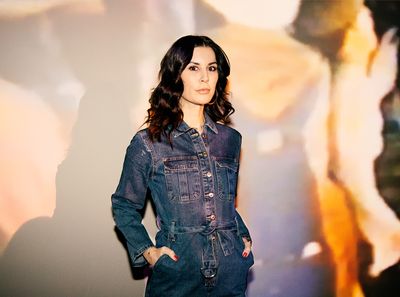 Julia Stoschek. Photo: Şirin Şimşek.
The 112 works of art are part of 200 video and time-based pieces acquired for the Julia Stoschek Collection from Daata, which was established in 2015 by David Gryn for commissioning and presenting original digital artworks by emerging and established artists. As Daata told Ocula, Julia Stoschek Collection has been 'interested and supportive of Daata and the artists we have commissioned' since its inception.
The Daata commissioned works now form part of what is considered by many to be the world's leading collection of digital and time-based art. Founded by Julia Stoschek after she saw Douglas Gordon's video Play Dead: Real Time (2003) at Gagosian Gallery in New York—a large-scale video installation in which an elephant plays dead—the collection now includes over 870 film, video, sound, performance and computer-based artworks.
DAATA x JULIA STOSCHEK COLLECTION. Courtesy of Daata and the Artists.
Public access being key to the Julia Stoschek's Collections ethos, the online presentation of works acquired by it follows on from the announcement in May to ultimately make the entire collection accessible for free online.
In discussing the collaboration with Daata, Stoschek stated: 'For me this digital presentation of the collection is a longtime dream come true. In their beginnings, film and video art were a profoundly democratic media because of their possibility to circulate more freely. Art is meant to be seen'.
Highlights from the collaboration include Canadian artist Chloe Wise's 'Do You Really Think He Fingered Her: Miami' (2015), a series of six videos with an accompanying recital of conversations overheard during the artist's participation in Art Basel Miami Beach, and British artist Tracey Emin's short videos from 2016. In one titled I Can't Love Anymore, Emin repeats the title over and over, growing louder and more emotional with each iteration, all the while the screen remains unperturbed, showing only the image of a pair of hands holding a small notebook.
Chloe Wise, we had a traumatic threeway from 'Do You Really Think He Fingered Her: Miami' (2015). Video still. Courtesy of the artist and Daata.
Works by Ilit Azoulay, Helen Benigson, David Blandy, Matt Copson, Ed Fornieles, Leo Gabin, Rindon Johnson, Martti Kalliala & Daniel Keller, Lina Lapelytė, Rachel Maclean, Florian Meisenberg, Takeshi Murata, Hannah Perry, Charles Richardson, Jacolby Satterwhite and Stephen Vitiello are also featured.
The Daata-Julia Stoschek collaboration anticipates the third edition of Daata Fair (19 April–9 May 2021), an online art fair dedicated to video- and digital-based art inaugurated last October. On the opening day of its 2021 iteration, Julia Stoschek will join the live conversation 'Demystifying Digital Art: Institutional Collecting and Public Display' along with Jason Foumberg, curator of digital art at the Thoma Foundation; Zoe Whitley, director of Chisenhale Gallery; and Arja Miller, chief curator at the Espoo Museum of Modern Art.
The fair complements Daata's streaming membership service via Galleries at Daata, where galleries from around the world showcase video-based and moving image art. Participating galleries include A Thousand Plateaus Art Space, Anat Ebgi, experimenter, Goodman Gallery, Hauser & Wirth, Kavi Gupta, Nature Morte, ShanghART, Simon Lee Gallery and Workplace.
You can view the works at JSC website and the Video Lounge.
The JSC also has exhibition spaces in Düsseldorf and Berlin, both of which are in the midst of group shows that will run through the end of 2021. The Düsseldorf show is called JSC ON VIEW: MYTHOLOGISTS and the Berlin show is called A FIRE IN MY BELLY. —[O]