News | Market
Auction Houses Rake in Record Sums as World Economy Falters
Robust art sales at Christie's, Phillips, and Poly Auction HK have defied the drops seen in other asset classes.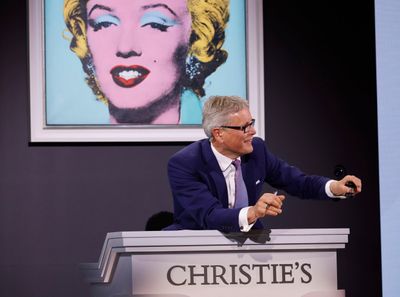 Jussi Pylkkänen selling Andy Warhol's Shot Sage Blue Marilyn at Christie's New York, May 2022. Courtesy Christie's.
As the world economy slouches towards a global recession, auction houses are boasting some staggering results.
Last week, Christie's said they brought in US $4.1 billion in the first half of 2022, up 18% on last year and their strongest result since 2015. In May, Andy Warhol's Shot Sage Blue Marilyn became the most expensive 20th century artwork ever when it sold at Christie's for US $195 million.
Phillips reported global sales of US $746 million in the first half of this year (including private sales of US $156 million), up 37% on the same period in 2021. They sold their most valuable work to date, an untitled Basquiat painting from the collection of e-tail billionaire Yusaku Maezawa, for US $85 million.
And, in their tenth anniversary auctions last week, Poly Auction Hong Kong raised over HK $1 billion (US $130 million). Sales of modern and contemporary art exceeded HK $450 million ($57.3 million), a new record for the department.
These results are particularly notable given the drop in NFT sales that bolstered auction sales in 2021, and the abysmal performance of other asset classes this year. The S&P 500 is down 19.5%, bitcoin by over 50%, and the housing market has begun to wobble as interest rates rise to combat inflation caused by the pandemic and the war in Ukraine.
One factor that may be contributing to the strength of art sales is the perception that tangible assets are a good hedge against inflation, though art isn't necessarily the best bet.
A study of asset performance by researchers at the Higher School of Economics in Russia found that from 1987 to 2015 art returned 4% on average after inflation, keeping pace with wine (4%) and beating postage stamps (3%), but a lower return than diamonds (6%) and Lego sets (8%). —[O]