News | Exhibitions
Carlo Ratti Brings 'Open Source Urbanism' to Kosovo for Manifesta 14
Interventions in an old brick factory and the former Hivzi Sulejmani Library aim to build creative capacity in the city of Pristina.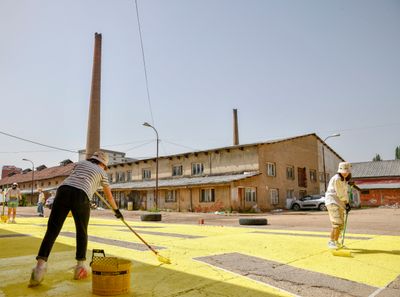 Build up Urban Intervention Brick Factory. Courtesy Manifesta 14 Pristina and Atdhe Mulla.
Nomadic European biennial Manifesta has announced plans to activate public space in Pristina, Kosovo's capital, before the exhibition next year.
Turin-based design and innovation office Carlo Ratti Associati (CRA) was selected to create an urban vision for the city. First, they mapped Pristina's public areas to reveal hidden spatial and social patterns, and identify resources that are currently underused. This summer, they will conduct temporary urban interventions and decide, based on public response, which will be abandoned or preserved.
'Effectively, there is no way to tell which transformation is best unless we test it,' said Carlo Ratti, a founding partner at CRA and professor at the Massachusetts Institute of Technology.
Carlo Ratti, Pristina, June 2021. Courtesy Manifesta 14 Pristina and Atdhe Mulla.
Two interventions have been announced so far. One will transform the city's old Brick Factory into an 'urban living room'. The other will take place in the former Hivzi Sulejmani Library, whose garden is currently inaccessible.
'It's hard to think of a better living lab than Pristina—a young capital with extraordinary bottom-up energy and a shifting relationship with public space,' Ratti said.
When Pristina was awarded the biennial in 2019, mayor Shpend Ahmeti said the event 'is what we need not only to push for an honest discussion about the city, but also as an example of rebirth of cities, art and architecture in [the] Western Balkans.'
Kosovo was governed as a United Nations protectorate for nearly two decades following the Kosovo War (1998–99), finally gaining its independence in 2008.
Hedwig Fijen, the founding director of Manifesta, said working with CRA was part of the search 'for a radical change in biennial policies: one of supporting and co-creating relevant sustainable artistic solutions in order to increase creative capacity.'
'Carlo Ratti Associati's methodology, focusing on participatory urbanism, will strengthen Manifesta 14's mission of working with communities to create sustainable urban solutions,' she said.
This is the third time Manifesta has invited a design practice to conduct pre-biennial research and develop a long term plan for the city where it takes place. OMA was engaged for the 2018 edition in Palermo, Italy, and MVRDV took on the task for the 2020 edition in Marseille, France.
Manifesta 14 will take place from 22 July to 30 October 2022. Following Pristina, it will move to Barcelona in 2024 and Germany's Ruhr Area in 2026. —[O]