News | Exhibitions
Dark Mofo Launches Fund for Tasmanian Aboriginal Artists
The fund, and new Aboriginal Australian cultural advisors, were announced following outrage over a request for the blood of aboriginal peoples.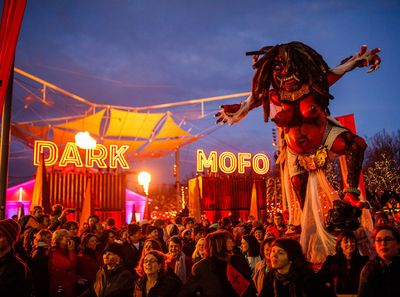 Ogoh-Ogoh, parade to Dark Park for The Burning. Dark Mofo 2018. Image Courtesy Dark Mofo.
Hobart arts festival Dark Mofo has announced new measures to improve their engagement with Australia's indigenous community.
The announcements come in the wake of a backlash to one of the festival's works, now cancelled, which asked indigenous peoples to donate their blood. Spanish artist Santiago Sierra planned to use the blood to drench the Union Jack, a gesture meant to critique colonialism.
An AU $60,000 (US $47,000) seed fund has been established to help Tasmanian Aboriginal artists develop proposals for future Dark Mofo festivals. The fund will be administered by a First Nations cultural advisory group that's yet to be appointed.
Caleb Nichols-Mansell. Image courtesy Caleb Nichols-Mansell and Dark Mofo 2021.
'We want to present more local content, and believe this program will provide Tasmanian Aboriginal artists with support to develop their projects, and ensure they will be well represented going forward,' said Leigh Carmichael, creative director of DarkLab, the agency that organises the festival.
The festival also announced the appointment of two Aboriginal Australian cultural advisors for this year's event, which runs from 16 to 22 June.
Caleb Nichols-Mansell, founder and director of Blackspace Creative Arts and Cultural Hub will advise on engagement in Tasmania, while Dylan Hoskins, an employee of the Museum of Old and New Art (MONA) and DarkLab for the past three years, will advise on engagement in mainland Australia.
Dylan Hoskins. Image courtesy Dylan Hoskins and Dark Mofo 2021.
'I think it's extremely important that First Nations people have our voices in festivals like Dark Mofo to ensure that the steps forward are ones of cultural integrity,' Hoskins said. 'I'm a proud Gumbaynggirr and Dunghutti man living on palawa land and I look forward to creating pathways for future mob and creating a deeper understanding of a culturally safe space.'
Taking place for the eighth time this year, the festival includes events such as the Winter Feast, Ogoh-Ogoh: The Burning, Solstice Fireworks, and the Nude Solstice Swim. The organisers also plan to turn off the lights in Hobart's CBD, creating a Dark Downtown district with lasers, fire, art installations, performance, bars, and street food.
The full programme will be announced in May. —[O]