News | Market
'This is a Hammer Blow' — Art World Reacts to Gavin Brown Joining Barbara Gladstone
Artists and critics lamented the loss of a gallery praised for its leadership and creativity.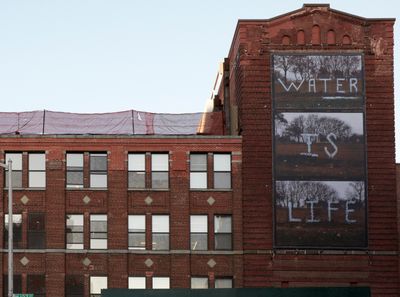 Gavin Brown's Enterprise's New York gallery. Courtesy Gavin Brown's Enterprise.
New York art dealer Gavin Brown announced Monday he will join Barbara Gladstone Gallery. The partnership will form a mega gallery comparable to Pace, David Zwirner and Hauser & Wirth.
'The past 26 years were an extraordinary ride and to have worked with the people I met along the way was the privilege of a lifetime,' Brown said in an announcement. 'I feel very fortunate to be able to start this new chapter with Barbara and Max.' (Max Falkenstein is a partner at the gallery.)
Artists and critics reacted to the news with a mix of nostalgia and loss, with some seeing it as yet another sign that only the largest galleries can survive.
'Can't really put into words how much I appreciate the run of Gavin Brown's Enterprise,' tweeted artist Andrew Kuo. 'What a great time to be young in NYC.'
On Twitter, New York Times art critic Jason Farago described Gavin Brown Enterprise as 'a gallery that has defined New York these last 20 years'. He said that 'Gavin Brown's arrival at Gladstone is a better outcome than I'd feared. But this is a hammer blow. The post-COVID art world, curtain up.'
'Gavin Brown has been and is one of the greatest art dealers of the last 100 years,' tweeted New York Magazine's Jerry Saltz. 'He has already changed the world many times,' he said.
Brown founded his gallery, Gavin Brown Enterprise, in 1994. It currently operates from a former brewery in Harlem and a deconsecrated church in Rome. Brown will close the New York space but continue to run the gallery in Italy.
'I have long admired Gavin for his originality and individual presence, and these are extremely valuable qualities to me, which should be encouraged in all of us,' said Gladstone. 'I am thrilled to have this opportunity to work with Gavin and this remarkable group of artists.'
Ten artists confirmed they would make the move to Gladstone Gallery with Brown — Ed Atkins, Kerstin Brätsch, LaToya Ruby Frazier, Arthur Jafa, Joan Jonas, Alex Katz, Mark Leckey, Rachel Rose, Frances Stark, and Rirkrit Tiravanija — and others may yet do the same. Brown also represents Martin Creed, Peter Doig, Urs Fischer, Cy Gavin, Bjorn Melgaard, Laura Owens, Rob Pruitt, and Avery Singer. —[O]