News | Artists
Leonard Rosoman's 'The Drag Ball, No. 2' Gifted to UK Public
Just in time for Christmas, Arts Council England announced a record number of artworks acquired under tax forgiveness schemes.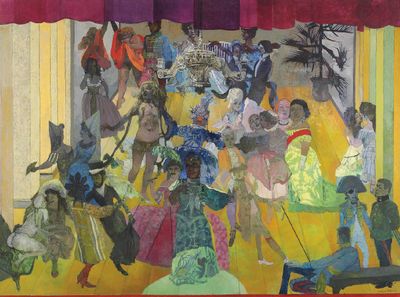 Leonard Rosoman, The Drag Ball, No.2 (1968). Acrylic on canvas. 182.8 x 228.6 cm. Courtesy Pallant House Gallery.
Leonard Rosoman's The Drag Ball, No. 2 (1968) was among the artworks given to the UK public during 2020 according to a report released 21 December by Arts Council England.
The painting depicts a scene from John Osborne's A Patriot for Me (1965), a play about gay Austro-Hungarian spy Alfred Redl, who was blackmailed by Russian agents in the 1890s.
The painting was given to the Pallant House Gallery, Chichester—along with four other Rosoman works—by the estate of his widow, Roxanne Wruble Rosoman.
Altogether, the UK accepted art objects worth a record total of almost £65 million (US $87 million) this year, though they weren't exactly gifts. The Acceptance in Lieu (AIL) scheme allows works to be offered up in lieu of inheritance tax, while the Cultural Gifts Scheme provides other tax benefits to living donors. All up, £40 million (US $54 million) in taxes were settled in exchange for artworks this year.
The five Rosoman pictures were accepted in lieu of £96,600 (US $130,000) in tax.
'As we look to the new year, when institutions can prepare to safely open their doors again, these items will be enjoyed by, educate and inspire millions of people,' said Sir Nicholas Serota, chair of Arts Council England.
Other contemporary artworks accepted this year include a self-portrait by Peter Blake, designs by punk artist Barney Bubbles, and a gouache painting by Marc Chagall. —[O]