News | Artists
Mark Bradford: 'Drag that Horror Into Your Studio'
The artist is showing new works made under quarantine in an online show at Hauser & Wirth.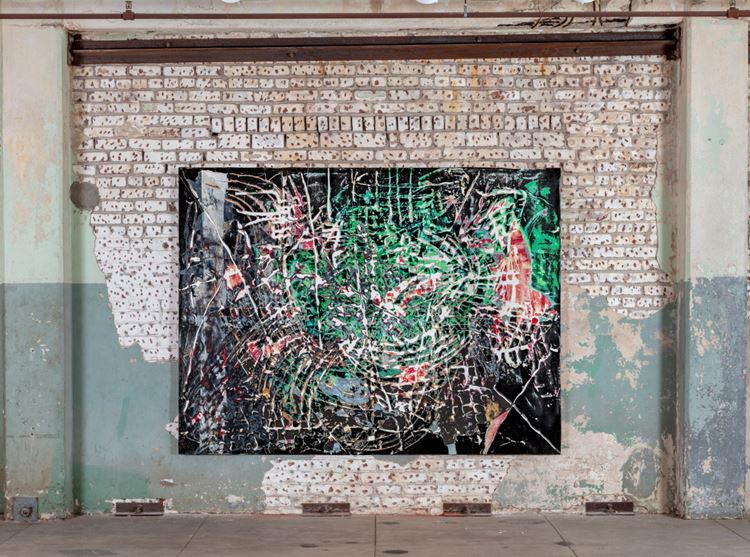 Mark Bradford, Q2 (2020). Mixed media on canvas. 182.9 x 243.8 cm. Installation view, 'Mark Bradford. Quarantine Paintings' at Hauser & Wirth Los Angeles, 2020. Courtesy the artist and Hauser & Wirth. Photo: Joshua White / JWPictures.
Three new works by Mark Bradford are now on view in an online exhibition at Hauser & Wirth. The works are displayed in an old grain hopper, part of the gallery's LA complex reportedly too hazardous to open to the walk-in public.
Bradford created the works alone after telling his seven assistants not to come into the studio due to the pandemic. LA County's Safer at Home Order, announced March 19 and reiterated and revised most recently on September 2, has asked residents to stay at home wherever practicable.
For the first time in years Bradford had to do the groundwork of laying down materials before sanding them away, the trademark process that gives his work its literal and figurative depth.
'I'm adjusting to life on Mars,' he told the New York Times this week.
'The abstraction of Bradford's Quarantine Paintings is disassociated from a distinct time and place', Hauser & Wirth said in a press release announcing the paintings, marking a major departure from his usual practice.
Bradford prefers to enter the world, gathering materials loaded with social and political meaning. He described what it meant to be an engaged abstract artist in a 2018 interview with attorney and professor Anita Hill recently shared on Art Space.
'Abstraction for me, I get it—you go internal, you turn off the world, you're hermetic, you channel something. No. I'm not interested in that type of abstraction,' Bradford said.
'I'm interested in the type of abstraction where you look out at the world, see the horror—sometimes it is horror—and you drag that horror kicking and screaming into your studio and you wrestle with it and you find something beautiful in it.'
In this new exhibition, it seems, turning off the world has itself become the horror, shared by those under imposed isolation, to drag kicking and screaming into the studio. —[O]