News | Exhibitions
Ravaged by the Pandemic, Miami Receives Experiential Art Center
Pace Gallery's Marc Glimcher and Steve Jobs' widow Laurene Powell Jobs are behind the venture.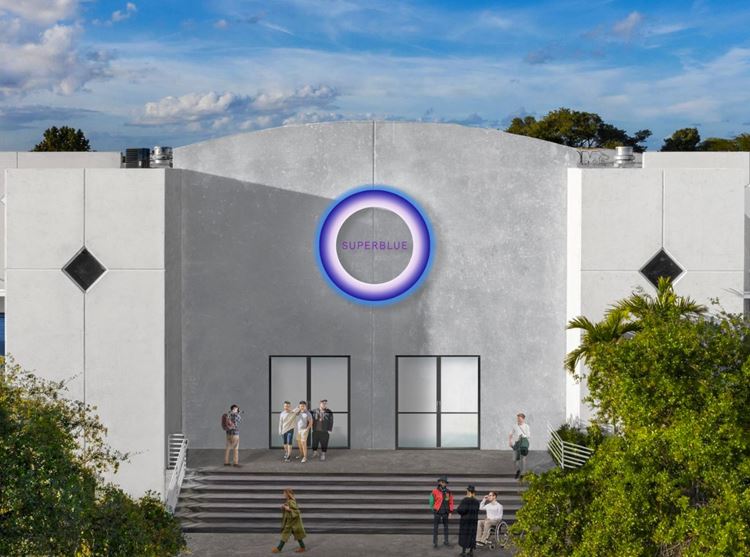 Experiential Art Center in Miami, Façade Rendering. Courtesy Superblue. Photo: Moris Moreno.
Yayoi Kusama's Infinity Rooms, James Turrell's light installations, Random International's Rain Rooms, and teamLab's audiovisual extravaganzas are immersive art experiences that draw huge crowds, when crowds are allowed to gather. A new space specialising in these sorts of experiences will open in Miami in December.
Named Superblue, the venture was co-founded by Marc Glimcher, president and CEO of Pace Gallery, and Mollie Dent-Brocklehurst, erstwhile director of Pace Gallery London. Financial backing comes from founding partner the Emerson Collective, established by Laurene Powell Jobs, whose net worth stands at US $18.9 billion, according to Forbes.
'Superblue represents a necessary evolution and disruption of the arts ecosystem, providing artists with the resources they need for realising their most ambitious ideas and engaging the public in the ways they envisioned, which is so integral to the work itself,' said Glimcher in a press release.
According to a New York Times article on the subject, the name Superblue references Der Blaue Reiter (The Blue Rider), a movement led by Wassily Kandinsky and Franz Marc that emerged in Germany prior to World War I.
The first Superblue experience center will occupy almost 5,000 square metres in an industrial building across the street from the Rubell Museum, Miami. There are already plans to open additional venues in other cities around the world.
Superblue's shows, including some newly commissioned works, will last up to 18 months. Tickets will cost nder $40 and revenues will be shared with artists.
Artists and studios with whom Superblue is already working include Carsten Nicolai, DRIFT, James Turrell, JR, Kohei Nawa, Leo Villareal, Mary Corse, Michal Rovner, Rafael Lozano-Hemmer, Random International, and teamLab, all of whom are also represented by Pace. Other artists on their roster are Es Devlin, Jacolby Satterwhite, Jakob Kudsk Steensen, Jeppe Hein, Koo Jeong A, Nick Cave, Risa Puno, Simon Heijdens, Studio INI, and Studio Swine.
While the experience center's opening is still months away, it's unclear how many visitors will want to visit exhibitions in Miami, which Jackson Health System infectious disease expert Lilian Abbo last month described as 'the epicenter of the pandemic.'
'What we were seeing in Wuhan – six months ago, five months ago – now we are there,' she said.
Glimcher himself caught COVID-19 and began feeling sick in March, an experience he wrote about in ARTnews. Pace Gallery reportedly laid off fewer than 20 employees in late July due to the economic impacts of the pandemic.
However, Superblue suggested that social distancing was good for not only the health of visitors but also taking in the artworks.
'Timed ticketing, controlled visitor capacity and a single-direction flow through the installations are key to achieving the intended experience of each work and support a socially-distanced visit,' they said. —[O]