News | Artists
'Nam June Paik Would Love TikTok' — Curator John Hanhardt
An exhibition of Paik's iconic broadcasts at Gagosian in New York is part of a sustained art world effort to catch up to Paik's prescience.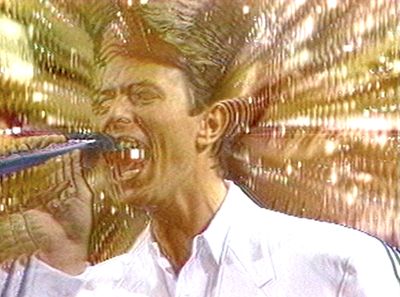 Nam June Paik, Wrap Around the World (1988). Courtesy Electronic Arts Intermix (EAI), New York.
Curator John G. Hanhardt first met Nam June Paik in Germany in the '70s.
'In every way he was distinctive,' Hanhardt told Ocula Magazine. 'His clothing, his sense of humour, the way he would shift through different languages, but most importantly, his brilliance. He was deeply informed, deeply thoughtful, and engaged.'
'He was essentially non-stop,' Hanhardt added. 'He was working all the time, developing projects, working in his studio. An enormous enthusiasm carried him forward. He was constantly travelling, and he wrote a lot.'
In the decades since then, Hanhardt organised retrospectives of Paik's work at the Whitney Museum of American Art in 1982 and the Solomon R. Guggenheim Museum in 2000. He remained in touch with Paik until his death in 2006, and has continued to engage with his work.
Nam June Paik, Lion (2005). Three-channel video (colour, silent), plasma monitors, CRT monitors, plywood, electrical cables, wood lion sculpture, wood platform, acrylic paint, and permanent oil marker, in 2 parts. Courtesy Gagosian.
Hanhardt curated the exhibition Art in Process, the first part of which is on view at Gagosian's 555 West 24th Street location in New York until 22 July. The second part will show at the gallery's Park & 75 location from 19 July to 26 August.
Alongside his energy, Paik was distinguished by his wide-ranging enthusiasm. He was a futurist, a philosopher of aesthetics, an electronic engineer, and a composer. He embraced pop culture and cutting-edge technology, things artists often find suspicious.
'He was fascinated by pop culture and saw great power in it,' Hanhardt said. 'He would love TikTok.'
John G. Hanhardt. Courtesy John Hanhardt and Gagosian.
In a way, Paik anticipated the viral video platform.
'The show at Gagosian on 75th street opens with a print from 1973 in which Paik asks, "how soon will artists have their own TV channels?",' Hanhardt said. 'The work Global Groove (1973) begins with the statement: "imagine your TV guide is as thick as the Manhattan telephone directory".'
Born in Seoul in 1932, Paik moved to Tokyo as a student, then to Dusseldorf in his 20s before relocating to New York in 1964. His works also transcended borders, referencing the Silk Road as a site of cultural exchange in, for instance, the TV sculpture Lion (2005), a techno-shrine built around a wooden carving he picked up in India.
Also in the Gagosian exhibition are sections of the Berlin Wall that Paik painted over in the early 2000s 'to make the wall transparent', Hanhardt said.
Left: Nam June Paik, Beuys Projection (1990). Single-channel video (colour, sound), media player, and video distribution amplifier. Right: Nam June Paik, Berlin Wall (2005). Acrylic paint on graffitied segment of the Berlin Wall. Installation view. Courtesy Gagosian.
Lately, walls seem to be going back up. Amidst the pandemic and the war in Ukraine, the global village has begun to feel precarious. Such setbacks wouldn't have discouraged Paik, Hanhardt suggests.
'I like to think Nam June was utopian in his thinking, but he was not naive. Any irony in his work was a way to open up the idea that nothing was stable. It's a changing discourse and action.'
Part two of Art in Process features wall-sized video projections of Paik's satellite broadcasts, which brought together artists and performers around the world.
Nam June Paik, Good Morning Mr Orwell (1984). Still. Courtesy Electronic Arts Intermix (EAI), New York.
Good Morning Mr Orwell (1984) featured appearances by Laurie Anderson, Joseph Beuys, John Cage, Salvador Dalí, and frequent collaborator (and occasionally nude cellist) Charlotte Moorman, among others. Broadcast simultaneously in the United States, France, and Germany, the rebuke to Orwell's dystopian view of technology reached a global audience of 25 million.
Broadcast in the US, Korea, and Japan, Bye Bye Kipling (1986) built on Paik's career as a kind of manic, maximalist show runner with performances from the Philip Glass Ensemble, the Alvin Ailey American Dance Theatre, Lou Reed, and fashion designer Issey Miyake, and footage of sumo wrestling. Meanwhile, David Bowie and Saturday Night Live comedian-turned US Senator Al Franken appeared in Wrap Around the World (1988).
Nam June Paik, Bakelite Robot (2002). Single-channel video (colour, silent), LCD monitors, Bakelite radios, electric lights, media player, and permanent oil marker. Courtesy Gagosian.
In his satellite productions, Paik was 'trying to overcome something,' Hanhardt said.
'He wanted television as an artist's medium to be as diverse, as complex, as entertaining, and as infinite in its possibilities as possible. That's why he created these grand experiments in live television alongside his family of robots, humanising technology.'
The exhibition at Gagosian follows The Future Is Now, a major Paik retrospective that was presented at Tate Modern in London, and travelled to the Stedelijk Museum Amsterdam, SFMOMA, and National Gallery Singapore from 2021 to 2022. —[O]