News | Exhibitions
Nigeria's Rele Gallery Opening in Los Angeles
Founded in Lagos, Rele is among the first African galleries to expand outside the continent.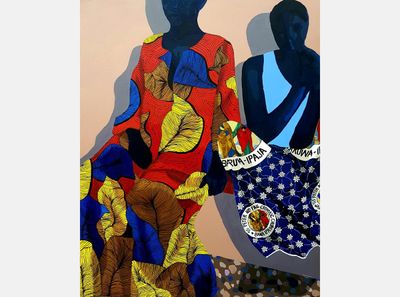 Tonia Nneji, Sit and listen (2020). Acrylic and oil on canvas. Courtesy the artist and Rele Gallery.
Rele Gallery will open a new space on Melrose Avenue in Beverly Grove, Los Angeles, on 1 February.
The new gallery is over 12,000 km from their two existing locations in Lagos, but Rele has exhibited in the city before, participating in the 2020 LA Art Show last February.
'We are excited to be the first gallery from Africa to be opening a location in Los Angeles [and] join the thriving community of multi-cultural artistic encounters that already exist' in the city, Rele founder Adenrele Sonariwo told Ocula Magazine.
South Africa's Goodman Gallery, made their own move out of Africa in 2019, opening a space in London.
Covid-19 has killed over 15,000 people in Los Angeles County, but that hasn't diminished Sonariwo's enthusiasm for the launch.
'The whole world has been hit hard by the pandemic, but we really believe that art offers hope, inspiration and beauty in these difficult times,' she said. 'We have seen that interest in art as a sort of refuge and escape has soared in the past year, at least that has certainly been our experience as a gallery engaging with patrons and art lovers.'
The inaugural exhibition at Rele Los Angeles is entitled Orita Meta–Crossroads, a reference to a book and painting by Nigerian artist and writer Peju Alatise. It features work by three female Nigerian artists: Marcellina Akpojotor, Tonia Nneji, and Chidinma Nnoli.
Chidinma Nnoli, A Poetry of Discarded Feelings / Things (III) (2020). Acrylic and oil on canvas.
Sonariwo is the daughter of the 18th Akarigbo of Remo, the traditional ruler of 33 towns in Nigeria's Ogun state. She says this heritage exposed her to cultural activities as early as her fourth birthday.
She opened Rele's first exhibition space in 2015, giving it a name meaning 'coming home' in Yoruba, the language of Nigeria's second largest ethnic group.
Sonariwo went on to curate the Nigeria's first ever pavilion at the 57th Venice Biennale in 2017, where she showed works by Alatise, Victor Ehikhamenor, and Qudus Onikeku. She was also a member of the jury for the 13th edition of the Dak'Art Biennale in 2018.
The same year, Vogue named her one of the 'five coolest women in Lagos', not bad for someone who studied accounting and began her career at PricewaterhouseCoopers.
'Working as a gallerist is definitely way cooler than balancing financial statements, we can all agree with that!' she said. However, she added, her time as an accountant 'gave me the experience and discipline required to run a venture. So I suppose it has all come together in a good way.' —[O]