News | Artists
Etel Adnan, Lebanese American Writer and Painter, Dies Aged 96
Adnan's art career took off in her late 80s after she participated in Documenta 13.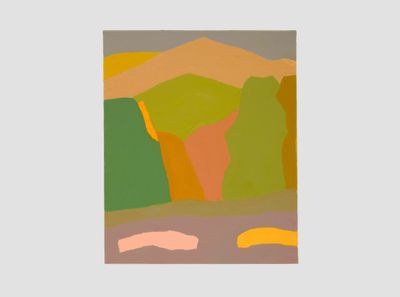 Etel Adnan, Untitled (2015). Oil on canvas. 46 x 38 cm. Courtesy White Cube (George Darrell).
Poet, novelist and painter Etel Adnan died in Paris on Sunday at the age of 96.
'Etel was light, life, beauty, generosity: a universal artist!' said Sfeir-Semler gallery's Andrée Sfeir-Semler, who exhibited Adnan's work in Beirut and Hamburg. 'I am heartbroken and will miss her dearly, but we will always remember her enormous generosity, her kindness, her wisdom.'
Born in Beirut in 1925 to a Greek mother and a Syrian father, Adnan moved to Paris aged 24 where she earned a degree in philosophy from Sorbonne. She then travelled to the United States where she continued her studies at Berkeley and Harvard, before teaching philosophy of art at Dominican College in San Rafael, Northern California.
It was only after the head of the art department there asked her how she could teach art without practicing it that she began to paint. That was in 1959, when she was 34.
Etel Adnan at home in Paris, 2020. Photo: André Siegel. Courtesy Sfeir-Semler Gallery Beirut / Hamburg and the estate of the artist.
Adnan has described her colourful, geometric abstracts—often created by applying paint directly from the tube—as a celebration of colour and simply being.
That contrasts with her writing, which began in opposition to the Vietnam War. Her most famous book is the novel Sitt Marie Rose (1978), which revolves around a kidnapping during the Lebanese Civil War.
Adnan's reputation as a painter took off after the director of Documenta 13, Carolyn Christov-Bakargiev, visited her in Lebanon and invited her to participate in the 2012 exhibition.
In 2014, Adnan's paintings and tapestries were included in the Whitney Biennial at the Whitney Museum of American Art in New York. An exhibition of her work entitled Etel Adnan: Light's New Measure continues at the Solomon R. Guggenheim Museum until 10 January 2022.
Adnan anticipated her own death in her book of poetry The Spring Flowers Own (1990), writing:
'The morning after / my death / we will sit in cafés / but I will not / be there / I will not be.' —[O]