News | Market
Perrotin Takes on Auction Houses With New 'Boutique' Offering
The venture will occupy a Parisian townhouse when it opens in 2021.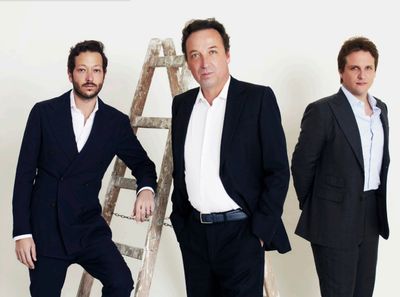 Tom-David Bastok, Emmanuel Perrotin, and Dylan Lessel. Photo Claire Dorn.
Perrotin will open a gallery devoted to reselling art next year. The new venture—a partnership between Emmanuel Perrotin, Tom-David Bastok, and Dylan Lessel—will occupy a five-storey townhouse at 8 Avenue Matignon, Paris.
That location, in the French capital's eighth arrondissement, puts it in close proximity to both Christie's and Sotheby's. Speaking to Artnet News, gallery founder Emmanuel Perrotin described the new secondary market offering as 'an alternative to auction houses, with bespoke services'.
'This new department is a natural extension of the activities the gallery has been pursuing for several years now, in particular our work with estates,' said gallery founder Emmanuel Perrotin. 'With vast spaces at its disposal, it will network with our six galleries and their teams to offer the best service to our collectors at all times.'
Perrotin's secondary market offering will source, evaluate, purchase, consign and sell work, adapting their approach for each sale.
Emmanuel Perrotin's partners in the venture are both experienced dealers. Tom-David Bastok created a platform offering co-ownership of art options in 2010, while Dylan Lessel was previously director of Kamel Mennour gallery. In 2019, Bastok and Lessel teamed up to manage artists' estates including those of Georges Mathieu and Alain Jacquet. —[O]