News | Exhibitions
Present Futures Fest Reimagines Sex Hotlines, Conducts Death Drills
The high-tech exhibition seeks to shed light on transhumanist identities and relationships.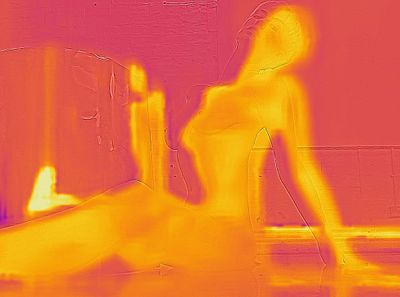 Laura Fisher. Infrared image used to promote the talk 'Hot & Bothered: Utilising Thermostatic imaging technology in the choreographic process'. Courtesy the artist and Present Futures.
The fourth edition of Glasgow's biennial Present Futures festival will take place exclusively online from 5 to 7 February. While many art events have made that shift over the past year, the artists in Present Futures were making digital work long before the pandemic shut down meat space.
'The opportunity to hold Present Futures in early 2021 was an exciting one, as here's this huge network of creatives who have got the work ready to go,' said Scottish choreographer and curator Colette Sadler, who is co-presenting the festival alongside production company Feral.
The festival, which was developed in partnership with Glasgow's Centre for Contemporary Arts, will bring together works by new media artists from Scotland and around the world to consider post-humanism and the future of relationships between humans and artificial agencies.
Keiken and George Jasper Stone, Feel My Metaverse (2019). 40 minute video. Courtesy the artists.
New technologies are both a theme of works in the festival and a means the artists employ to explore it.
Berlin and London-based collaborative Keiken, for instance, used Epic Games' Unreal Engine 4 to create their CGI film Feel My Metaverse (2019), which imagines a world after the impeding climate apocalypse.
Carrion (2017), a haunting live performance by Australian artist Justin Shoulder, also envisions a post-apocalyptic world. Presented in the online festival as a video, Shoulder uses white masks, makeup evocative of Japan's Butoh dance tradition, and costumes made of bones and fabric to become the titular character, a shape-changing spectre who has outlived us all.
Preparing us for the worst is Samir Kennedy's Death Drill, a 25-minute audio experience that asks listeners at home to don headphones in a darkened room. Described as 'an intermediate military training procedure', the exercise prepares future troopers for 'ego death' so they can be successfully transported to 'a new body vessel'.
Justin Shoulder, Carrion (2017). Digital illustration. Courtesy the artist and Tristan Jalleh.
Technological obsolescence and the social obsolence of those of us unable to keep up with new technologies are suggested in Hong Kong animator Wong Ping's Dear, Can I Give You A Hand? (2018). An old man still obsessed with his collection of porn on VHS also lusts after his daughter-in-law, who is too busy running her e-tail business to even notice.
Interactive phone call 1-800-LONGING4IT (2021) by Mass Hysteria Collective and Leah Marojević is a 15-minute performance that reimagines phone sex hotlines. Participants are paired with one of the collective's 12 female artists, who each perform a fictional fantasy that serves to 'queer normative power roles, prioritise care, pleasure and dreaming and momentarily release both performer and audience from reality.'
The festival's conversations programme includes subjects such as 'Rejecting the Species Binary' and 'Hot & Bothered: Utilising Thermostatic Imaging Technology in the Choreographic Process'.
Day passes and tickets to events in the Present Futures festival can be purchased here. —[O]