News | Galleries
Silverlens, a Groundbreaking Filipino Gallery, Will Open in New York
Prompted by the desire to increase visibility for Southeast Asian artists, the new Chelsea gallery will launch with exhibitions by Martha Atienza and Yee I-Lann.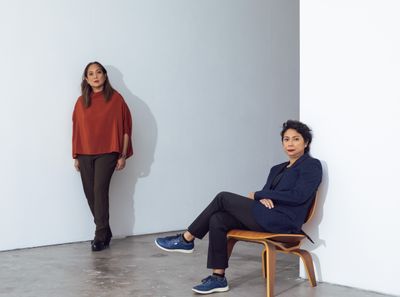 Silvenlens co-directors Rachel Rillo (left) and Isa Lorenzo (right). Courtesy Silverlens. Photo: Joseph Pascual.
Manila-based contemporary art gallery Silverlens will open an outpost in New York this September.
The new 2,500 square foot (232 square metre) gallery will be located on the ground floor of 505 W 24th Street in the heart of the Chelsea gallery district.
Silverlens New York will launch with exhibitions by Filipino video artist Martha Atienza and Malaysian multimedia artist Yee I-Lann, whose installation at Art Basel in Switzerland this year was acquired by the National Gallery of Victoria in Melbourne.
Co-directors Isa Lorenzo and Rachel Rillo said the new space was motivated by the gallery's growth and a desire to make Southeast Asian artists more visible. Lorenzo and Rillo said it would allow 'outsider' artists to join the mainstream contemporary art dialogue.
'The last couple of years, we have seen more and more interest from institutions in our artists and our program from the US,' Lorenzo told Ocula Magazine.
'We also noted that the largest viewership of our website and social media was coming from the US, and we don't know who these people are,' she continued. 'This got us to thinking that we should seriously consider opening in New York, as it is the centre of the art world in the US, and possibly the world.'
Lorenzo said the New York gallery's programming would include 'curator-led exhibitions that would bring together American artists, specifically diasporic ones, with our artists.'
'We used to have a gallery [at Gillman Barracks] in Singapore, and we learned from that experience that it is important to integrate and cross-migrate the program,' she said.
Yvonne Quisumbing, ARCANUM VI (2022). Oil on fiberglass. 64.77 x 52.07 x 6.35 cm. Courtesy Silverlens.
Lorenzo founded Silverlens in her Manila apartment in 2004 with an initial focus on photography—hence the name. Rachel Rillo joined as co-director in 2007, and they signed their first five artists. The roster has since grown to 26 artists working across media.
They include Yvonne Quisumbing and Elaine Navas, both of whom currently have exhibitions at the gallery in Manila, and Pacita Abad, whose retrospective at the Walker Art Center in Minneapolis will open in 2023.
Silverlens has participated in art fairs in Asia and beyond, including Art Basel in Hong Kong and Pulse in New York and Miami.
In September, they will join both the first Frieze Seoul and New York art fair The Armory Show, where they will exhibit works by Maria Taniguchi and Pow Martinez from the Philippines, and Thai artist Mit Jai Inn.
'Pow is an irreverent visual story teller, and Maria and Mit are such anchors for contemporary art on this side of the world,' Lorenzo said. 'I am excited to see how collectors and audiences react.'
At the same time as Silverlens is striking out west, Perrotin is expanding in the east, adding a second exhibition space in Seoul. Their new Gangnam gallery Perrotin Dosan Park will open on 27 August with an exhibition by Emma Webster, her debut with Perrotin. —[O]
---