News | Latest News
The Latest: Venice Biennale Delayed till 2022, Olafur Eliasson's AR Bugs, and More
This week's need-to-know art news, including Christie's new global auction and an attempt at a fairer art fair by the New Art Dealers Alliance.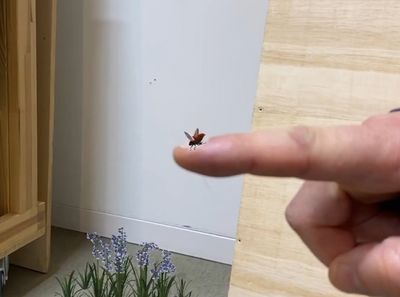 Olafur Eliasson, Wunderkammer (2020). Augmented reality artwork. Courtesy the artist.
Venice Biennale Postponed till 2022
The 59th edition of the Venice Biennale has been postponed until April 23, 2022. It was bumped back following the postponement of this year's architecture biennale until May 2021. Just last week, another of the world's leading biennials, Korea's Gwangju Biennale, was postponed from 4 September-29 November this year until 26 February to 9 May 2021. 'Despite the optimism brought by the response to the pandemic in South Korea, the decision to postpone the 13th Gwangju Biennale to February 2021 had to be taken,' said artistic directors Defne Ayas and Natasha Ginwala.
Olafur Eliasson Releases AR Cabinet of Wonders
Olafur Eliasson has introduced a new augmented reality (AR) artwork in collaboration with technology platform Acute Art, who released an AR project with KAWS earlier this year. WUNDERKAMMER (2020), whose title is German for 'cabinet of wonders', allows users stuck at home to experience simulacra of nature including a ladybird, a miniature sun, and a rain cloud that forms a puddle on the ground. 'Today, where physical distancing guides our lives, it's as crucial as ever that we surround ourselves with things and atmospheres that really matter to us,' Eliasson said.
Christie's Introduces Global Auction
Auction house Christie's has announced a new 'relay-style' auction of 20th Century art that will begin in Hong Kong and continue in London, Paris and New York. Entitled One, the auction will offer Impressionist and Modern, Post-War and Contemporary art, including Zao Wou-Ki's 21.10.63 (1963), Pablo Picasso's Les femmes d'Alger (version 'F'), 17 January 1955 (1955), Roy Lichtenstein's Nude with Joyous Painting (1994), and Ed Ruscha's Annie (1962). 'With our virtual and physical worlds rapidly merging, we felt that it was vital that we meet this new reality with an innovative platform,' said Alex Rotter, chairman, Post-War and Contemporary Art at Christie's. The new auction replaces the New York 20th Century Evening sale previously scheduled for the week of 22 June.
NADA Announces New Art Fair Model
The New Art Dealers Alliance (NADA) has announced a new profit-sharing art fair model to support its 119 member galleries and 81 other galleries financially impacted by COVID-19. Half of every sale will go directly to the gallery that presents the work (to be split evenly with the artist), while 20% will go to a pool shared by all of the participating galleries, and another 20% to a pool shared by all the participating artists. The final 10% will go to NADA. The online event takes place from 20 May-June 21. —[O]
Send art news, announcements, and tips to [email protected]