News | Artists
Tony Oursler Retrospective to Open at Last in Kaohsiung
Several of the artist's works wouldn't be out of place among David Lynch's home videos.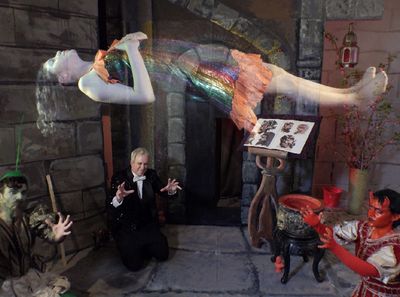 Tony Oursler, Imponderable (film still) (2015–16). 5-D multimedia installation. 78 minutes. Courtesy Tony Oursler and the Museum of Modern Art, New York.
Works by American multi-media artist Tony Oursler will soon be exhibited in Kaohsiung, Taiwan, in what's being billed as his first major retrospective in Asia.
Tony Oursler: Black Box will show at the Kaohsiung Museum of Fine Arts from 23 January to 16 May. The exhibition includes works such as Judy (1994), Caricature (2002), Lock 2,4,6 (2010), Open Obscura (2011), Imponderable (2015–6), and Spacemen R My Friended (2016).
Born in Manhattan in 1957, Oursler completed a BFA at the California Institute for the Arts in 1979. Considered a pioneer of new media art, he is currently represented by galleries including Lisson Gallery and Lehmann Maupin.
Tony Oursler, LOCK 2,4,6 (2010). Multimedia installation. Courtesy the artist and Kaohsiung Museum of Fine Arts.
Black Box was initially scheduled to open on 11 April 2020 as part of the Kaohsiung Spring Arts Festival, but it was postponed until November 2020, and then pushed back a second time to its current dates.
Back in April 2020, the KMFA posted a video greeting from Oursler to his Taiwanese fans on YouTube.
'We're going through a few things with the virus these days that you went through a few months ago and we're looking to you for inspiration,' Oursler said from a beach in New York. 'I'm looking forward to coming over and setting up my exhibition at the lovely museum in Kaohsiung.' —[O]