News | Artists
Who Is Ramsay Art Prize Winner Kate Bohunnis?
The South Australian sculptor won AU $100,000 for her work Edges of Excess.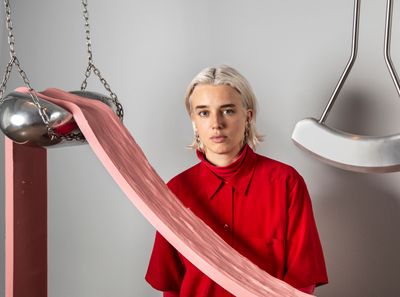 Kate Bohunnis with her work Edges of Excess (2020), stainless steel, aluminium, silicone, electronic mechanism. Photo: Saul Steed.
Kate Bohunnis was announced the winner of the Ramsay Art Prize 2021 on Friday. The biennial prize, worth AU $100,000 (US $77,300), is awarded to an Australia-based artist under 40.
The 30 year old won for her kinetic sculpture entitled Edges of Excess (2020), a mechanised metal pendulum which swings over a pink silicone form that resembles an oversized stick of stretched-out bubblegum.
The sculpture references spiritual healing techniques introduced to the artist by her mother.
'We would use a pendulum as a tool for divination,' Bohunnis told The Guardian. 'It was about pathfinding, healing the body and centring ourselves.'
That appealed to her, she said, but they quickly became too reliant on it for making decisions.
'The work is about that moment where I found myself not being able to make important decisions for myself – it's a lesson I'm still learning. To not give over, to not be so attracted to something that seems magic.'
Edges of Excess was selected from 24 finalists by a panel of judges comprising artist Karla Dickens, Carriageworks' director of programs Dr Daniel Mudie Cunningham, and Rebecca Evans, curator of decorative arts and design at the Art Gallery of South Australia (AGSA), which presents the prize.
In a statement, Mudie Cunningham described the winning work as 'a visceral portrait of both wellness and anxiety.'
Rhana Devenport, director of the AGSA, said, 'The Ramsay Art Prize sets out to elevate and accelerate careers for young contemporary Australian artists.'
That has indeed been the case for previous winners Vincent Namatjira and Sarah Contos.
Bohunnis studied printmaking at Adelaide College of the Arts and received a First Class Honours degree from Flinders University.
While she has previously exhibited at BLINDSIDE in Melbourne, FELTspace in Adelaide, and the Perth Institute of Contemporary Art, she is not yet represented by a commercial gallery. —[O]