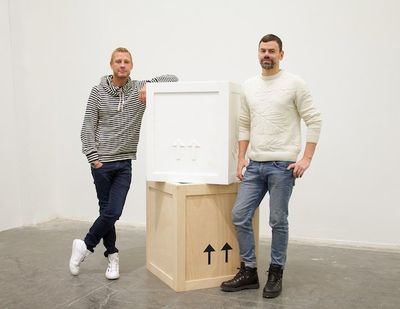 Image: Elmgreen & Dragset at UCCA, Beijing. Photo: Elmar Vestner
The influential powers of the art market; its hierarchies and trends, provide the stage and spotlight that determines a contemporary artist's career. Danish and Norwegian artist duo Michael Elmgreen and Ingar Dragset, aka Elmgreen & Dragset, have utilised these art world systems to their advantage, fuelling their practice and essentially upending this power structure.
The self-confessed outsiders to the art world were lucky enough to find a trap door into the fold. Without any formal arts education, since the 1990s they have become two of the most successful artistic amateurs, translating their craft across a multiplicity of media and genres.
Challenging the accepted formats for presenting and viewing art, the pair are interested in exploring 'ways of seeing' that reappraise the frameworks of our lives via social critique, architecture, performance and design. This canny analysis, often coloured by subversive humour, has found form in a multitude of iconic installations, such as Prada Marfa, 2005—a full-scale Prada store placed in the Texas desert commenting on capitalist culture—and was memorably demonstrated in their 53rd Venice Biennale (2009) presentation The Collectors at the Danish and Nordic Pavilions that explored notions of greed and excess.
Most recently, Elmgreen & Dragset have turned their attentions to redefining spaces that engage in audience experience. Their upcoming full immersion installation The Well Fair will see the Great Hall at Ullens Center for Contemporary Art in Beijing transformed into a fictional art fair, revisiting dialogue on the consumption of contemporary art and exploring the spatial settings that define the art market. Through this presentation of temporary gallery stands audiences will encounter gallery booths with crated, wrapped and half-installed artworks, and museum personnel acting as art fair staff.
Rachael Vance speaks with Michael and Ingar about their show, that represents their first presentation in China and largest in Asia to date, and the questions it raises concerning the role of the art museum and commercial gallery sector.
RV

How did the idea for The Well Fair develop and come into fruition originally?

E&DThe Well Fair is a natural extension of our early works that dealt with questioning institutional structures. In the early 2000s, we made a number of installations and performances that centred on the 'white cube' as the accepted format for viewing and presenting art. We played with this so-called neutral architectural structure by placing it upside down or underground, to look at it in another way. At that time, it was such a relevant topic for us, since we were both sort of outsiders, not coming from art academic backgrounds. And now, with the seemingly exponential spread of art fairs around the globe, we wanted to create an exhibition that would set the stage for opening up a discussion about this current phenomenon, in a more complex manner than how it is debated in most media. The title, The Well Fair, references our 2006 exhibition The Welfare Show at the Serpentine Gallery in London, which was about the disappearing welfare state in the wake of neo-liberalism.
Image: Elmgreen & Dragset: The Well Fair, Exhibition view, Ullens Center for Contemporary Art, Beijing, 2016. Photo: Eric Gregory Powell.
RV

What is your aim for the installation at Ullens?

E&DWe aim to call attention to the standardised format of art fairs and we want to see how people will adapt their behavioural patterns when entering our fictional art fair within the context of the museum. We're currently working on the catalogue that accompanies the show; it's an extension of many of the convergent elements we'd like to address, with contributions from several art fair directors, a sociologist, an art historian and a psychologist. We have selected people from all these different fields to provide many different perspectives on the driving forces that have made art fairs what they are today.

In terms of our own works in the show, this is one of the largest shows we've done, with over 80 individual works as well as performative elements, so it's different in that it gives such an extensive look at what we've been making over the past 20 years. The exhibition is also not only about the art market and the fair architecture. Each booth displays a small solo show where the viewer will be confronted with recurrent themes from our productions during the past 20 years—questions about identity, childhood and wider sociocultural topics.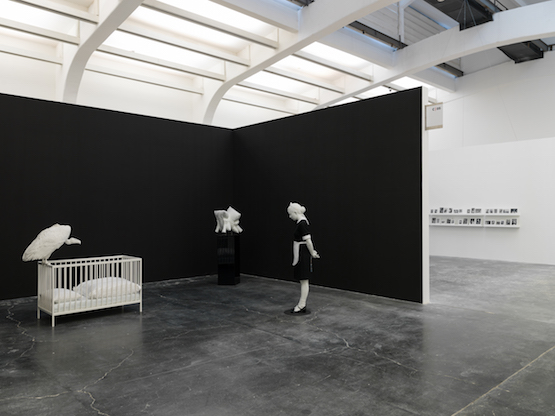 Image: Elmgreen & Dragset: The Well Fair, Exhibition view, Ullens Center for Contemporary Art, Beijing, 2016. Photo: Eric Gregory Powell.
RV

What have some of the challenges been for you both working on such a multifarious exhibition on the other side of the world?

E&DIt is also challenging to step out of one's normal context and experience reactions from new audiences with other cultural backgrounds and starting points for viewing art. In Europe and the US, you often know beforehand who will like what and who won't. We have also had some production of the site-specific works included in this show done in China, so we have had to oversee that part of the process remotely, which of course poses challenges now and then. We're looking forward to being there in person for the installation period. Funnily enough, the installation process for this show reminds us a bit of the 'magic' of installing a real art fair: there is a condensed period of intense activity, unpacking, building walls etc and then it all comes together for the opening. But with our fair, there will be some works that are still uncrated or semi-wrapped, since we wanted to give the feeling that you're not sure if the fair has just ended or not yet begun, in order to create a sort of disorienting atmosphere.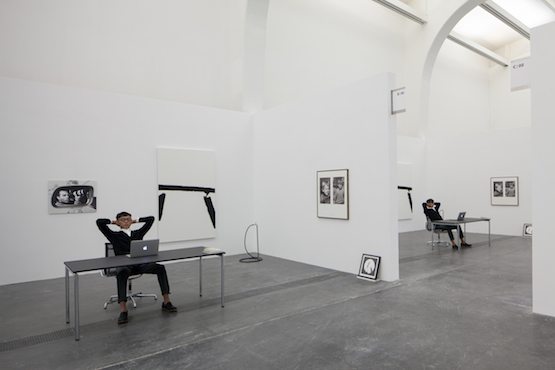 Image: Elmgreen & Dragset: The Well Fair, Exhibition view, Ullens Center for Contemporary Art, Beijing, 2016. Photo: Eric Gregory Powell.
RV

How do you feel your work is or will be perceived in China, and more broadly, in Asia?

E&DWe always consider the context of our exhibitions and the perception of it [the work] by our audience, not just with this particular show, but with any show we do anywhere in the world. On a thematic level, we think our work will connect with a wide range of visitors, as enduring questions of identity and shared history are present throughout. We're really also curious about how this exhibition fits into and comments on the Asian market, which has developed so quickly in the past few years. One could maybe even claim that the contemporary art scene boom in China derives from private collectors' interest in the scene. But when compared to Europe and North America, art fairs are a relatively new occurrence in the region.
Image: Elmgreen & Dragset: The Well Fair, Exhibition view, Ullens Center for Contemporary Art, Beijing, 2016. Photo: Eric Gregory Powell.
RV

What do you hope audiences will take away from your exhibition?

E&DWe're never aiming for a definite 'takeaway' message to the audience. Visitors to an exhibition are as complex and different as we are as artists, and we ourselves don't like to feel that the author has been calculating to elicit certain reactions from us when we see a show or read a book or watch a movie. That's simply too arrogant and too Hollywood-like, we think. This show has so many layers—but of course we hope we managed to create a platform that allows people to consider the spatial settings for fairs, the value assigned by the art market today and how we present art in general.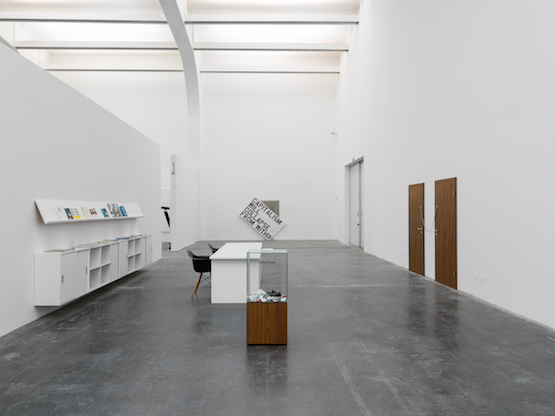 Image: Elmgreen & Dragset: The Well Fair, Exhibition view, Ullens Center for Contemporary Art, Beijing, 2016. Photo: Eric Gregory Powell.
RV

What do you enjoy most about devising and realising your imaginative narratives and characters?

E&DFor us, the most interesting aspect is how these narratives can serve as a means of communication about broader issues—we choreograph the exhibition, almost as though it would be a film set, to give visitors clues about a story or a situation, or to show details of an implied plot that points to a bigger picture. For example, our show The Old World at Galerie Perrotin in Hong Kong dealt with the clash of the outdated traditions of 'Old Europe' in relation to modern society; in The Collectors at the Venice Biennale in 2009, we talked in part about social status, about the desire of collecting, and family dynamics; and Tomorrow at the V&A questioned how ageing and failure fit into today's society obsessed with youth and success. We find it interesting to investigate how a space can be transformed into something else by only altering a few architectural features and design codes, and in these new settings, to mix our own works with found objects, ready-mades, and sometimes works by other artists, and from that to construct the storyline.
Image: Elmgreen & Dragset, Tomorrow, Exhibition view, The Victoria and Albert Museum, London, 2013. Photo: Anders Sune Berg.
RV

How does your working dynamic operate? Does one of you focus more on the technical concerns of your work and the other, more aesthetic considerations?

E&DIt's always a mediation. We don't divide it between us in clearly defined ways; rather, we both lead meetings with our production team and weigh in on aesthetics to reach a decision together. All the works we make arise from the ongoing dialogues between us that take place in so many different places: at the studio, over the phone, on a plane, in a bar late at night etc. Often when we do a show we've already got the idea for the next project. We have worked together for 20 years now, so we have almost turned into a two-headed monster. —[O]