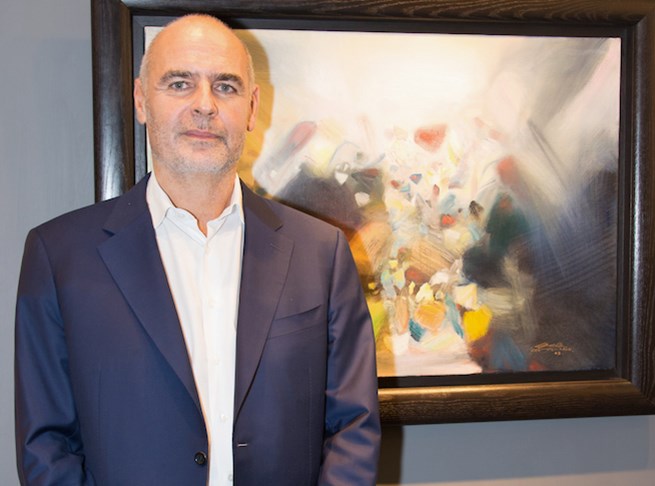 https://ocula.com/artists/joan-mir/
Gilles Dyan, member of the European Chamber of Fine Art Experts (C.E.C.O.A.), is the Founder and Chairman of Opera Gallery Group, a global network of ten galleries specializing in Modern and Contemporary art.
Dyan opened his first gallery in 1994 in Singapore and quickly expanded, becoming by 2004 a decade after its conception, the largest international gallery network of its kind. Opera Gallery Group now includes 10 galleries and is soon to expand into the emerging markets of Lebanon and Azerbaijan.
Ocula talks to Gilles Dyan on the occasion of Opera Gallery's 20th global anniversary and the 10th anniversary of Opera Gallery in Hong Kong. He shares some highlights of the last twenty years, his thoughts about the future and gives us insight into the recently opened Hong Kong anniversary exhibition, Timepieces: Celebrating a Decade.
Tell us about your background and how you became involved in the visual arts.
I was surrounded by art from a very young age. My mother was a school teacher in an artists neighbourhood and I used to walk with her back and forth from the school passing by different studios, peeking in, chatting with different artists, and looking at their works – I developed a huge curiosity for this world. By the age of 16 I was already saving my pocket money to buy prints. It started as a hobby, recommending works to my family and friends by young artists I had befriended, and very quickly, by the age of 20, I was dealing in art – buying and selling works (mainly prints at the time) to other dealers. At the age of 22 my parents pushed me to get a real job so I went to work in marketing for about ten years. It was a creative job, I had the chance to meet various characters in creative industries, but my passion kept taking me back to fine arts. At the age of 33 I quit my job in marketing and took a collection of works by artists I liked, which I began showing to different galleries and fairs in Europe. I went in 1994 to the Singapore Art Fair and sold everything I brought during the first two days. Three months later I opened my first gallery in Singapore, and the rest is history…
What was the first artwork you ever purchased?
I bought a Joan Miro print at the age of 16.
You opened your first gallery in Singapore in 1994 and have since expanded to ten different locations around the world. What was your original vision for Opera Gallery and how has this evolved over time?
I envisioned a global gallery from the very start. I came to Singapore in 1994 and saw potential in building a platform for French artists outside of France. I wanted to venture into emerging markets with my collection of artists and to find new artists in the markets I discovered, and from there we rapidly developed our global network. Continuing to follow this vision we will expand to new locations in Beirut and Baku, both due to open the first quarter of 2015.
Do the galleries share a universal approach to operations or do they reflect their own unique principles?
The galleries follow the concept of "Thinking global – Acting local." They carry all our core artists in their collection and at the same time collect and support local artists within their respective regions. Our platform creates a fascinating dialogue between global and regional artists, and very often we create that exchange between the markets, showing Asian art in Europe or Middle Eastern art in Asia.
2014 marks Opera Gallery's 20th global anniversary. Please share with us some highlights of the first 20 years?
Each gallery was a highlight for me. From new markets with new challenges to exciting interactions with new collectors and artists, each achievement was a highlight in seeing my vision come to life on such a scale.
Other highlights include showcasing exhibitions by world renowned artists including Salvador Dali, Pablo Picasso and Marc Chagall in the Far East for the first time. Knowing this may have been the first time gallery visitors or collectors had the chance to experience original works by these artists. Coming from Europe we take it for granted, but Asia has yet to have an international museum showing Western Masters. Our galleries became a destination to view such important works.
Timepieces: Celebrating a Decade opens this week in Hong Kong in celebration of your 10th anniversary there. Tell us about the exhibition?
When we curated this show we wanted to create an experience for the visitors of what Opera Gallery is all about - kind of an identity report about the scale and range of works we carry. We made a selection of 50 artists ranging from contemporary masters including Takashi Murakami, Julian Opie and Yayoi Kusama to Post War and 20th Century artists like Bernard Buffet, Marc Chagall and Chu Teh-Chun, and up to 19th century classics with the likes of Pierre-Auguste Renoir, Henri Matisse, and Auguste Rodin. It is quite a unique experience to view so many masterpieces under one roof, and for Hong Kong, a great reflection of our eclectic collection.
Where do you think the markets are going?
I foresee further growth with emphasis on private museums taking a role in shaping the art market. Funded by major collectors, these museums allow greater freedom and flexibility in their programming in comparison to traditional public museums. In this sense, major collectors will become key players in setting market trends and impacting the markets in return. We already see it happening in both the Middle East and in China, and will it have continuous effect in coming years.
Long term vision?
To keep expanding globally, giving more exposure to our core artists and to have extending our reach into new emerging markets that we have yet to explore.
Favorite art destination except Opera Gallery?
I love the MOMA in New York, it is my usual favourite destination when I'm in town. —[O]