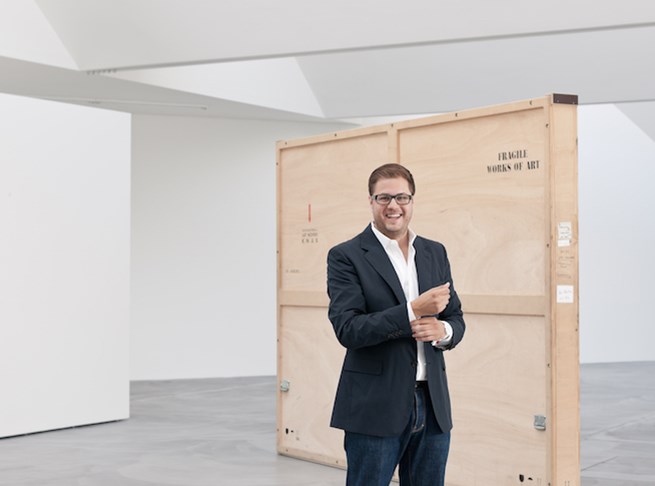 Stefan von Bartha. Photo courtesy of von Bartha
A gallery that provides a space for such movements as Asociación Arte Concreto-Invención, the Arte Madí, the ZERO group and the Hungarian Avant-Garde, von Bartha represents an international roster of artists that includes Christian Andersson, Andrew Bick, Terry Haggerty, John Wood and Paul Harrison, Imi Knoebel, Sarah Oppenheimer and Bob and Roberta Smith. The gallery was established by Margareta and Miklos von Bartha in 1970 in the family home, where Stefan von Bartha, who joined the family business in 2008, grew up. The year Stefan von Bartha joined, the gallery moved into its current home in Kannenfeldplatz in Basel, where Superflex are exhibiting a project presented in tandem with Art Basel, titled Euphoria Now
(25 April to 11 July 2015). In this interview, Stefan von Bartha discusses his experience growing up around the gallery, and his role in taking the gallery forward. He also talks about the exhibition by Superflex, taking into account the theme of the exhibition and the context within which the exhibition has been staged.
Your parents Margareta and Miklos von Bartha founded the gallery in 1970, but you only moved into a gallery space in 2008, which is when you returned to Basel to join the family business. Before that, the gallery was located in your home—you literally grew up in the gallery! Could you talk about your experience living with art in this way?
That's right, I grew up in a gallery. So for me, it felt quite natural to be in the art world. I always used to help my parents because it was way more entertaining to spend time with artists than to do homework (laughs). My parents accepted that both my brother and I had a strong passion for art. My brother actually also owns a contemporary art gallery in London. We're all collectors ourselves too. My brother has a wonderful collection. I just got a new apartment and I hate the fact that I have too few walls to hang my paintings.
von Bartha, Basel. Courtesy von Bartha
How did growing up in such proximity to art and the business of a gallery prepare you for the education you received at Christie's Education in New York, as well as the work experience you gained in Sotheby's in Zurich and Galerie Nordenhake Berlin?
My business interests initially revolved more around design. When I was 18, I started to deal in vintage design. In fact, I put together my first show at the time, which consisted of 420 vintage space toys. I sold 419 of them. My parents gave me 800 francs to set up the show. They invested in me and helped make it a success by giving me the gallery space and, I suspect, by telling people to support me. We even went on to create a vintage design label. By the age of 21, however, I realised that my real love was art and not design.
At the time I tried working with my parents, but if you grow up in the art world and only have your parents as teachers, then you'll surely have a problem when you start working for them. How will you earn respect in the family business? That's when I decided to enrol in Christie's education program for contemporary art in New York; and then I worked for Sotheby's in Zurich and for Galerie Nordenhake in Berlin. I met other people who had a huge influence on how I saw the art world, and that gave me other, much needed perspectives.
Von Bartha is one of the original Art Basel galleries—I wonder if you could talk about stories you grew up with surrounding the fair and its origins, and the experience of von Bartha within this history?
As a kid, Art Basel felt like a gigantic playground. I remember the install process most growing up. We would just park our car in front of the fair and I would help my parents carry the art works to the booth. It was as simple as that, we'd pack up the white Volvo, all squeeze into the car and drive off to the fair. Believe me I would love to do the shipment this way today—it would be so much simpler. There were some amazing characters who played key roles in the fair back then. I can remember Carl Laszlo with his cigar and a 15m2 booth in which he filled every centimetre with art and Ernst Beyeler who was always very nice—he would always say "hello" to me, even when I was a 5 year kid jumping excitedly around our booth.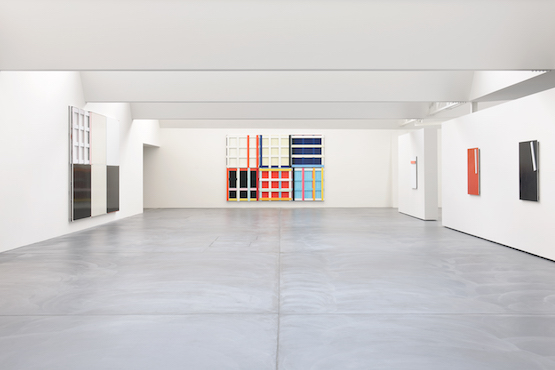 von Bartha, Basel. Courtesy von Bartha
Since you also grew up alongside Art Basel, how do you perceive the way Art Basel has evolved and expanded into the global brand it is today?
Art Basel has continuously managed to improve their offer, and they take full advantage of the character of the city. Basel is small but has an incredible art scene. The fair has brought a lot of amazing new "tools" to the idea of a classical art fair. Certainly the directors have had a considerable influence on this but I've noticed that the entire team has been anxious to improve the fair on every level. Some aspects of fairs that we take for granted today—such as the VIP program, the events, the Art Unlimited and all of the other formats connected to the fair like Parcour—started in Basel. These initiatives have helped connect the fair to the city and maintain the reputation and success of the fair over the years.
To this end, I wanted to bring up your current exhibition with Superflex titled Euphoria Now. The exhibition presents a series of works that interrogate the current financial system—and what is somewhat characterized as a manic devotion towards it—through such works as Bankrupt Banks, November 11, 2013 (2013) comprising 17 black MDF panels with the names of bankrupted banks printed in white, and a series of 3D printed flowerpots, each named after one of the top twenty investment banks in the world. It seems fitting you are presenting this show in parallel with Art Basel. Did you have that in mind when devising the show with Superflex?
If you invite Superflex to exhibit at your gallery, you have to be somewhat relaxed about their decision on what kind of work they want to present or which aspect of local "news" they will get into. We wanted to have this show running during Art Basel as they are a part of our new contemporary art program. I don't however see the connection from the investment banker to Art Basel. Certainly there are a number of people that just see art as an investment, but I've noticed that typically those types of investors buy more from the auction houses. The contents of the show are more connected to Switzerland in general than to Art Basel.
Superflex, Installation of Euphoria Now at von Bartha, 25 April – 11 July 2015. Courtesy von Bartha
In many ways, staging a show like this during an art fair highlights the issue of complicity in terms of how objects and people are valued, traded, and circulated within the art market. How do you feel as a gallerist participating in this system, when thinking about the critique offered in Euphoria Now?
Frankly I think it is great to be able to criticize the "system" with such a show. Art has the possibility to do such a thing in a non-offensive and more open way. The show is of course very much pointing out the problems that we face today in the commercial art and business world. I think people are rethinking the way we see and buy art today. Superflex are doing a very important job by creating a show like
Euphoria Now
and we are excited because we have had a number of very interesting discussions with our visitors and collectors about the show, the works and the current situation in the banking and art world, which I like. As a gallery, we have a number of ways we encourage people to look at art more. A show like Superflex has the right balance of criticising and reflecting at the same time. Another example is our fair policy, we have one main rule at the fair: we speak only of the art. We'll only tell people about the price when they ask for it. Most people lead with the price and then discuss the artist and work, but we deliberately do things the other way around.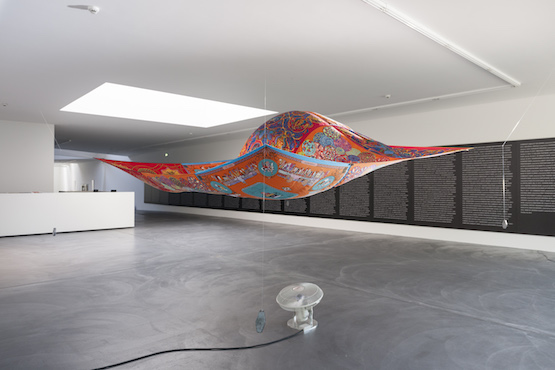 Superflex, Supercopy Haacke Hermes, 2015, silk scarfs, electrical fan. Courtesy von Bartha, Basel
This links back to your experience growing up in a gallery. How have things changed for galleries working today? What have been the biggest challenges that you have faced or perceived from the perspective of a 45-year-old family business?
I just recently found my first written proposal to my parents regarding the setup of the new gallery and had a good laugh; lots has happened that I couldn't have predicted, and there are things that I predicted that didn't happen the way I planned them.
One thing that hasn't changed is my desire for the gallery to become a professional set up for contemporary art. My parents thought I was crazy initially, but then they got excited about the idea. We found the converted garage space in Basel around that time and decided to buy it. That was 7 years ago.
I've learnt how important it is for those working within the art world to keep innovating. We have seen such a dramatic transformation in the way the art world functions over the past 10 to 15 years, and we know of a number of family owned galleries where their success has been curbed, or worse the gallery has folded because the second or third generations did not innovate or the older generation(s) refused to change. You've got to keep up.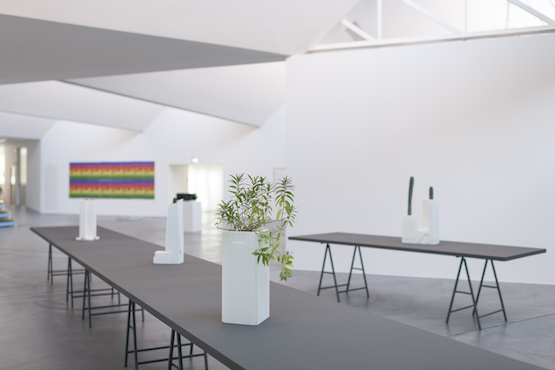 Superflex, Bankrupt Banks, November 11, 2013, 2013, 17 MDF black panels with prints. Courtesy von Bartha
If you could offer any advice to young gallerists starting out today, or to anyone who would like to enter into the field, what would it be?
There is a no formula for galleries. You have to have an exhibition space and you must go to fairs. But ultimately, the money is made in art dealership. One thing I would say is that today, people are buying more based on what they hear rather than what they see. Reputation is everything. 

What are your highlights for Art Basel this year? Are there any exhibitions you are particularly looking forward to?
Naturally I'm excited about what we have on offer. This year we have a work that's never been really on the market before. Jésus Rafael Soto's Double Andalou is an exceptional work. It was sold the year it was made—1968—to an Italian collector, and then in 2004 we sold it directly to a Swiss collector. We even have the work's original box. We'll also have new works from Florian Slotawa, Terry Haggerty and Christian Andersson. We are also presenting Schuhhaus (1994) a colourful, spontaneous sculpture by Bernhard Luginbühl and Dieter Roth.
How would you define the art scene in Basel?
Somehow there seems to be this trend that everyone is talking about Basel as a museum city. Of course our museums are outstanding and I doubt that there is another city in the world that is so small and can offer the kinds of outstanding collections Basel does. Nevertheless, the galleries are not to be forgotten as we have some really great international galleries, incredible collectors and a very strong links to France and Germany. Basel is not only an art city during Art Basel. Certainly you cannot compare the city to any other event taking place during the year but when Fondation Beyeler, Kunstmuseum, Tinguely, Gegenwartsmuseum or Schaulager hold an event, the city is full with people from across the international art world and most importantly—everyone knows Basel!—[O]

Superflex's exhibition Euphoria Now is at von Bartha, Basel from 25 April - 11 July 2015.