Takahiro Iwasaki is a leading figure in Japan's new generation of artists.

Born in Hiroshima, he received an MFA from Edinburgh College of Art, and a Ph.D. from Hiroshima City University. Well known for his meticulous recreations of important Japanese monuments and other more commonplace buildings, Iwasaki works in two distinct series of works.

His Reflection Model
series is focused on culturally important buildings in Japan that are inextricably linked to the reflections they cast in their surrounding waters. In the Out of Disorder series Iwasaki brings attention to often disregarded contemporary buildings such as factories, shipyards and oil refineries made with unusual material including fabric, hair, dust, and tape.
Iwasaki has exhibited widely internationally and in Japan. His works are held in major public collections including the Yokohama Museum of Art, the Mori Art Museum, the Royal Infirmary of Edinburgh and the Queensland Art Gallery and the National Gallery of Victoria in Melbourne.
Ocula talked to Iwasakai following the success of his recent solo show at the Asia Society in New York.
Please tell us about your background and how you came to work as an artist? I understand that even as a young child you enjoyed creating toys out of cardboard and other reclaimed materials?
I was born in Hiroshima and grew up there, and it is also where I am based now. I studied architecture and design at Hiroshima City University's Faculty of Art spatial design course, but I grew weary of making things to satisfy clients' wishes, and became interested in forms of expression for artist's sake. I went abroad to Edinburgh College of Art for postgraduate studies, where I studied contemporary art with painting and landscape design professors.
My mother used to get thick paper that was going to be discarded from a clothing store across the street from our house. Everyday, I would cut and paste the paper to create robots. I also used to play with airplanes and robots that I made by clipping together clothespins. They looked like real planes when I was really absorbed in them, but when I became tired of playing with them, they looked like clothespins clipped together; playing with them required a high level of complementary imagination.
You work in two distinct series. Please tell us about the Reflection Model and Out of Disorder series and how they relate to each other in your practice?
The theme of the Reflection Model series is the historical shrine architecture that symbolizes Japan. They are three-dimensional works that combine a structure and its image reflected in water. These pieces float in the air, as if time has frozen and gravity has disappeared. Japanese cypress, known for its great scent and considered to have the best quality for construction, is used to craft the works in this series, in which I pay attention to the minutest details, making everything by hand. Therefore, at first glace, the works may appear to be artisanial products with formal styles of expression. In contrast, the Out of Disorder series deals with landscapes like steel towers and factories, which can be found all over the world. I make these ubiquitous structures using old clothes and daily objects lying about, and by disassembling and re-assembling parts of objects that would otherwise be thrown out. For exhibitions, I often display works in this series by placing them on the floor, so they are often mistaken for trash or objects left behind by other visitors.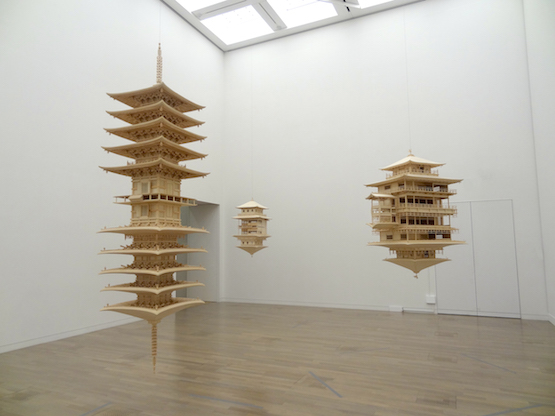 Takahiro Iwasaki, Reflection Model (Lapis lazuli), 2014. Japanese cypress, plywood, wire. h.300 x w.64 x d.64 cm. ⓒTakahiro Iwasaki, Courtesy of ARATANIURANO
The size of the pieces in the Out of Disorder series relies on the actual sizes of the everyday items used. But I take liberty with the sizes of Reflection Model pieces, and scale them so that they hit visitors' eye-level to create the illusion that they have reflections in a body of water. As you can see, the two series are different in size and scale, and in their themes and the materials used to create them. The subjects of two series—"extraordinary moments" and "the ordinary everyday"—are also completely different.
By displaying these two series with different appearances in the same space, I attempt to create a compound space instead of one with a consistent perspective from one viewpoint. Switching perspectives between a bird's-eye view and a frog's-eye view requires visitors to hold their breath and crouch down, get close or step back, to move their bodies and eyes agilely. The dichotomies of artificial and natural, order and chaos, history and contemporary complement each other. At the same time, I hope visitors see the imperceptible commonalities like the ephemerality and condensed temporality in everything, and even notice the trompe-l'œil-like conversion mechanism of the senses.
Looking at the two series together, to what extent does your practice attempt to examine both ancient and modern architectural traditions in Japan?
In my hometown of Hiroshima, there are two World Heritage Sites. One is Itsukushima Shrine, which was been built in the bay about 900 years ago. The appearance of the architecture is completely different depending on the tide. Typhoons pass by Hiroshima every summer, destroying the shrine pavilions each time. The fishermen search for the scattered wooden rubble on their ships, and retrieve them for repair. Through destruction, traditional techniques are passed down and preserved.
The other site is the Atomic Bomb Dome that was half demolished when the bomb was dropped in 1945. This site is also referred to as a "negative heritage."
It is not an exaggeration to say that the present began when the dome was half destroyed. Standing with its steel frame exposed, the dome represents today's city, which is repeatedly built and torn down at an incredible speed. With these two symbolic architectural structures of Hiroshima as starting points, I explore both ancient and modern architectures.
Takahiro Iwasaki, Out of Disorder (Coney Island), 2012. Beach towels. ⓒTakahiro Iwasaki, Courtesy of ARATANIURANO
When did your interest in architecture begin? Do you ever work on subjects other than architectural structures?
The first time I became interested in architecture was when I was 13 and read AKIRA, the renowned manga drawn by Katsuhiro Otomo. In AKIRA, the characters are not very exceptional, but the background is drawn with great detail and is very distinct; it was the very opposite of other mangas. In the third volume of AKIRA, there are tens of pages where he depicted skyscrapers just destroyed, scene after scene. I think that fetishism towards destruction linked to the half-destroyed Atomic Bomb Dome in Hiroshima.
When I was a student in Hiroshima and in Edinburgh, I created works other than architectural structures. A lot of pieces dealt with the city of Hiroshima.
Making your works must be a very labor intensive, perhaps almost meditative process. Do you see a relationship between your work and Shinto traditions in Japan, both in their execution and the viewer experience?
I think my work is influenced by Zen philosophy. I realised that I was influenced by aspects of Zen, which convey a larger universe through a fragmentary and microscopic object, like bonsai trees, Japanese gardens made solely of rocks to create a landscape, Sesshu Toyo's mold-like ink paintings using inexpensive material, and Matsuo Basho's poetry that evokes a frozen time and universe encased in its text.
In addition, I often use discarded everyday items, and it feels like objects that have been used by people often have spirits living in them. This may be similar to the greater sense of gratitude we feel towards older shrines than to new ones. I think this is connected to the distinctly Japanese aesthetic of wabi-sabi.
Takahiro Iwasaki, Out of Disorder (Scenery of Life), 2015. Salt, wheat noodle, rice noodle, 65 x 360 x 360 cm. ⓒTakahiro Iwasaki, Courtesy of ARATANIURANO
Please you tell us about your most recent exhibition at the Asia Society in NYC? How did the show come together and what works were included?
I was invited to participate in the Asia Society's annual "In Focus" series, which is a series of collaborations between contemporary artists and pieces from the Rockefeller Foundation's collection. From the collection, I chose
Flowers and Grasses of the Four Seasons
of the Sotatsu School, and created
Out of Disorder (Folding Scenery)
based on it. For this piece, I lined up acrylic boxes like a six-paneled folding screen, and piled layers of kimono in the boxes so that they resembled geological strata. Unraveling the string of the kimono fabric, I created scenes of chaotic contemporary Japan with steel towers, a Ferris wheel, a five-storied pagoda, and cranes. I also created flora that bloom each season, expressing the changing of the four seasons—which are barely distinguishable in Japan today—like in the original
Flowers and Grasses of the Four Seasons
. For the final panel manifesting "winter," I built the smoke tower of the Fukushima Dai-ichi Nuclear Power Plant and the single "miracle pine" that remained standing after the tsunami.
What was the reaction to the exhibition?
I returned to Japan as soon as I set up the installations, so I couldn't hear anything specifically, but it seems like it was well received. Holland Cotter of the New York Times reviewed the exhibition.
Takahiro Iwasaki, Out of Disorder (Folding Scenery). Exhibition view of Takahiro Iwasaki: In Focus, 2015, Asia Society, New York, USA. ⓒTakahiro Iwasaki, Courtesy of ARATANIURANO
Tell us about the forthcoming exhibition at the Kurobe City Art Museum and Kurumaya Museum of Art? What else are you working on at present?
I'm working on a new piece using only white food; somen (thin wheat noodles), udon (thick wheat noodles), hiyamugi (another type of wheat noodle thick between somen and udon), bi-fun (thin rice noodles), and salt. Following the materials I've used in the past, such as 'daily objects' like towels and toothbrushes, 'junk' like dust and hair; I am using everyday dried food for the first time. At a glance, somen only looks like plastic sticks, but on a humid day, it absorbs the humidity and becomes soft like rubber, which makes it very difficult to handle. However, I'm very drawn to that feature. It seems that the frozen temporality that has been forced on them and the organism-like behavior—which appears to have been expunged from them—that is still left in them.
For the solo exhibition at Kurobe City Art Museum, which began in April, I exhibited new works featuring the special "place-ness" of the museum's location between the fertile Sea of Japan and the majestic Tateyama Mountain Range. For an exhibition at Kurumaya Museum of Art starting in July—since the museum is a renovated mansion and warehouse that used to belong to a wealthy merchant—I'm currently working on something that considers "history and the transience of time."—[O]