Feature
Review: The Melbourne Art Fair, Australia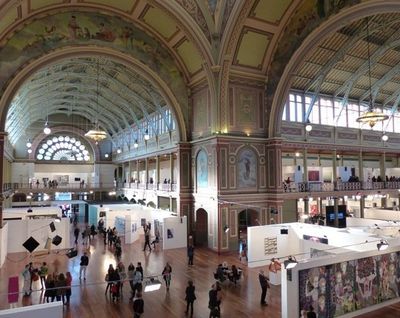 The market isn't contradictory to good art, although the criteria for the two can be divergent, so why does it seem that some gallerists were anticipating the most unadventurous of collectors at this year's Melbourne Art Fair? The fair, presenting around 70 galleries in 2014, is the project of the Melbourne Art Foundation. Chaired by local gallerist Anna Pappas, it is led by Barry Keldoulis, director of both the Melbourne Art Fair and it's northern companion, Sydney Contemporary, for Art Fairs Australia. Fairs, through excess of content and a shared commercial motivation, are homogenizing spaces already but perhaps the collusion of fairs across the country has something to do with the culture of standardisation.
The Royal Exhibition Building in Melbourne is a space of extravagance, in size and embellishment. The predominant aesthetic principal of the 1880 building is decorated symmetry. With a more contemporary take on balance was a jewel-like mobile by Sydney-based artist Mikala Dwyer which ornamented a corner of the central hall with dangling geometric and amorphous forms. The weight of shape is the 2014 Melbourne Art Foundation Artist Commission and will be gifted to the collection of the National Gallery of Australia. Like those in Dwyer's 2012 body of work Divinations for the real things shown at Roslyn Oxley9 Gallery, the mobile finely calibrates weight and renders gravity mysterious. Her materials reflect light or make mass ambiguous, drawing their surroundings into a lifted divination. How much more tenuous and lofty the work would have looked hanging in the huge centre void of the exhibition building, rather than corralled into a nook by barrier ropes.
The curated sections of the fair were both strong and curatorially rigorous. MAF Edge, curated by Jacqueline Doughty and titled Social Capital, responded to the experiential and structural nature of the Art Fair. Contextual in its conceptual and spatial engagement, this project of performance work was striking in its divergence from object-hood and lent the fair necessary reflexivity. For their project Exposition Lara Thoms and Jason Maling brought together a collection of stallholders from trade fairs they had previously visited, providing them with a free stand and a new public. The idiosyncrasies of these traders, which included a tattoo artist, a Cosplay magazine publisher, a world-renowned free-knitter, an antiques dealer and digital psychics, highlighted the homogenized aesthetics and habits of contemporary art fairs. Maling and Thoms have brought together an incongruous group that, as the catalogue observes, makes everyone feel like a fish out of water. My conversation with the free-knitter, who explained the differences between various speciality yarn from animals of remote parts of the world, made the conventions of a contemporary art fair look just as peculiar and self-involved as any other niche hobby. I later saw the knitter snapping touristic photos of art collectors in their gallery stand habitats.
The most watchable work in the fair was a void. A part of Social Capital, Closed to the Public (Protecting Space) by Melbourne-based artists Amy Spiers and Catherine Ryan was a demarcated 2x2 meter square of empty floor guarded by two professional security guards who politely intercepted visitors attempting to walk through the space. The work was perhaps a reflection on the value and ownership of space and, in the context of the art market, the guarded boarders of cultural capital. It was however the opportunity for small instances of civil disobedience that opened a transfixing potential within the work.
The MAF Video program went some way to countering a distinct lack of video work in the fair. Curated by Screen Space directors Simone Hine and Kyle Wiese it was sensitively divided into four sections each shown on different days of the Fair; Staging Actions, Synthetic Landscapes, Quotidian Rhythms and Circuits of Consumption. Highlights included works unfetishistic about, or at least not blinkered by, their medium by David Mutch, Hamishi Farah and the structural interrogation of language by Archie Moore in his revisiting of Solaris, the 1972 cult Russian sci-fi film by Andrei Tarkovsky.
The project space by C3 presented Sarah crowEST and Benjamin Woods and was exuberant in its good-humoured riff on art fair props – the desk, the business card, the stock room. A huge desk tilted itself implausibly at one end making it comically unuseful. crowEST's piles of bubbled wrapped paintings enticed the potential buyer but teased with only the canvas edge visible in a stack of many. A stack of business-like cards, to be taken by visitors offered slippery aphorisms; 'encountering, not knowing', 'very little, almost nothing', simultaneously particular and vague'. crowEST and Woods' work was some of the only impolitely uncontained spatial sculpture in the fair and this freeing of form and impulse was a welcome friskiness.
The humour of materials also played out in Erwin Wurm at Anna Schwartz Gallery. A solo exhibition is a rare pleasure in an art fair; finally a moment of concentration on one artistic perspective, set of interests, process. Wurm's absurd forms, distorted bodies and playful send up of self-seriousness seemed all the more apt after hours of being tousled by the surrounding affectation. Lumpen bodies against propriety were also on show at Art Projects Australia where Chris Mason presented his signature sculptures of obese women. Like Wurm's sculptures, Masons figures, intimate in scale but uncontained in enthusiasm, rolled happily against the grain of the fair.
A stand-out booth, The Commercial, Sydney, presented Hossein Ghaemi, Robert Pulie, Andrew Liversidge and contained, stylised paintings of objects or abstractions by the recently deceased Gunter Christmann alongside those of the younger Mitch Cairns. Christmann and Cairns' at once delight and disinterest in the affectations of the medium made these paintings resonate amongst a glut of painting.
Thematic selections provided a path by which to navigate the cacophony. The Brisbane gallery Boxcopy offered a conceptually ambitious exhibition that required an attentive engagement with work by three collaborative duos. The selection, curated by Rachael Haynes and titled Extended Conversation Pieces, addressed feminism through processes of communication and exchange. Catherine or Kate, a collaboration between Catherine Sagin and Kate Woodcroft, used humour to playfully mock the structures and paradigms of conceptual art in We are always trying not to repeat ourselves and Making 177,055,200 second of working together.
Therese Keogh at Centre for Contemporary Photography, which presented a curated group exhibition of contemporary responses to iconic Australian photographer Wolfgang Sievers, was a lyrical pause in the fair's homogenised frenzy. A sculpture, drawing and text piece by Keogh circle around a 1953 photograph taken by Sievers in Rome and follow it towards mythology, agricultural process and the chemistry of quicklime. Keogh's researched based practice, often probing the land and its history, resolves not in laborious or academic rumination but poetic webs.
Equally distinctive in its gentle concentration was Noel McKenna's recent paintings at Niagara Galleries, and Darren Knight, which quietly brought us back to the contemplative calm of the dog on the couch, before the fire, awaiting his master. Inspection of a different tenor crowded canvases in the paintings of Patrick Doherty at Venn Gallery. With a generative approach to painting Doherty splays mythological, psychosexual, historical and personal imagery across canvases in cartoonish colours. It is both uplifting to look at works so engrossed in subjective fascinations and perspectives, and uncomfortable to recognise that our view from the market place jars against the artist's own disinterest in art world ambitions.
There was desperation evident in the walls heavily hung with mundane painting at this year's Melbourne Art Fair. The apparent scarcity of sales in the market generally suggests the key reason for galleries to appear might be profile boosting rather than moving units. However, paradoxically it seems that with the high costs of a stand at the fair gallerists are in fact less likely to take a risk. But presenting work that trusts collectors to be adventurous would beget adventurous collectors. It would also bring the art fair into line with the best contemporary practice in Australia, which was present in the minority at the fair's strong additional programing of the guest curated Edge and Video projects, Project Rooms and the newly added MAF Platform, for emerging talent.
Saying that, as Thoms and Maling's collection of trade fair regulars made clear, the idiosyncratic nature of taste is entirely subjective. This might be a more compelling excuse for the homogenous selection of art work at the fair if it wasn't that, as observed by one artist present, there was little social diversity in the attending public. Not unique to this fair but perhaps a reflection of the disjuncture between the commercialisation and production of art work – a chasm best illustrated by Nathan Gray's video Works Under 30 Seconds in the MAF Video program. An ongoing series of quietly, daggily humorous improvised moments made with the resource and time constraints of life as an artist in an office day job. Using these limitations as a structure for creation, Gray draws attention to the pressure to produce beyond our means, energy and time in the creative economy. His humour in doing so lifts this critique into blithe positivity about another way of being. — [O]