Feature
Taipei Dangdai Lowdown: Shows to See in 2019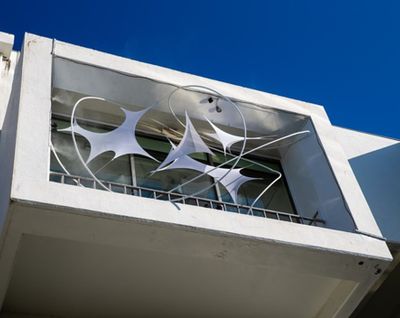 Huai-Wen Chang, Museum in the Clouds (2018). Steel, membrane, weather station, water fog system, LED. 400 × 120 × 600 cm. Exhibition view: Post-Nature—A Museum as an Ecosystem, 11th Taipei Biennial, Taipei Fine Arts Museum (17 November 2018–10 March 2019). Courtesy © the artist and Taipei Fine Arts Museum.
Founded by the same team behind Art HK—Magnus Renfrew, Tim Etchells, Angus Montgomery, and Will Ramsay—Taipei Dangdai, opens to the public after much anticipation on 18 January 2019 at Taipei Nangang Exhibition Center. Running until 20 January, the fair will feature 90 galleries from around the world, including David Zwirner, Esther Schipper, Galerie Thaddaeus Ropac, and Kukje Gallery. Despite its global make-up, this is a fair with regionality at its core: something that will reverberate throughout Taipei's galleries and art institutions during its opening, with an abundance of standout shows on view. This Ocula Lowdown lists a selection of exhibitions to see around the city.
Callum Innes, Exposed Painting Byzantine Blue (2018). Oil on linen. 235 x 230 cm. Courtesy Sean Kelly.
Callum Innes
Sean Kelly Asia, 5F, No. 28, Lane 78, Jianguo N. Road Sec. 1
16 January–30 March 2019
With the much-anticipated opening of their new Asia-based project space, Sean Kelly present an exhibition of Scottish painter Callum Innes' renowned series, 'Exposed Paintings' and 'Split Paintings', including work created especially for the new location. Innes' minimalist practice involves layering and removing paint from canvases that have been divided into large rectangular planes to create a subtle interplay between tone and texture. In the body of work 'Exposed Paintings', different shades of blue are explored in each canvas, so that an expanse of Oriental Blue, Paris Blue, or Delft Blue (all 2018) takes up the better part of the picture plane, juxtaposed against rectangles of stark black and white in order to draw out the essence of the colour. The minimalistic aesthetic of 'Split Paintings' is created through the application of two different colours placed upon each side of the canvas, before a layer of paint is removed from one of the sides to reveal a faint trace of colour. Sean Kelly Asia will be open to the public throughout the duration of Tapei Dangdai, and by appointment with Gladys Lin thereafter: [email protected].
Janaina Tschäpe, Under a Pale blue sky (2018). Casein and watercolour pencil on canvas. 153 x 205 cm. Courtesy the artist and nichido contemporary art.
Janaina Tschäpe: Mapping the Undertow Under a Pale Blue Sky
nca | nichido contemporary art, 3F-2, No. 57, Sec. 1, Dunhua South Rd.
19 January–9 March 2019
Opening between 7pm and 9pm on 19 January, this Japanese gallery's Taipei space will feature an exhibition of works by German artist Janaina Tschäpe. Raised in São Paolo, Tschäpe's practice encompasses painting, drawing, photography, video and sculpture, all jiving with forms drawn from aquatic, plant, and human life. In her paintings, surface upon surface of gestures and expanses of colour pool together in a state of becoming, or unbecoming, depending on what the viewer sees; a representation that the artist explains as linking to 'lifecycles found in nature.' For those who cannot make it to the gallery during the fair period, Tschäpe's works can also be found at the gallery's booth A20 at Taipei Dangdai.
Su Misu, I am a fake but my heart is true, Part II (2018). Courtesy the artist and Chi-Wen Gallery.
I am a fake but my heart is true, Part II
Chi-Wen Gallery, No. 32, Ln. 2, Sec. 6, Zhongshan N. Rd. Shilin Dist.
12 January–28 February 2019
The first of a series of exhibitions by women artists that Chi-Wen Gallery will stage this year, I am a fake but my heart is true, Part II presents Taiwanese artist Su Misu's latest work, a four-channel installation with the same title. The installation will draw on the topics that run throughout her practice, including gender, BDSM and LGBT, continuing the provocative, theatrical imagery that defined ihategoodbye (2016), a glossy, punchy photobook for which the artist first gained recognition. During the exhibition's opening on 16 January, the artist will be accompanied by London-based artist Victoria Sin, who uses an opulent drag persona as a 'speculative space' to create 'new models of gender and identity'. Opening performances by the two artists will take place between 3pm and 9pm on the exhibition's opening night.
Exhibition view: Intertextuality: Hang Chunhui Solo Exhibition, Asia Art Center Taipei II (8 December 2018–27 January 2019). Courtesy Asia Art Center.
Intertextuality: Hang Chunhui Solo Exhibition
Asia Art Center Taipei II, 93 Lequn 2nd Rd., Zhongshan Dist.
8 December 2018–27 January 2019
Curated by Dr Sophie McIntyre, this exhibition features 27 new works by Chinese artist Hang Chunhui. Trained in Western painting and Eastern ink-and-wash technique, Hang Chunhui manipulates paper to give an illusion of depth, as in Blue Pearl No 8 (2018), a deep blue rectangle divided into three folding planes, upon the middle section rests four glowing pearls. A sense of mystery radiates from these manipulations of paper and mixed media that are frequently rendered in sublime tones of black, grey, and white. A key influence on Hang's work is Chinese philosopher Chuang Tzu's foundational Taoist text, The Inner Chapters, and in particular the section titled 'The sorting which evens things out', which explains truth as consisting of contradictory perspectives. Hang transfers this concept of relative truth to materiality by offering the viewer a sense of depth, dancing between reality and illusion, and thus offering new ways of seeing.
Exhibition view: Chen Chieh-jen, After the Financial Crisis and Automated Production 金融風暴與自動化生產之後......, Lin & Lin Gallery, Taipei (15 December 2018–26 January 2019). Courtesy Lin & Lin Gallery. Photo by Chen You-wei.
Chen Chieh-jen: After the Financial Crisis and Automated Production 金融風暴與自動化生產之後......
Lin & Lin Gallery, 1F, 16 Dongfeng St., Da'an Dist.
15 December 2018–26 January 2019
For his third solo exhibition at Lin & Lin Gallery, renowned Taiwanese filmmaker Chen Chieh-jen considers the merging of financial capitalism and technology, and how the latter has enabled 'corporatocracy' to seep into every inch of contemporary society. Through film and photography, Chen considers how it might be possible to turn away from the dominance of the financial-technological system by, in his case, returning to the Middle Way—a key text of the Madhyamaka school of Buddhist thought written by Nāgārjuna that presents a doctrine of ultimate 'emptiness'. By employing this text, Chen presents a new value system in response to a technologically-controlled world, most pertinently expressed in his photograph and film, Star Chart and A Field of Non-Field. After witnessing his brother's recovery from an attempted suicide following the 1997 Asian financial crisis, Chen deepened his understanding of the reconstruction of one's values, realising the way in which the philosophies of the Madhyamaka school might qualitatively transform the world.
Hyein Lee, 'XDXD' (2018). Oil on linen, mural, sound installation in collaboration with Lu Yi. 37.7 x 45.5 cm each. Exhibition view: Will You Be There?, Project Fulfill Art Space, Taipei (29 December 2018 –2 February 2019). Courtesy the artist and Project Fulfill Art Space.
Will You Be There?
Project Fulfill Art Space, 1F, No. 2, Alley 45, Ln. 147, Sec. 3, Sinyi Rd.
29 December 2018–2 February 2019
Contemporary Korean artist collective Loom—consisting of artists RohwaJeong (artist duo), Jungki Beak, Jaeyoung Park, and Hyein Lee—present a mixture of paintings, installation, sound and media works as part of the collaborative project Loom 02, which takes as its starting point Will You Be There? by French novelist Guillaume Musso. Elliot Cooper, the main protagonist of Musso's novel, travels back in time to encounter his past self, with whom he enters into dialogue in an attempt to change his future. Loom contemplate the uncertainty of the future by traversing space and time in a similar fashion, using visual abstraction, archival, and temporal displacement as tools to do so. In Hyein Lee's painting series 'XDXD' (2018), for example, snippets of the artist's FaceTime and Skype video sessions with Taipei-based artist Lu Yi are captured in an exploration of temporal and geographical simultaneity. Elsewhere, Jungki Beak's photographic series 'Is of: Fall' consists of autumn foliage printed with pigments that come from the leaves themselves, offering a poetic visual manifestation of time.
Donald & Era Fransworth, Mythos I, Homage to Mantegna (2006). 143.5 x 199.3 cm. Courtesy the artists and Bluerider ART.
Tapestry Art
Bluerider ART, Dun-Ren gallery, 1F, No.10, Ln. 101, Sec. 1, Daan Rd.
19 January–24 February 2019
Opening over Taipei Dangdai weekend, this exhibition at Bluerider ART features tapestry works by Alex Katz, Guy Diehl, Basil Kincaid, Squeak Carnwath, and Donald and Era Fransworth. An ancient medium that flourished across Pharaonic Egypt, Tang Dynasty China, and European aristocracy, tapestry went through a revival in the 20th century through artists such as Pablo Picasso, Salvador Dali, and Joan Miró, and continues to pique the interest of contemporary artists. Kathleen Goncharov, senior curator at the Boca Raton Museum of Art, presents the medium's enduring allure in this show.
Exhibition view: Isabella Kohlhuber: Untitled, Bluerider ART, Taipei (8 December 2018–31 January 2019). Courtesy Bluerider ART.
Isabella Kohlhuber: Untitled
Bluerider Art, 9F & 10F, 25-1, Sec. 4 Ren'ai Rd., Da'an Dist.
8 December 2018–31 January 2019
A teacher of typography and media at the University of Applied Arts Vienna, Isabella Kohlhuber's views artworks as vessels of communication, and explains that the works in this exhibition are about 'understanding understanding'. The differing process between reading an image versus reading text is laid bare through works that play with the spatial arrangement of letters. The linearity of script versus the simultaneity of images marks the difference in the cognitive process of understanding the two, as seen in the series 'Typograms', in which letter-like shapes are layered to create new images. This is the artist's first exhibition in Asia.
Exhibition view: iGod—Huang Zan-Lun Solo Exhibition, VT Artsalon, Taipei (5 January–2 March 2019). Courtesy VT Artsalon.
iGod—Huang Zan-Lun Solo Exhibition
VT Artsalon, No. 17, Ln. 56, Sec. 3, Xinsheng North Rd.
5 January–2 March 2019
iGod, a solo exhibition by Taiwanese artist Huang Zan-Lun, explores the hybridity between humans and technology, and technology and belief. Huang argues that the merging of these spheres is opening up a third world, where spatial and temporal distances no longer exist, and physical warmth has evaporated. In this realm, people become the gods of their virtual worlds, where identity and status become the substance of computer windows in which the self is master. The artist has deconstructed a collection of disposed computer motherboards, taking apart the IC components to compose a circular 'future city' in the gallery, while attempting to imagine the emotional experiences of the computers' previous users.
Exhibition view: George Chann: Abstraction Contextualized, Tina Keng Gallery, Taipei (15 December 2018–20 January 2019). Courtesy Tina Keng Gallery.
George Chann: Abstraction Contextualized
Tina Keng Gallery, 1F, No. 15, Ln. 548, Ruiguang Rd., Neihu Dist.
15 December 2018–20 January 2019
Born in 1913, George Chann relocated to the US with his family aged 12, later earning a Master's degree in Fine Art from the Otis Institute in LA. The artist's reputation as a social realist painter ascended thereafter; in 1951, his works were exhibited alongside paintings by Vincent van Gogh, Pierre Auguste Renoir, and Marc Chagall, among others, in Small Paintings by French and American Masters at James Vigeveno Gallery. In 1952, the artist opened his Farmers Market Art Gallery in Los Angeles and became a recluse, spending time in the studio and reading room that were attached to the shopfront brokering antiques, jade stones, jewelry, and ink paintings. It was here that Chann found the time to learn about the Abstract Expressionist movement that was taking hold in New York, at which point the artist decided to shift his practice. Chann returned to China, where he befriended ink masters Huang Jun-Bi and Zhao Shao-Ang and developed his understanding of the philosophy and practice of ink painting. In the years to come, Chann developed a distinct style, in which Han characters were distilled into abstract expressionist markings, spilling across the picture plane in free-form lines and structures. Tina Keng Gallery presents a selection of Chann's works from throughout his career, shedding light on the artist's unique development as an artist.
Exhibition view: Charwei Tsai: Root of Desire, TKG+, Taipei (8 December 2018–20 January 2019). Courtesy TKG+.
Charwei Tsai: Root of Desire
TKG+, B1, No. 15, Ln. 548, Ruiguang Rd., Neihu Dist.
8 December 2018–20 January 2019
After a solo show at Manchester's Centre for Chinese Contemporary Art (CFCCA) in 2018, Taiwanese artist Charwei Tsai moves into 2019 with Root of Desire: an exhibition underpinned by the Mahayana Buddhist scripture, the Vimalakirti Sutra. An ancient spiritual text, the Vimalakirti Sutra acts as a starting point for Charwei to delve into the themes of nature and humanity, along with her own life, through five video installations and a series of drawings, including Water Moon (2017), a lulling video work filled with the sound of insects and other nocturnal creatures that captures the face of the moon reflected in a dark pool of water. The video flits between the mundane and the sublime; reality and illusion. The ethereal nature of the film continues into Root of Desire (2018), a new video work that captures a desert licked by wind, interposed with footage of the artist writing excerpts of the Vimalakirti and Manjusri, bringing the two in dialogue to contemplate the topic of rootlessness. With sweeps of wind, the text softly disappears.
Henrik Håkansson, Inverted Tree (Reflected) (2018). Elaeocarpus sylvestris, steel, mirror glass, stainless steel, steel wire, wooden panel, hygrometer, irrigation system, misting system. Dimensions variable. Exhibition view: Post-Nature—A Museum as an Ecosystem, the 11th Taipei Biennial, Taipei Fine Arts Museum (17 November 2018–10 March 2019). Courtesy © the artist and Taipei Fine Arts Museum.
11th Taipei Biennial: Post-Nature—A Museum as an Ecosystem
Taipei Fine Arts Museum, 181, Zhongshan North Rd., Sec. 3
17 November 2018–10 March 2019
Post-Nature—A Museum as an Ecosystem, the 11th Taipei Biennial, was curated by Mali Wu and Francesco Manacorda, an explores the fundamental changes occurring in the earth's ecosystems, whilst contemplating how these systems might apply to artistic and institutional practice. The result is a multilayered and complex show, but one that is ultimately rewarding, with works that underline the different aspects at play in any system's existence. Tales of existence are in many cases tales of resilience, as explored by Wu and Manacorda who focus on how reciprocal dependency within systems can allow for working towards a 'holistic common good'. As we become accustomed to a ripening sense of environmental catastrophe, compounded by the media, 42 artists and collectives from 19 countries and territories provide a sense of relief from the recent wave of eco-depression by providing strategies and new ways of thinking around sustainability.
Exhibition view: The Flying Land, Jut Art Museum, Taipei (6 October 2018–20 January 2019). Courtesy Jut Art Museum.
The Flying Land
Jut Art Museum, No.178, Sec. 3, Civic Blvd., Da'an Dist.
6 October 2018–20 January 2019
Works by seven artists and one artist duo from six countries, including Alfredo & Isabel Aquilizan, Ulla von Brandenburg, Heidi Vogels, Tatzu Nishi, Wei Leng Tay, and Lin Shu-Kai, Cheng Jen-Pei, and Lo Yi-Chun are present in this exhibition, which contemplates the stark contrast between the polished 'Belonging Anywhere' brand campaign of Airbnb with the reality of those who must move as an act of survival. These opposing experiences are expressed through installations, photography, and videos with a debut in Taiwan for Japanese artist Tatzu Nashi, with Vase for an Anti-aircraft Gun—a 40MM/L60 anti-aircraft gun used during the Second Taiwan Strait Crisis. How do we define 'home', or 'destination' today? This exhibition attempts to shed light on such questions, whilst underlining the contemporary reality of bodies in flux. —[O]