Feature
Viva arte Venezia: Venice Biennale 2017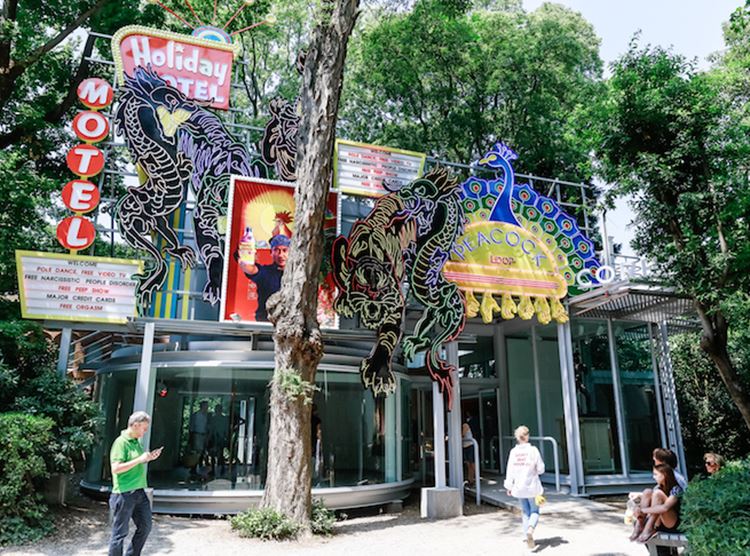 Installation view: Cody Choi, Venetian Rhapsody (2016–17). Korean pavilion, VIVA ARTE VIVA, the 57th International Art Exhibition, La Biennale di Venezia, Venice (13 May–26 November 2017). Courtesy Ocula. Photo: Charles Roussel.
If hell is other people, as the delightful Parisian existentialist Jean-Paul Sartre once remarked, then the Venice Biennale during its three-day preview is a veritable inferno. So I headed to the Biennale a week later: no queues, no crowds, and no tiny damp lodgings where the ceiling falls in on you in the middle of the night (true story). I felt serenity for the first time in La Serenissima.
Started 122 years ago, the 57th edition of the mother of all biennials, this year titled VIVA ARTE VIVA and curated by French curator Christine Macel, chief curator of the Centre Pompidou in Paris, the central exhibition includes 120 artists (103 of whom are participating in the Biennale for the first time) and 86 national pavilions, three of which—Antigua and Barbuda, Kiribati, Nigeria—are participating with national pavilions for the first time.
VIVA ARTE VIVA intends to reach out beyond politics 'to celebrate(s) mankind's ability to avoid being dominated by the powers governing world affairs' through art, with Macel highlighting the role of art and artists in the times of uncertainty, while not directly addressing the uncertainty. In the Central Pavilion at the Giardini, visitors are greeted by Belgrade-born conceptual artist, Mladen Stilinović's photo series of 'An Artist at Work', in which the artist is shown mainly sleeping. This sets the tone for an exhibition that looks inward, rather than out.
With a central exhibition divided into nine pavilions with names like the 'Pavilion of Joys and Fears'; the 'Pavilion of the Earth'; and the 'Pavilion of Shamans', (I could almost feel my Kundalini rising), this is an exhibition of art for art's sake. It is textural, sensual, imaginary and joyful—an escapist romp away from the harsh political climate of intolerance and fear we are currently facing, into a show that feels like a Kumbaya camp fire. A netted 'tepee' structure by Brazilian artist Ernesto Neto hangs from the ceiling in the centre of the Pavilion of Shamans, replete with soil, plants, cushions and members of the Amazonian Huni Kuin tribe who performed daily spiritual ceremonies during the preview week. On the day I saw it, a group of happy-pants and bead wearing kids were hanging out inside it chanting, singing, and talking about their experiences drinking ayahuasca.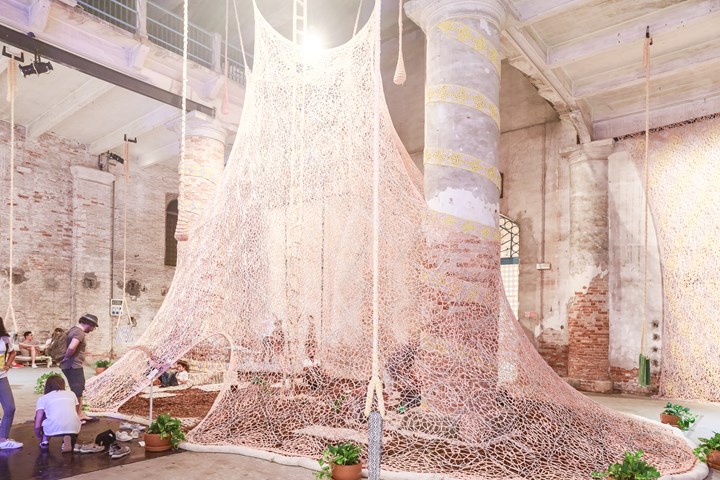 Exhibition view: Ernesto Neto, Um Sagrado Lugar (A Sacred Place) (2017). VIVA ARTE VIVA, the 57th International Art Exhibition, La Biennale di Venezia, Venice (13 May–26 November 2017). Courtesy Ocula. Photo: Charles Roussel.
There is, to Macel's credit, a strong representation of artists from beyond the art world's central canon, with over 85 percent having never shown in Venice before. A wonderful collection of large canvases by Syrian expressionist Marwan Kassab-Bachi, who died last year, as well as the beautifully detailed ink drawings of women's limbs and genitalia by Lebanese artist Huguette Caland are amongst the works by artists who have not previously had work shown in the main exhibition. Cuban artist Zilia Sánchez's three dimensional minimalist and monochromatic acrylic paintings, suggestive of nipples, jut out from a wall, while a long vitrine filled with thirty years of Emirati artist Abdullah Al Saadi's diaries are packed in tins.
The exhibition is light on technology and heavy on craft, with its connotations of the intimate, traditional, and ritual; with textiles, needlework and an assortment of objects made from beads, wood and string. These include a large installation of colourful yarn balls by Sheila Hicks, Escalade Beyond Chromatic Lands (2016–17), that cascade from a wall; a collection of sculptures made out of beads, shells, fabric and other tchotchkes by Rina Banerjee; painted underwear and an apron by Heidi Bucher; and a festive neon walk-in installation of flower, tinsel and fabric vaginas by Russian artist Irina Korina. The emphasis on craft, however, diminishes the power of the work of many of the female artists exhibited, reinforcing instead the stereotypes of crafts and textiles as 'female art'.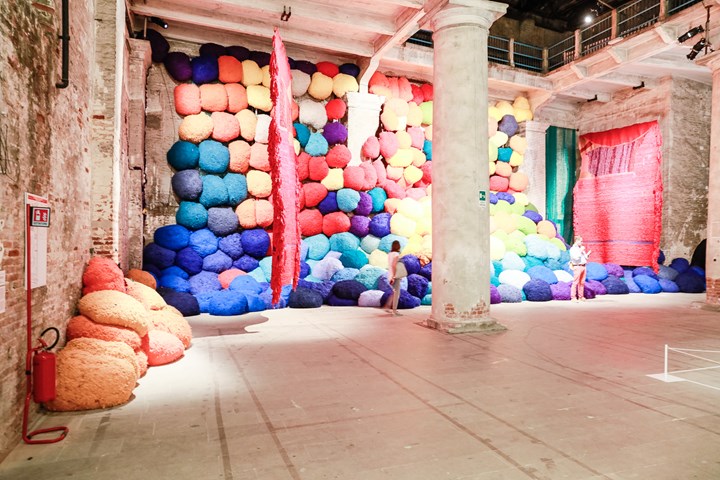 Exhibition view: Sheila Hicks, Escalade Beyond Chromatic Lands (2016–17). VIVA ARTE VIVA, the 57th International Art Exhibition, La Biennale di Venezia, Venice (13 May–26 November 2017). Courtesy Ocula. Photo: Charles Roussel.
Over at the national pavilions, the Golden Lion for best national presentation went to rising star Anne Imhof's Faust for the German Pavilion, the biggest sensation of this year's biennale preview, which features dancers performing above and below a transparent stage built over the pavilion's floors. Though expectation was naturally high, I found myself in what felt like bad Berlin S&M club: sadism on the part of the artist for imposing the work upon a hapless crowd, and masochism on the part of the audience for subjecting themselves to it. I asked a few gushing friends why they liked it. In summary, its appeal apparently had something to do with a nineties heroin chic Margiela fashion campaign.
Beside the German pavilion stands the Korean pavilion. An unmissable cluster of neon signs glow on the façade of the pavilion building. Titled Venetian Rhapsody (2016–17) and created by artist Cody Choi, the installation references the casinos of Las Vegas and Macau, reflecting on the spectacle of global capitalism. The signage promises pole dancing, free peep shows, free narcissistic people disorder, and free orgasms, with all major credit cards welcome. It sounded like everything the art world is at the best (and worst) of times, and I was up for the experience. But inside, I found a reflective, engaging and visually dense exhibition comprised of an installation and a film that spoke of national histories in relation to individual stories—small lives threaded together into a larger more complex national identity.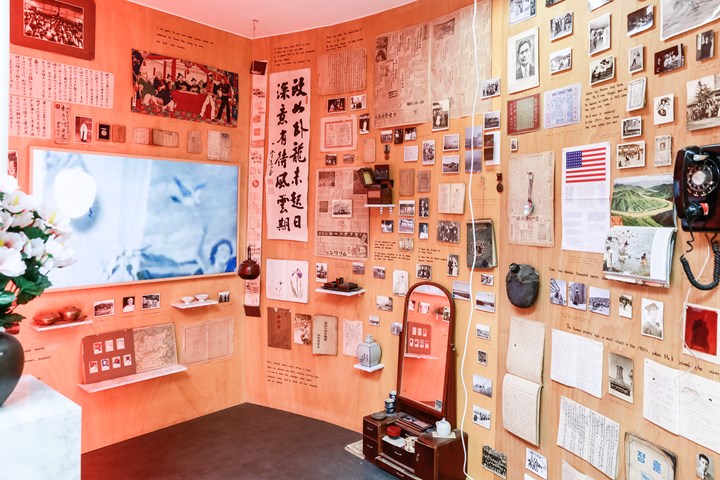 Exhibition view: Lee Wan, Mr K and the Collection of Korean History (2010–17). Korean pavilion, VIVA ARTE VIVA, the 57th International Art Exhibition, La Biennale di Venezia, Venice (13 May–26 November 2017). Courtesy Ocula. Photo: Charles Roussel.
Mark Bradford's U.S. pavilion is, deservingly, another hot ticket pavilion. Tomorrow is Another Day is a multilayered expansive show that interweaves personal narrative with American social history, looking at the country's turbulent political climate and issues with social justice and race. Bradford turned the rotunda of 'the White House', as the Palladian style U.S. pavilion is nicknamed, into a ruin. Littered with rubble from the outside, and dilapidated and peeling inside, it resembles an abandoned rundown or foreclosed house. Inside are sculptures and large sanded-down 'paintings' made of layered billboard posters that Bradford made his name from.
Bradford's dilapidated white house represents American democracy in trouble, a nation in crisis politically and socially. The artist struggles with how to represent a country that no longer represents the marginalised with an installation that asks questions about America's relationship with class and race. In conjunction with the national pavilion show, Bradford launched a six-year socially conscious retail endeavour titled Process Collettivo, which aims to provide employment and training opportunities for inmates within Italian prisons and for those in Venice that were recently released. For 300 Euros visitors can buy a Bradford-designed bag of recycled material from a shop set up by the collective in the central Frari district, with proceeds going towards the initiative. A bargain when you consider what anything that Bradford touches goes for these days.
Exhibition view: Mark Bradford, Tomorrow is Another Day (2017). U.S.A pavilion, VIVA ARTE VIVA, the 57th International Art Exhibition, La Biennale di Venezia, Venice (13 May–26 November 2017). Courtesy Ocula. Photo: Charles Roussel.
Olafur Eliasson presents a similar endeavour back at the Central Pavilion in the Giardini, creating a workshop-cum-studio which employs Venice's migrants to manufacture lights that guests can buy for a donation. Yet, the lamps seem ungainly and too large to pack or bring in hand-carry for most visitors who are flying in. Walking into the 'workshop', which felt more like an installation, visitors can watch the workers. It is a well-meaning effort, but it also feels like an awkward, impersonal, fetishised display of marginalisation, reinforcing a dichotomy of privileged versus underprivileged within the exhibition.
Countering this sense of marginalisation is the Iraq Pavilion, which serves as a place for a country ravaged by war to affirm its national and cultural identity. Housed in the Palazzo Cavalli Franchetti, the exhibition presents a vitrine that extends right through an entire room, containing time-worn and preserved archaeological artefacts, including ancient clay pots and a Neolithic-era clay fertility goddess, as one would in a history museum. All 40 objects are on loan from the Iraq Museum in Baghdad, which was looted after the U.S. invasion of 2003, with only a few of the recovered artefacts to have ever left the country until now. Works by eight artists, including Jewad Selim, considered the father of modern Iraqi art, complement these artefacts, as well as a new commission by Belgian-born artist Francis Alÿs. Titled Archaic, the exhibition is testament to the country's survival and struggle, and speaks of the cultural genocide, not just of Iraq, but also of Syria, at the hands of international state forces, as well as the Islamic State.
Offering another form of archaeology is the Irish Pavilion, where Jesse Jones is presenting her film and installation, Tremate, Tremate (Tremble, Tremble) (2017), whose title comes from a 1970s Italian wages-for-housework movement, where women chanted: Tremate, tremate, le streghe sono tornate! ('Tremble, tremble, the witches have returned!'). A pavilion that looks at the witch as a feminist archetype, the exhibition looks back at an archaeological dig of a 3.5 million year old feminine specimen, to the 16th century witch trials of Europe and the legalisation of abortion today, imagining a different legal order where women hold power.
Exhibition view: Jesse Jones, Tremate, Tremate (Tremble, Tremble) (2017). Irish pavilion, VIVA ARTE VIVA, the 57th International Art Exhibition, La Biennale di Venezia, Venice (13 May–26 November 2017). Courtesy Ocula. Photo: Charles Roussel.
The uncontrollable, defiant feminine can also be found in the exhibition of the late Italian artist Carol Rama, Spazio anche più che tempo (Carol Rama. Space even more than time) showing at the Palazzo Ca'Nova. The exhibition, Rama's first in Venice in a decade, explores the various stages of the artist's career, bringing together figurative and abstract paintings that delve into the psychosexual. (A larger exhibition of her work at the New Museum in New York is running parallel to the Venice show.) Rama's erotic abstractions went unappreciated for decades before achieving recognition only very late in life—she received the Venice Biennale's Golden Lion for Lifetime Achievement award in 2003 at the age of 85, recalling the Guerilla Girls' 1988 poster headed by 'The Advantages of Being a Woman Artist', which called attention to disproportionate gender representation and wage inequality in the art world, stating that one of the advantages of being a woman artist is 'knowing your career might pick up after you're eighty.'
Of the major art attractions at the Biennale, there is a show that one review described as 'one of the worst exhibitions of contemporary art staged in the past decade'. Billed as the biggest show around—and bearing a striking resemblance to the Grenada Pavilion—Damien Hirst's Treasures from the Wreck of the Unbelievable occupies both Pinault Collection spaces: the Punta della Dogana and the Palazzo Grassi. Reportedly ten years and tens of millions of dollars in the making (I hear most of the works were sold and the venture more than paid off), the exhibition brings together stories, barnacle encrusted objects, film, and photographs, salvaged from a fictitious shipwreck some 2,000 years ago off the coast of East Africa. After years of silence and market indifference, the show seems intent on salvaging not just the lost treasures from this fictional wreck, but presumably also Hirst's sinking career.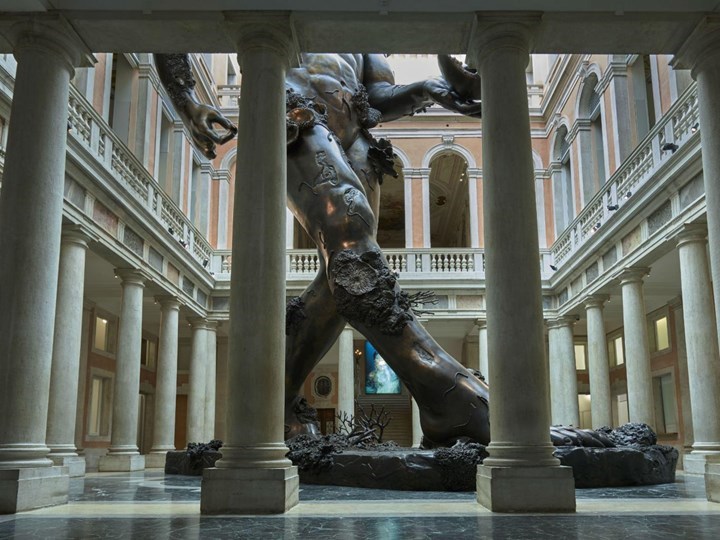 Exhibition view: Damien Hirst, Demon with Bowl (2017). Palazzo Grassi, VIVA ARTE VIVA, 57th International Art Exhibition, La Biennale di Venezia (13 May–26 November 2017). Courtesy Prudence Cuming Associates. © Damien Hirst and Science Ltd.
Mingling fact and fiction, history and pop culture, this is a theme park of cringe-worthy kitsch. There's a bronze of the Hindu goddess Kali (modeled on South African Die Antwoort rapper, Yolandi Visser); there's Mickey Mouse, and a chained damsel in distress about to be attacked by a sea monster that looks like it came straight out of a Flash Gordon comic; there's a giant headless demon, towering David-like over the Palazzo Grassi centre; and pop singers Rihanna and Pharrell also make an appearance. Hirst serves up spectacle, celebrity and entertainment to a contemporary art market that has become defined by those very things. He does so with a Duchampian sense of humour and a nose for hilarity, showing that anything can become collectable and valuable—like a turd wrapped up in gold foil—as long as a brand name is attached to it. In the end, though, the joke's on us. It was Duchamp, after all, who said: 'Art is not about itself but the attention we bring to it.' —[O]
The 57th Venice Biennale is open to the public from 13 May to 26 November 2017.