Insight
Josef Ng: The Relentless Yet Vulnerable Capital A for 'Art'

IN PARTNERSHIP WITH GILLMAN BARRACKS
Few have occupied such a diverse range of professions and positions as Josef Ng. As a theatre and performance artist, the legacy of his 1994 performance Brother Cane[1] still reverberates and resonates with urgency in Singapore's art scene. As a gallerist, he was most recently director at Shanghai Gallery of Art before joining Pearl Lam Galleries as curator and managing director of Asia in 2015.

Installation view: Contestation: Mass Openness, Pearl Lam Galleries, Gillman Barracks, Singapore (10 June–3 September 2017). Courtesy Pearl Lam Galleries, Hong Kong/Shanghai/Singapore.
Against the backdrop of a stratified rather than organic ecosystem of art in Singapore, Ng's position involves rethinking the liminal zone between that of accessibility and exclusivity. In a time of abundance in artistic development, his understanding of the art system provides an insight into navigating a polarised art ecology, and for devising strategies that might assist in making this ecosystem more balanced and embedded within the lifestyle of the everyday Singaporean.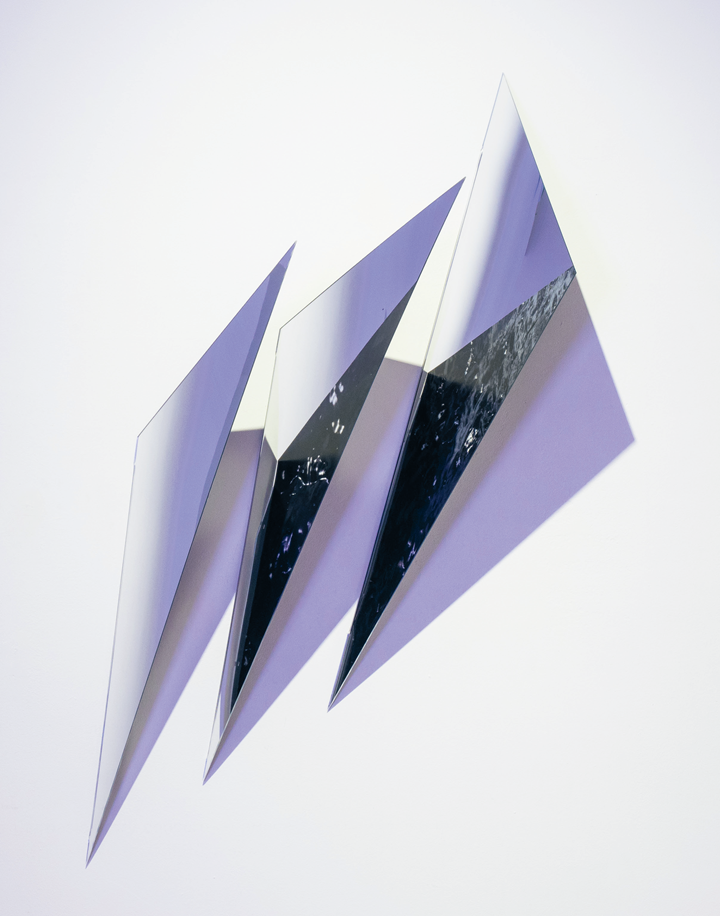 Zen Teh, Dual/Duel (2016). Photographic installation. Mirror, inkjet print. 124 × 100 cm. Edition of 5 + 1 AP. Installation view: In Silence, Pearl Lam Galleries, Gillman Barracks, Singapore (14 July–4 September 2016). Courtesy the artist and Pearl Lam Galleries, Hong Kong/Shanghai/Singapore.
Given your myriad experience (theatre, performance and visual art) within the arts industry, how do you see your position at Pearl Lam Galleries within the ecology of art production and artists?
My passion has always been to consider and seek new possibilities for the gallery, be it with emerging talent, or mid-career or established artists, including long-forgotten and undervalued artists whose careers might have been stalled or muted due to the short attention span of the contemporary art world. In fact, there has been a surge of attention and exposure being given to artists aged in their 80s and 90s in the past few years in the West, and also to artists who were working in the 1980s when modern art was at a crossroads with contemporary art.
My recent inclusion of Francis Ng in a gallery exhibition [with Gao Weigang, Contestation: Mass Openness, Dempsey Hill, 10 June-3 September 2017; Gillman Barracks, 10 June–30 September 2017]—a Singaporean artist who has not shown or practised since 2010, until the Singapore Biennale 2016, where he had an affiliate project—is an example of showcasing artists who were working during the breakthrough years around 2000. This was a time when, at least here in Singapore, contemporary art began to be considered by both the arts industry and the greater public as a form of value, but also as a source and an object of communication.
In theatre and performance, the actors, performers and director usually come together to craft a production. In visual art, where the artist and curator or producer devise a project or exhibition, there is always more of a declaration of the self from the artist. My role as a curator and gallerist is to will into existence an enlightened art audience who connect with art and artists on an experiential level.
Both gallery and artist relations are akin to ongoing journals of journeys, beginnings, endings and hot-cold experiences not dissimilar to the four seasons. For me, it's all about keeping a principled attitude towards envisioning promotions and strategies for and with the artists at hand.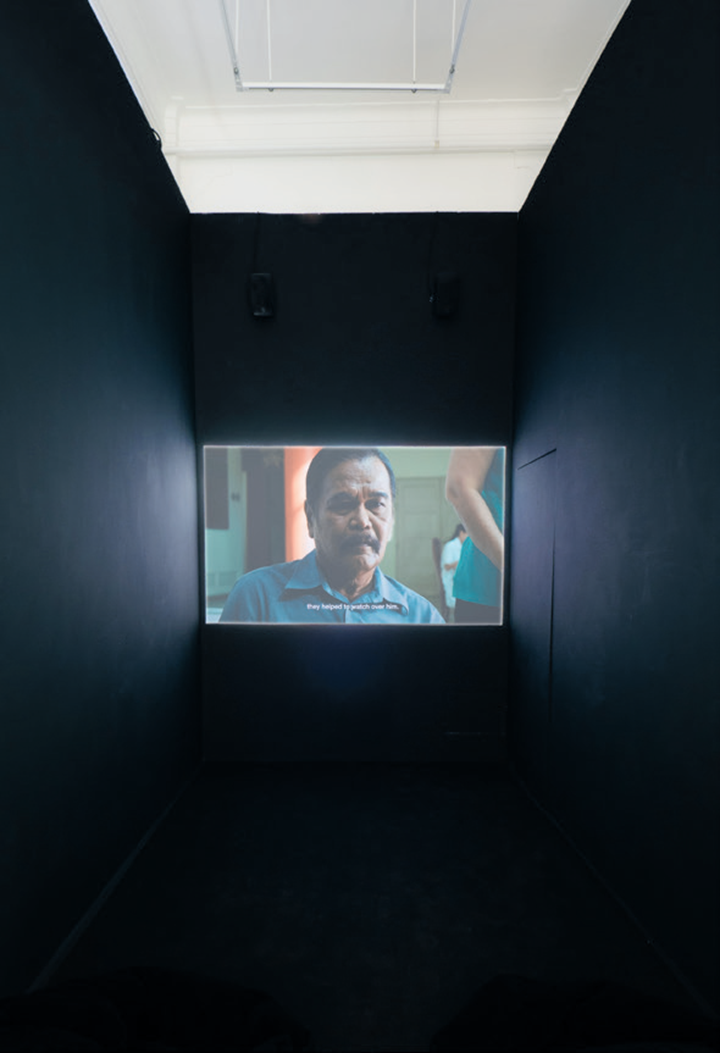 Boo Junfeng, Parting (2015) (Still) Digital short film. 12 min 59 sec. Installation view: The Third Script, Pearl Lam Galleries, Gillman Barracks, Singapore (7 May–19 June 2016). Courtesy the artist and Pearl Lam Galleries.
With the wide breadth of locations that the gallery covers (Shanghai, Hong Kong and Singapore), have you been able to discern any particularities in audience, consumption patterns or artistic development?
Since I was based in China for the past decade, from 2007, I will speak first about the mainland and the extent to which visual art has developed and still is developing, as witnessed by the heady activities and progressions in Shanghai over the past few years—and watch out for Shenzhen. With growing countrywide cosmopolitanism, it's no surprise that art museums are being developed and built every year in China. This has caused a great increase in art and culture consumption among the Chinese public, no doubt also aided by social media. Art, even as a visual apparatus, has whetted the appetite of Chinese audiences and has already been accepted as part of the sociocultural fabric in major cities.
Hong Kong, on the other hand, has fast-tracked the commercial potentiality and taste of visual art, while still attempting to underscore how art can serve as a springboard for social, political and economic issues.
Similar to China, Singapore is concerned with building awareness about visual art. Museum and global recognition of our artists abroad take centre stage, more so than serious and critical coverage and support for the local practitioners. In China, private enterprises and individuals are more willing to use art as part of their professional portfolios, while in Singapore the efforts are slower. Gallery or museum visits are still considered to be part of a big family day or night out for most Singaporeans, rather than as a commitment to proclaim the worthiness or power of art to create valuable moments of intimacy. Lastly, speaking as a gallerist, art collecting is a muted arena in Singapore, compared to Hong Kong and China.
Ezzam Rahman, _untitled, circa 195_9 (2016). Vintage photographs. 23 × 16 cm. Installation view: In Silence, Pearl Lam Galleries, Gillman Barracks, Singapore (14 July–4 September 2016). Courtesy the artist and Pearl Lam Galleries.
Within the heavily institutionalised art landscape of Singapore, in what direction do you see Pearl Lam Galleries moving?
There will be new working relationships with new artists, as well as the renewal of ties with those who have participated, in some form, in the gallery programme. The reason for this is to continue to set the tone of our gallery's mission to slowly yet steadily reach out to artists of diverse practices who could enrich our organisational goal of being a leading Asian-oriented gallery in the Southeast Asia region.
From paintings to new media to installations and exhibitions that readily emphasise curatorial bravado, we are covering all avenues. We are a gallery that also wants to be associated with and known for the exhibition of art that not only appeals to heightened senses, but also tests the boundaries of perception and experiences.
Your diverse selection for exhibitions at Pearl Lam Galleries Singapore over the last year has included art of many disciplines: from performance, with Ezzam Rahman in the group exhibition Materialised Condition (2017), to video, with Boo Junfeng in the duo exhibition The Third Script (2016). How do you see the new generation of Singaporean artists responding to the current circumstances, which are quite different from when you were practicing?
Actually, the circumstances are not that different from when I was still living in Singapore in the early 90s, as far as how different disciplines are being expressed and practiced. Then, along with other performance artists, we even organised a performance week in a commercial gallery. At the moment, no private gallery in Singapore will dedicate an entire week to performance work alone. Perhaps, back in those days, artists of my generation and earlier were more adept at playing the art system against itself, with less resources than most visual artists in practice today. There has always been a tendency to keep a low profile, while wanting to engage with the public. Though the greater effectiveness of art institutions today has produced more resources for art in various shapes and guises, the power dynamics are still not balanced when it comes to the collection of art.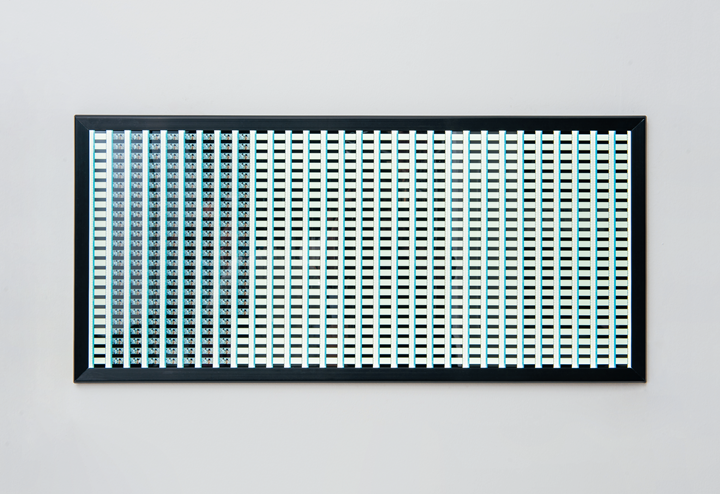 Boo Junfeng, 90 Seconds–3 (2016). 35mm film on lightbox. 52 × 111 cm. Installation view: The Third Script, Pearl Lam Galleries, Gillman Barracks, Singapore (7 May– 19 June 2016). Courtesy the artist and Pearl Lam Galleries.
What do you think are the new potentials of galleries, public institutions and the art scene in Singapore?
The recognition of Southeast Asian contemporary art, including art in Singapore—probably also due to the inertia that the tropical nature of the region can create—has always been slow, yet since 2000 more and more artists from this region have been gaining attention in the international art world. I believe that from 2017 or 2018 onwards, with the opening of various private museums in the region, Southeast Asian contemporary art will steadily take off.
And with that, establishing academic prowess, which will in turn anchor market stability, where artists and artworks must again prove their worth, is something I hope to see happen and participate in more here in Singapore. An aptitude for dealing and promoting is essential in a gallerist's job, but it must be combined with diligence and a passion of the heart towards the relentless yet vulnerable capital A of 'Art'.
[1] The performance saw Ng read from newspaper clippings about 12 men arrested for alleged 'sexual offences', symbolically whipping blocks of tofu with a rotan (cane), before cutting and scattering his pubic hair.
This interview was first published in Art-In-Sight by Gillman Barracks, and it is now reproduced here in full with the permission of National Arts Council of Singapore (NAC). In 2017 Ocula was pleased to partner with NAC to produce the print publication Art-In-Sight to mark the fifth anniversary of Gillman Barracks. Gillman Barracks is a visual arts cluster that was set up to present and generate discourse on international and especially Southeast Asia art. Art-In-Sight features interviews with key figures involved with Gillman Barracks, including artists, collectors and gallerists, alongside wide-ranging essays that survey Gillman Barracks through various lenses. You can view the full book online by visiting Gillman Barracks website here.